Transparent tiles could be coming to the Xbox One dashboard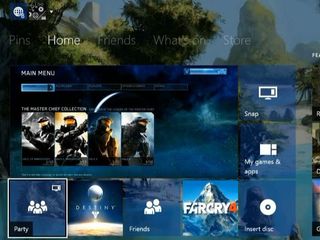 A live stream on Thursday from Microsoft's Xbox Live programming leader Larry "Major Nelson" Hryb showed a version of the Xbox One user interface with what looks like transparent tiles, similar to what's already available for Windows Phone.
An image from that live stream was later posted on Reddit, and it does show that the background is popping out of the Xbox One's home screen tiles. Since he works on the Xbox team, Hryb likely has a preview version of the Xbox One UI that is not yet available even for people who have signed up to beta test upcoming features for the game console.
Keep in mind that even if Microsoft is testing transparent tiles for the Xbox One, it may take a while before that feature is released to the public. Indeed, we already know that a promised feature that would enable owners to take screenshots directly from the Xbox One has been pushed back until sometime in 2015.
Source: Reddit, Via: WinBeta
Will I hope they come to window 8.1 - 10 as well! This is one of the options I've been waiting for

We'll likely get this in February preview, which is due in January. Should be 15th-25th of January,so about 5 weeks from now.

We have this for phones since April ...

But not with an actual background.

I'm not sure what you mean because I'm looking at a picture of Cortana behind the transparent live tiles on my 1520 right now.

Umm yes with an actual background. What you mean is get rid of the black/white borders.

Phone do have transparent tiles.

Windows Phone does have transparent tiles

My app, Translucent Apps foes this on WP!

My spidey senses are telling me that would definitely happen, considering the fact that they have been teasing about a unified platform that rules them all, so its highly unlikely that they would provide a feature like this only on xbox and not on W10 and W10 for phones. I have a feeling we might get the ability to choose the opacity for the tiles too, cant wait.

And I want real backgrounds for Windows Phone (BEHIND the tiles - just like Windows and Xbox).

How much space do you believe there is, to make them visible behind the tiles?
It's only possible if tiles are made smaller and grouped exactly as in Windows 8.1/RT, which is highly unlikely after introduction of MixView.

err umm.. Space behind App List ??

No, the way it's done now is better

I would actually like the inverse of this Xbox screen. A "smoked glass" image of the background where the borders are, and the clear bright background in the tiles as they are now.

You want a wallpaper you can't even see?

There's plenty of space there for solid colours/gradients/patterns... especially if the margins are semi-transparent and work in conjunction with the fully transparent tiles. Although personally I'd prefer it if there was an option to 'lock' the current background to the tiles... i.e. be able to switch off the parallax effect.

behind the transparent tiles you can see the background-wallpaper. i have it since months with wp 8.1

I think it's a fairly obvious move considering the core OS unification.

" similar to what's already available for Windows Phone" Not entirely true. Windows Phone has still the stupid black/white background with only the Live Tiles allowed for the background. This SEMI-transparent Live Tiles is what they should've done with Windows Phone 8.x

That's what similar means.

TRUE! I hate the black/white restriction :(

WP is a lot better, this is just.... not as beautiful, also, this ahve moire sense on big screens like a TV, but in a phone that would look so bad

I have an app called Translucent Tiles which makes semi transparent tiles. You should check it out!

Transparent tiles for all OSs now please :) This was one of my first comments on the Technical Preview

This is proof that Windows 10 will get a background with semi transparent tiles. This will come to phones as well.

This should be an extra customization option on windows phone

This tiles on a Windows Phone will look awesome if they put it on phones.

I would call these translucent, not transparent like what we have on phone.

For everyone in the comments wanting transparent tiles on Windows Phone, check out the app Translucent Apps.

Thanks for the shout out, man!

Great now we just need the ability to make the tiles smaller and group them on X1 and we will be there !

Now that would be awesome. Also allow us to customize what is shown on the X1 Home Screen and where is shown as well as removing tile limit.

The tile limit is incredibly frustrating and the whole method of arranging them is really flawed..

meh, looks predictably dirty and messy. instead fix the UI that remains a terrible mess of slow and slower.

After receiving the update to place a background image on my XBox One Home screen my first thought was, "I wish this was transparent like on my Windows Phone." I hope this comes out of beta and into production. Does someone know if a uservoice page is setup for this?

I hope it is optional, I actually prefer solid tiles on my x1, they go well with the day one background :P.

What wallpaper is that guy using? Looks ace.

I may be mistaken but I believe it's an image from Halo MCC.

Woot....pretty nice update Xbox team....keep it coming

This would really show off those nice achievements based wallpaper.

Check out my app Translucent Apps to get the same effect on Wp!

Is this a sign that something aero-like will be coming to Windows 10 desktop? Not necessarily something that I'd use, but it does seem like it would be an option given that it is on XBox and WP now.

These are the real transparent tiles, they keep the background and don't lose its personality... I like transparency on windows phone but I would love it more with this new approach

As a professional interface designer, this is the style I would have put forward from the start. When rumours of WP8.1 allowing custom backgrounds started circulating, I imagined something like this. How it actually turned out is all well and good, and interesting in it's own way, don't get me wrong, but I would rather have a full screen static (or half-scrolling, parallax-effect) background, with semi-transparent tiles, in the colour of the user's choice, and perhaps even opacity of the user's choice. When the Xbox One dashboard developed so as to allow custom backgrounds, I assumed it would be simply a replacement of the black background it has always had, and I wondered, like many, whether it would even be worth it, what with the large tiles covering most of the background anyway. As it happens, I do think it has been very much worth it, but I have always harboured a hope that my original vision, of semi-transparent tiles over a custom background, might one day be realised, being only a single step away. I'm excited to see that that may indeed be the case. I cross my fingers that perhaps they might allow us to control the level of transparency and even use white or light grey tiles too.

Ah, if we get custom backgrounds, transparent tiles are a natural follow up. I'm a fan of this.

I hope they make it optional!!!!

That is insanely nice looking. I so want that to be on my phone and computer. Wow!!! My Surface 3 would look sexy as F with that type of tile and background.

Now all we need is keyboard,mouse and Cortana. I really wish MS would make a business X-Box for the Boardroom. This would make meetings so much easier. My support staff always has to run over just to turn the damn TV"S on for people. Cortana ON Log in as Joe Bloefish Open PowerPoint, OneDrive, etc. Next slide, Previous slide. Cortana Off

Just let me set opacity and we're good. Also, folders would be nice (similar to WP8.1)

Wow! This looks wonderful. Hope this option makes its way into every sku of Windows 10.

yes, i want it now! the transparent live tiles are the best idea what makes wp so good to me. the normal tiles are always bad because the colors are not my taste (black would be the only color i want).
For all those: transparancy tiles are not with windows phone: yes, in wp 8.1 there are. unfortunately the stupid carriers out there dont ship it. in germany all companies do.

About time!
Tbh Microsoft has done a great job with adding/fixing features one the Xbox one within its 1 year life.

So cool, is there anyway to sneak into the beta program?

That is a killer background where did you get it?

Good and bring them to W10

Would like to see a translucent tile on the phone. One of very few that isn't.

Very nice! How they end up in windows 8.1 or 10

Looking forward to see it on Xbox One

About time. And I wish we could customize the whole desktop to include what we like.

I hope this is adjustable. Because while translucent tiles are okay (like they're demonstrating above), I want fully transparent tiles. Just do it like Windows Phone where we have true transparency. Not translucency (though giving translucency fans an option is a good thing too).
Windows Central Newsletter
Thank you for signing up to Windows Central. You will receive a verification email shortly.
There was a problem. Please refresh the page and try again.