Trivial Pursuit & Friends brings the classic quiz game to Windows and Windows Phone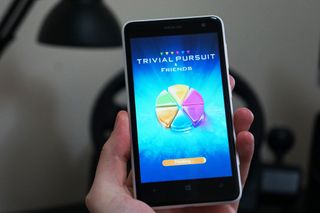 As promised earlier this month, Gameloft has released Trivial Pursuit & Friends as a universal app for both Windows and Windows Phone platforms. The free-to-play game offers a revamped version of the classic quiz board game in a new mobile version that allows people to play with both old friends as well as new ones they can find while playing.
Here's a look at its main features.
More Ways to Play
Duel: A lightning-fast mental showdown
Blitz: A frantic trivia party with 4 players competing simultaneously
Events: Take on a brand-new, specially themed quiz every week like Zombie Apocalypse, Fashionista, Sports Champs, and Do You Like Chili Peppers?
The Ultimate Answer for Fun
Take the world-famous quiz game with you and enjoy it anytime, anywhere
Discover modern and social gameplay that lets you go head-to-head against friends… or make new ones
All the quality, content and challenge you'd expect from the Trivial Pursuit name
Thousands of questions available
6 categories to master, including photo questions
Join the Quiz Community
Create a custom avatar and show off your unlocked titles, badges and decorations
Chat with your friends and opponents in the game
Create and share your own stumpers for the world to guess
Gain experience and progress through the game to earn amazing in-game prizes!
By the way, Windows Phone device owners with 512MB of RAM will be happy to know Trivial Pursuit & Friends will work on your smartphone.
Download Trivial Pursuit & Friends for Windows/Windows Phone (opens in new tab) (Free)
My friend code : 216 557 2423

This is Gameloft's 12th non-Xbox game for Windows Phone since returning to Xbox development on Windows Phone. #SaveXboxWP, details here.

Its from GL. Nah ill skip.

Looks like no achievement support, oh well

LOL
A download link? In the Windows Central app?
Surely you jest.

Ikr.... This is getting old! It's like they don't even give a damn anymore

LMAO. Using my name (Jason) says I am using forbidden words. Any variation says this (Jay, JJ). What gives?

Most such games are US-centric.

Game constantly locks up...truly a Gameloft game.

after connecting to Facebook and Microsoft Account, it gets stuck at CONNECTING...

Connecting to Microsoft worked fine for me. However the game got stuck for me too when connecting to Facebook. Just clicked the back option on the screen to get back.

Gotta love how searching "Trivial Pursuit" in the app store doesn't find this game. Is that not a problem?

Found it for me, also the EA version, on 10 mobile. But the store search usually does bring the suck.

Hoping Windows 10 fixes this issue.

Search trivial pursuit friends and it will show up.

Why there is no download link for the game in windows central app?

Trivial Pursuit & ... for Windows Phone http://www.windowsphone.com/s?appid=37856406-80b1-4734-9396-5426e892f5b9

Thank you. I don't understand why they don't put the link in their app, when Store search is not working at all..

Go to a game from gameloft. Then on details press more apps from gameloft. Scroll down and you will find.

So if its free2play, whats the catch? Or what stuff do they give for cash?

It's based on a heart system where you have 3 hearts that generate 1 per hour... you can buy more. There's also gems that let you purchase abilities like allowing you to get one wrong, eliminating some wrong answeres, etc...

So basically similar to Trivia Crack without the stealing twist. Currently the game crashes a lot more and friends don't appear to be working, at least for Facebook... See how long it takes them to fix stuff as it is fun when it works.

Hopefully you're lucky and it's working fine for you. Found out after that it also steals hearts if you play the theme quiz mode. Also stole my bronze ticket when I tried to play the bronze blitz quiz.

Enjoying it so far, but is it cross platform?

I'm waiting billion years for opponents to take their turns. GL thinks we live millions of years. Perma uninstall.

This is a really fun game, have been playing for the last couple days. You can start a bunch of games, so you will wait less, but there will be some waits unless you pay.

My friend code is 101 813 0171
Windows Central Newsletter
Get the best of Windows Central in in your inbox, every day!
Thank you for signing up to Windows Central. You will receive a verification email shortly.
There was a problem. Please refresh the page and try again.