TrueCaller heading to the Marketplace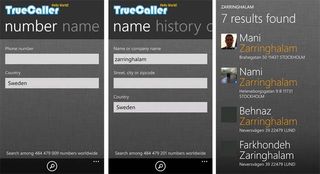 TrueCaller is a global number search with integrated call blocking functionality. TrueCaller has been available over on iOS (opens in new tab) and Android (opens in new tab) platforms and it will soon be available over at the Windows Phone Marketplace.
With TrueCaller you can see who is calling by connecting with yellow and white page directories from all over the world. TrueCaller also offers Social Caller ID that lets you know what your friends are up to before you answer their calls by displaying information from their Facebook and LinkedIn pages.
One of the more interesting features of TrueCaller is the ability to automatically block calls by adding unwanted numbers to a spam list. It also appears that you have the ability to tap into a centralized spam list. A list that is created from other users on numbers that have been deemed as unwanted or spam.
TrueCaller is expected to be a free app that should be in the Marketplace any day now. Until then you can check out all the details on TrueCaller from their website (opens in new tab).
George is the Reviews Editor at Windows Central, concentrating on Windows 10 PC and Mobile apps. He's been a supporter of the platform since the days of Windows CE and uses his current Windows 10 Mobile phone daily to keep up with life and enjoy a game during down time.
Wondering how they're going to intercept incoming calls...

Strange, this app is already on marketplace (if you access to marketplace over their web page on WP device)but there is notification that app is not available for my phone. There are also some review of app itself. If it is work matching phone number as work from their web site, from me app will get five star.
Cheers.

Huh I've been waiting for an app like this one for so long; I don't like when my younger brother call me all the time. He sees me like The Red Cross or something

Just like others are asking, how is this possible? How can this app integrate with the Dialer? AFAIK, there is no API access to the dialer.

And, it's not available on my Focus S here in the US??? What kind of app is this? Has the cert team dropped the ball again?!?!?

huh? It hasn't even hit the market yet. Patience young grasshopper.

If you go to m.truecaller.com, click the Download link, it shows up in the Marketplace for me.

Yah realized afterward. Good show. Checking it out now.

Not available in Canada (yet), boo-urns.

This app was available at one time but disappeared from the marketplace. I lost it after a hard reset.

I have the app on my HD7. You are correct, the application was originally in marketplace about six months ago.

It can't block calls on WP7. If you head over to TrueCaller's website, they say as much -- it can only do a name or phone number lookup.

This app can't do what it does on other platforms, as DigTheNoise said, on wp just a number lookup. So you can use truedialer from the same dev and it's already in the marketplace.

Marketplace said I can't use this app

Damn, if it would block spam calls I'd be fucking all over this.

Workaround: Get a ringtone that is dead air or silence. When you get a spam call create a contact for it and assign it the dead air ringtone. Next time they call, it won't be blocked but at least you won't be bothered by a ring!

Creative and simple. I'm just too tall and lazy.

That workaround won't work for the spam/scam automated call that is all in spanish saying you've won a prize... been plagued by that stupid call for years on a couple of different phones of mine. They constantly change their number so if people marked each number as spam when they call then that could help

You guys should consider reviewing RapDialer... It's really handy...

Ok. So as suspected, the real interesting features don't even work on WP. Way to go MS. Truecaller works great on my antiquated Symbian handset btw, thanks for asking.
Well, at least it's free. On the other hand it seems to be free on Android as well. You only have to pay on iOS, Symbian and Windows Mobile.
Funny how all the features are available on Windows Mobile but not WP (even Iphone has more features even if it is also clearly limited by Apple's stupid policies). I'm sorry but there is no way I can ever get a WP device until they open up the OS.

gosh stop complaining, this comment makes no sense.

TrueCaller is alive on marketplace.

I was very happy to find this site. I wanted to thank you for this special read. Thanks. hypotec lending

I was very happy to find this site. I wanted to thank you for this special read. Thanks. hypotec lending
Windows Central Newsletter
Get the best of Windows Central in in your inbox, every day!
Thank you for signing up to Windows Central. You will receive a verification email shortly.
There was a problem. Please refresh the page and try again.