TuneIn Premium adds streaming play-by-play feeds for all NFL teams and more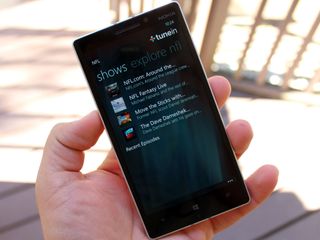 Earlier this year, the TuneIn streaming audio service announced a new subscription tier, TuneIn Premium, offering more content for $7.99 a month. Now TuneIn Premium will add coverage of the National Football League in a multi-year agreement that will offer listeners access to live play-by-play feeds for all 32 NFL teams.
Here's a look at what subscribers can access with their new NFL content:
Access to play-by-play feeds for all 32 NFL teams, including both the home and away feeds, AFC/NFC championship games, the Super Bowl and select Spanish broadcasts.
NFL on TuneIn Channel – All TuneIn users will have access to an NFL channel featuring audio from select NFL Media programming, including popular NFL Network shows such as NFL Total Access, Around the NFL, and NFL HQ, as well as official NFL Media podcasts including Move the Sticks and the Dave Dameshek Football Program. NFL on TuneIn will be complemented by original NFL programming produced by TuneIn.
TuneIn Live Look-In Show– Starting in November, TuneIn Premium subscribers will have access to a seven-hour-long Sunday broadcast that will feature live analysis, stats, and drop-ins of local radio coverage for all Sunday games airing in-progress. This show will be live Sundays from 1pm ET – 8pm ET.
Check out TuneIn from the Windows Phone Store (Free)
Check out TuneIn Premium ($7.99 a month)
I was pondering Pandora One, but with this announcement, I think I've made my decision.

Absolutely love tunein but I don't watch sports. It's a great app for tuning in to radio stations worldwide.

If they had an app that actually worked, I'd consider it. As it is though, being able to stream for 15 seconds before it buffers continuously is kind of a no-go.

I stream it in my car and only have issues when driving through some known cell dead spots. When home, I don't experience constant buffering.

Same for me. The app has had buffering issues for a long time.

The download link keeps taking me to the free edition and a search couldn't reveal the premium version

Having access to the NFL channel would be great, but I'm still not paying for this app. I'll roll the dice and get the free ESPN play-by-plays that are in TuneIn on game days. Not perfect, but good enough for the odd times I can't watch the games on TV.

Premium service without an app that be comparable with the Android one? Just is funny because the paid version of tune in even can record shows for watch it later Posted via the Windows Central App for Android

Wow, that's expensive for only Live NFL. In the mean time still waiting for bug fixes if tuneinon the windows platform. I don't know what the issue is, but in my experience tune in is really bad in streaming on windows 8 and windows phone 8 on a surface pro and Lumia 1520 compared to tune in on a galaxy note. They're have not been many updates on tune in for windows compared to android. I seriously hope they fix the streaming bugs. Other wise even the premium package will probably be a disappointing investment. I think Microsoft should help out tune in. It's a bug that's lasted for years now. Should be resolved. I think tunein should escalate their streaming bug to Microsoft. ​

Lol yeah, for an app that hasn't been updated on Windows phone for a few years?
Right.

Android version got updated on October 13, 2015. Posted via the Windows Central App for Android
Windows Central Newsletter
Thank you for signing up to Windows Central. You will receive a verification email shortly.
There was a problem. Please refresh the page and try again.