Turbo Bugs Survival Run, a creepy crawly endless runner game for Windows Phone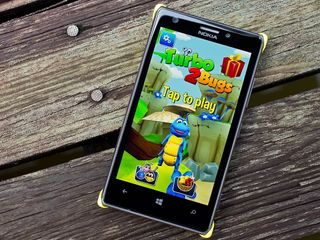 Turbo Bugs Survival Run is an endless runner game that is available in the Windows Phone Store that plays out from a bug's perspective on things. You duck, dodge and jump to avoid various obstacles to stay one step ahead of a crazed bug destroying kid that is chasing you.
Graphics are nice and have a slight children's book feel about it (not necessarily a bad thing). Game play is challenging enough to keep the game from growing stale too quick and Turbo Bugs is available for low-memory devices.
Turbo Bugs Survival may not be as action packed as Subway Surfers or Temple Run but it does have a certain level of appeal that gamers young and old should find entertaining.
A bug's life
Turbo Bugs Survival Run has a modest main menu with options to access the game's settings (sound/music on or off), options to choose your bug of choice, in-app purchase opportunities to buy fruit (used to buy power-ups and unlock other bugs), jump into game play and try your luck with "Scratch to Win" cards.
The game does lack a help section but will run you through a short tutorial on gaming controls. While Turbo Bugs Survival Run isn't a difficult game to pick up, a help section would be nice to at least go over all the power-ups and features of the game.
Game controls are set up in your standard endless runner fashion. Swipe left/right to have your character to shift accordingly and swipe up to have the bug jump over obstacles or collect objects.
As your bug races down the various paths, they can collect cherries for points and melons (often floating in mid-air) that will resurrect your bug should they get squashed. You also have an assortment of power-ups to collect that include magnets that will pull the cherries to you and a jet pack to give your bug a boost of speed.
The game screen for Turbo Bugs Survival Run has your cherry count, melon count and distance traveled in the upper left corner of the screen. A lightning bolt is in the bottom right corner that will activate your bug's turbo boost (once you've collected or purchased the boosts) and a pause button sits in the upper right corner.
Turbo Bugs Survival Run is more than just a game to see how far you can run and survive. The game also includes a set of goals to work towards (collect a number of cherries, collect specific power-ups, survive a set distances, etc.) and as you collect cherries your bug will advance in experience levels. As your bug advances in levels, you can use the cherries to increase the bug's abilities.
Overall Impression
The more I played Turbo Bugs Survival Run, the more the game grew on me. It's not an overly complicated game and not a bad time waster. I can see Turbo Bugs Survival Run as being a fun title for your main gaming library as well as your Windows Phone Kids Corner.
A few more observations on game play include:
Game play was challenging and swipe controls nicely responsive. The course isn't terribly difficult but it will keep you on your toes.
Some of the areas where you have to jump up to avoid running into a wall can be very hard to notice. There is a warning sign marked with an "X" that should warn you of an impending turn or jump is still hard to see. These areas need just a bit more contrast.
While graphics and animations do remind me of a Disney Junior production, they are not too shabby.
All in all, Turbo Bugs Survival Run is an enjoyable game for Windows Phone gamers for all ages. I doubt it will beat out Despicable Me or Spiderman Unlimited but it may be a fun change of pace. Turbo Bugs Survival Run brings home a 4.5 Star rating in the Windows Phone Store, which isn't too far from the mark.
Windows Central Newsletter
Get the best of Windows Central in your inbox, every day!
George is the Reviews Editor at Windows Central, concentrating on Windows 10 PC and Mobile apps. He's been a supporter of the platform since the days of Windows CE and uses his current Windows 10 Mobile phone daily to keep up with life and enjoy a game during down time.
The more endless runners the merrier.

I hate endless runner games

Then this obviously is not for you.

Looks fun! Trying it right away!

TIP:http://forums.wpcentral.com/windows-phone-8-1/318000-windows-phone-8-1-u...

Is not available here in Brazil... :/

Change region, install the app and then change back.

U better leave from Brazil then

Maybe your words are not reaching to the developer. Try posting this on the review section as they can contact you from your review comment. Or on twitter/fb accounts of microsoft and developer.

I can't post a review to a game that I can't download. And I don't want to change the region just to do this. Everytime I post something here I before check if the developer/game has a Twitter / Fb account, but most of them do not have one.

I am beginning to wonder if ' not available in Brazil' is your signature for the comment section. On a serious note, I don't get it why would a company neglect a particular country.

Many developers think that the process to make a game available here in Brazil is a though one, that this do not worth their time. But since almost three years ago this changed and now is pretty simple to do this. And there is where I come.

I completely agree with you. Developers will be neglecting a huge market with a strong Windows phone presence. It's for everyone's best interest. Keep it up!

People have started to notice your though, that's a really a good thing.

Yes. Hope someday I don't have to comment about this anymore.

I'm sick of all that endless runners, its not even fun to play it...

Endless runners seem to be popping up endlessly on smartphones these days personally I think am gonna stick to the Two major titles we mostly knw and love sub surfers and temp run

Try Minions Rush. Is sooooooo funny!! :)

Endless games are against the spirit of gsming .

Nope i wont correct that spelling .