Turtle Beach's newest Xbox One wireless headset can be yours for $300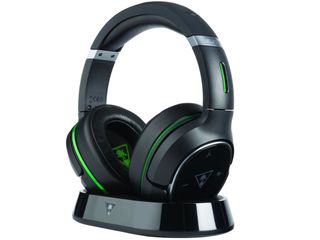 If you want to get a headset for the Xbox One that has all the bells and whistles, the Turtle Beach Elite 800X might be for you. The company announced today that the high-end wireless headphone is now on sale for the premium price of $299.95.
100% Fully Wireless -The Turtle Beach Elite 800X is completely wireless for game and chat audio, and uses intelligent channel-hopping for an interference-free wireless experience.
DTS Headphone:X 7.1 Surround Sound & Sound Presets - Experience DTS Headphone:X 7.1 Surround Sound with incredibly accurate, unmatched spatialization. Additionally, the Elite 800X offers custom DTS Surround Sound modes combined with Turtle Beach genre-specific presets to further immerse fans in their favorite games, movies and music.
Superhuman Hearing - From the faintest of enemy footsteps to weapon reloads off in the distance, Superhuman Hearing ensures gamers hear it all by amplifying soft sounds when switched on. This exclusive Turtle Beach audio processing gives players the competitive advantage of hearing enemies before they come into view.
Noise-Cancelling -Eliminate unwanted background distractions with active noise-cancellation when connected to the Xbox One game console and mobile/tablet devices.
Volume Control, Mic Monitoring & Dynamic Chat Boost - Gamers can set their preferred mix of game and chat audio levels right on the Elite 800X headset. Additionally, Mic Monitoring allows players to hear their own voice in the headset in order to avoid the need to shout, and the Elite 800X's Dynamic Chat Boost feature automatically adjusts chat volume during loud gameplay audio spikes to ensure players never miss a command.
High Quality Hidden Microphones - The Elite 800X features dual hidden, high-quality noise-cancelling microphones, with environmental presets to ensure players are always heard, regardless of their surroundings.
Magnetic Charging Stand & Rechargeable Battery - Whether gamers need a break from dominating other players in their favorite multiplayer game, or it's simply time to retire for the evening, just place the Elite 800X into its low profile, magnetic charging stand to store it and keep the headset powered-up without any cables. The Elite 800X features a built-in rechargeable battery that delivers up to 10 hours of functionality.
Bluetooth Wireless Versatility - Enjoy wireless Bluetooth connectivity with compatible mobile/tablet devices. And gamers never need miss a call or text again, as they can pair the Elite 800X to their mobile phone to listen to music, hear text notifications and take calls while playing.
Swappable Speaker Plates - Fans can customize their Elite 800X headset to their liking with easily swappable speaker plates that can be changed-out with new designs from www.turtlebeach.com/plates.
Easy Setup - The Turtle Beach Elite 800X setup is made easy through its magnetic charging stand, which doubles as the wireless transmitter to the headset. Simply connect the charging stand to the Xbox One game console using the provided USB and optical cables, and start playing.
Companion App - Gamers can download the Ear Force Audio Hub app to wirelessly change presets on the fly using their compatible PC, Mac and Android mobile/tablet device.
Just in case you think that paying close to $300 is a bit much for some headphones, Turtle Beach is throwing in some extras with each Elite 800X purchase, including a free t-shirt, two more sets of speaker plates and a two year warrenty.
Check out the Turtle Beach Elite 800X on Amazon.com (opens in new tab)
Source: Turtle Beach (opens in new tab)
Windows Central Newsletter
Get the best of Windows Central in in your inbox, every day!
300? With 300$ I can have a foot goddess for a month :D

Yea, apparently TB likes it more than I do. That's ok, I wouldn't want to deprive them of it.

Still getting it. I love my Steelseries H wireless, but the wire needed for Mic is a pain in the a**** Off they go, and in will come the TB set. I spend hours everyday on headset, so the money is immaterial. People who smoke will spend that amount in 2 months.

Wow. They are throwing in a T-shirt! Where do I sign up?

Well at least it's $50 cheaper than an Xbox.

Like seriously wtf are they smoking?

Yeah and I thought my $200 Astro A40s was a big investment for my XBO. Yeesh! Posted via the Windows Central App for Android

I'd never give up on my Sennheiser HD 800.

Lucky u! I own the hd215,hd 202 ,rs 110 nd mx 365, all sennheisers! Never switching to any other headphone brand! Sennheiser=German tech at its best!

Well, wouldn't say Sennheiser IS the best. It certainly is one of the best. It's got some serious competitors like Shure (which is my preferred choice of earphones)

Hd 800 is THE BEST headphone the world!

Quite the Sennheiser Cult followers here... For me, I choose Sony as my gaming headset, have an Audio Technica, but using it to chat in game and can't hear myself is unsettling. How can people get used to chatting with closed headset? That's why I kind like this feature of mic monitoring.

I can detect sarcasm there... Or is it not? Either way, I'm saving up money to buy a Sony MA900,., that or a Philips Fidelio X2. Going anything higher to past Sennheiser HD 650 is not suitable for the student me.

Well, I'm only 16 years old but I belong to a royal family. I live in Australia so the Sennheiser HD 605 costs around $400 here which I suppose, assuming you're a yank, is around $311. If your budget is under $300 (USD), you can rather opt for either AKG K550 or Denon AH-D 2000. They both have excellent reviews and you will not be disappointed.

I'm honestly happy with the Microsoft gaming headset.

must be nice to be rich...

Nah, gets bored very fast

Guess you've never had a coke habit...or a yacht...or both!

You don't have to be rich to spend 300$ on something. What a petty thing to say.

Exaclty - $300 is less than a days pay for a lot of people here... easily less than 2 days pay for most.

300$ less than a day and you call that isn't rich? 200$ is a month salary here!
How stupid are you when you don't even know you are rich? f*cking first world people!

It's all relative though - on $200/month here I would be living on the street and eating out of rubbish bins. Rent is usually anywhere from $200-400/week depending on the living arrangements. My mortgage is $500/week. Then you'd have to pay for bills, food and other expenses on top of that. $300 / working day doesn't make you "rich" at all in Western countries. It's basically a $78,000 / year salary (5 day week, 52 weeks) - you definitely won't be considered 'poor' on that salary, but you won't be considered 'rich' at all! Once you start adding a wife and kids into the mix, $78000 isn't much at all.

Yeah, if you have enough money and it not affect your life after buying it then nothing wrong with buying expensive things like that. Just investing your money carefuly then everything will be fine, especialy don't buy any thing overpriced like this one!

True true... It's not like its so unreachable... People can spend all they want into their hobby investment from their hard earned money.

This is great because I can use it for my phone too. Unlike the Astro A50's. Was thinking about getting a high quality headphone for my phone and Xbox.This is a good deal to me.

I highly recommend the Tritton Kama headset. I use them most of my day and they're really comfortable. I think they're about $60 USD, loosely converted from Swedish Kronor.

I love my Astro A40s. I recommend them. Posted via the Windows Central App for Android

Wish they weren't that expensive, cause they seem to be awesome. And I'm curious if the audio beats my Tritton Kama, which is well worth the money. I think they beat the XO One in audio quality.

Not mines that's way too much money I could but another Xbox one with that

Okay. So I'll buy the Xbox and then spend $50 less than the price of the Xbox to have this? Umm, no.

So either buy an Xbox one, or buy a gaming headset lmao

If u r an audiophile ull spend money on headphones, which will cost way more than a phone or a comp( like sennheiser hd 650,700,800) , so if a guy who has an xbox loves his music , hell spend on this headphone!

Yep, 300$ is a mid-fi level of price.

300? I'd rather buy about 5 new games and have the original headset! Lol

OG headset does not play game audio. This is great for people who live with wives and gfs and do not want to drive them nuts playing lots of Halo and Destiny ;) Posted via the Windows Central App for Android

Well... let me check: 300$ 1 Headset or 5 Games at Launch or a New Xbox.... hard choice (sarcasm here)

Why would anyone want to buy Blackberry? Am I missing something?

Yes, you're missing the fact that this article has absolutely nothing to do with Blackberry

I'll buy the actual Xbox instead

I'd never use a gaming headset for anything other than games! I just may fork over the cash for these bad boys though...

Paid 300€ for my Astro A50 Halo edition. Love them but I wish they were also fully wireless and had BT... :(

My GAWD, they are really proud of their products aren't they. Hmmm, should I get a turtle beach headset with my xbox one, or should I chip in a few more dollars and get a PS4 instead so I would have both consoles and just use the headset that came with my xbox one? Oh, decisions, decisions /s

I don't care how good this headset it's, $300 it's practically the cost of the console these would be used with. Turtle Beach is smoking something. I'm super happy with my Skullcandy SLYRs. They work for gaming and as a regular set of headphones I can use with my phone or tablet.

I have the Stealth 500x (they are $210 i think). They are the most amazing headset I have ever owned, The 800x is an upgrade even on the one I have, but only a tad. The 800x has superhuman hearing, active noise cancelling, craddle for charging, and an "invisible microphone." If you are even remotely considering the 500x, I would grab the 800x. I might even grab the 800x for my second console. It is way too cumbersome to constantly be switching the console these are tied to.

No references to whether or not it uses AptX for bluetooth streaming music. Which usually means that it doesn't. Pretty worthless at $300 to be wireless and without AptX. What exactly are you paying for? The magnetic charging base? Please.

I'll get myself a pair in a couple of months. Though I already have a pair of 500x's and a pair of Phantoms. These 800x's seem to combine the best of both. Not sure if you mentioned it but they do come with a 2 year warranty. I also like the idea of pairing an android tablet to use as a remote for all the various functions. Dunno why people are whining on about the price, Xbox gets heavily subsidised by all the games, even these headsets are going to pass some money over to Microsoft. Whereas these headphones get no money after your purchase. I've already spent near double the cost of the console on my TX wheel with the shifter, pedals and wheel stand.

If you step back, it must look ridiculous using that gear....with a serious face and shit like that, LOL... Just get into your Ford Pinto in an empty parking lot and have at it...

Expensive once more. Seems like a new hardware design though. I had an older model of TB for gaming and after 3 years the plastic to connect the shells to the band that goes over year head, was tearing and then it just broke. Replacing it is also quite expensive so i didn't really do that. And since then i've switched to Tritton as it is much sturdier. Still, i would love to use a completely wireless headset for gaming. I hate cables, but every full-wireless solution is major expensive.

Lmao and it'll still be made of cheap squeaking plastic and sound awful

I've got some X41's still which I'm really happy with. Don't know if I'd spend that much on a new pair at the moment.

Oh really? What a ripoff device.

"Two year warranty". From Turtle Beach, you're going to need it!

Got Astros 5.8 mixamp and sennheiser hd 598's no better gaming combo out there

I love TB... XP500, XP510 were top of the line for the 360. If you're a SERIOUS gamer get'em, no other product compares!!
Windows Central Newsletter
Thank you for signing up to Windows Central. You will receive a verification email shortly.
There was a problem. Please refresh the page and try again.