Twitter releases its new Windows PWA app on Windows 10 Mobile
The Twitter PWA has made its way to Windows 10 Mobile, but that's not necessarily a good thing.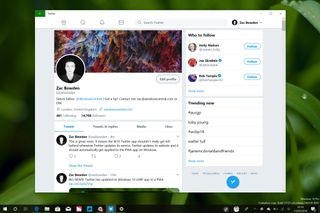 Twitter has today updated its app on Windows 10 Mobile to the new PWA version that recently launched on Windows 10 desktop. Unfortunately, this means Windows 10 Mobile users will no longer receive things like push notifications, as notifications from the Twitter PWA rely on service workers to function, and Windows 10 Mobile does not support service workers.
The new Twitter PWA, while excellent on Windows 10 desktop, is less excellent on Windows 10 Mobile. Microsoft left Windows 10 Mobile behind at Redstone 2 when it switched to the feature2 branch, and has such does not have any of the new improvements to PWA support that Redstone 4 introduced on PC. This means that while the Twitter PWA works, it does not have many tie-ins with the OS.
For example, the Twitter PWA on Mobile no longer has a live tile, and as already mentioned, does not have push notification support. This means those on Windows 10 Mobile won't get notifications when someone sends you a message or retweets you on Twitter. It also has no dark mode. Notifications work on PC because Windows 10 desktop supports these service workers included with Redstone 4.
On the plus side, the new Twitter PWA brings with it all the updated Twitter changes, including the increased character support, the ability to bookmark tweets, and more. Perhaps the update was pushed out in error, or maybe Twitter thinks users on Mobile won't mind missing out on things like push notifications. Regardless, what are your thoughts on the new Twitter PWA for Mobile? Let us know in the comments.
Download Twitter at the Microsoft Store (opens in new tab)
Windows Central Newsletter
Get the best of Windows Central in in your inbox, every day!
Zac Bowden is a Senior Editor at Windows Central. Bringing you exclusive coverage into the world of Windows on PCs, tablets, phones, and more. Also an avid collector of rare Microsoft prototype devices! Keep in touch on Twitter: @zacbowden.
yep I had a bad feeling when i seen it so I avoid installing it. Unless Microsoft gets push notifications and service workers to work correctly on mobile it's pretty pointless to push this on mobile users.

If you click the link to the store, it will install and override your normal app without asking you.
Annoying... I don't need notification from strangers but still should've been a separate app.
Why not keep both.

My thoughts are that this is a test for form factors like Andromeda.

The experimental features under "about:flags" in Microsoft Edge isn't the same "service workers"?

It doesn't work. Was put in early and was supposed to enable them throughout Redstone 3, but W10M didn't get Redstone 3, so.

So...it can be made to work by Microsoft. They're just waiting on a cue 😂

Any idea on how to allow automatic video playback?

I disagree that it's good on desktop - it isn't. On the proper app I didn't have to deal with data loading on the fly and having to deal with spinning circles. And no dark mode. If this is the future, I'd rather have the lack of proper apps than what are webwrappers witha bow and some minor additions that make no apparent difference to just visiting the website directly. Thanks for the mobile warning though - I'll make a point of avoiding on my Lumia (especially as Android and iOS have proper apps with dark mode support).

Yeah, it's not good on desktop. It has some serious scaling issues on my Surface Pro 4, making it unusable. On W10 Mobile the scaling is fine, but it is missing features like simple OS-level back button support and no dark mode. If PWAs are the future, I'm not excited.

You both realize you are complaining about an app that is basically a month old, right? This is a start, not the final product.

I use the website for month now so I'm glad to get the update but I really miss the notifications. Microsoft should really give us the full PWA support on mobile as something like a thank you.

Yes, if MS was to push one last feature to W10M that would be it, PWA support.

The only "_______ you" Microsoft is giving to Windows mobile fans doesn't begin with "Thank". There is a "K" in there, though :p

Ohh no, I'll hope this is Just an beginning and that they reapply do it better.

I guess I'm in the minority. I would rather the higher character limit than the notifications. I've tried to simplify how many notifications distract me as it is. No dark mode makes me a bit sadder, but it's not a big deal. Of course having all of the above would be ideal, but us users of an operating system on life support can't be at all surprised it wasn't worth it for Twitter to keep up a separate native app, and if it one or the other, give me the characters.

Are there any UWP third-party Twitter apps we can use instead?

There are lots of good one in the store. Fenice, Tweet it, Tweeten… I don't use them myself as I am not a hardcore user of twitter.=

Twitter notifications on the official app never worked for me and looking at the feedback anyways and no idea why. So i am used to it already :D i see the settings for notifications are in the PWA app. And also Gifs work again \0/

Did you do app reset had i no problem with it?

Oh yeah many times. But i wasn't the only one looking at the feedback. If i reset the app it worked for like the first 10 tweets or mentions then its just gone.

As far as I can tell I still have the old version, still in dark theme. Wish it don't update.

You could turn off automatic updates from store if you want

Glad I saw this article because that's exactly what I just did. I guess one that did get the update can use a 3rd party app while the API is still active.

Does anyone have link for the appx?

While the lack of features sucks, it sucks more that it is years without updates. 280 characters is a bonus. The old app was a buggy ass mess. Windows is a dying os generally and windows mobile is dead dead. Can't blame twitter for this.

So maybe this means we'll get a minor update to Edge on W10M with service workers...? Would save me from getting an iDroid before moving to ACPC with telephony...

Okay, I'm hoping for the impossible, I know.

It's still possible
but if they did add it they probably wouldn't tell us somebody would just come across it by accident. =)

My work PC with FCU got version 6.0.9.0 of the Twitter app today. It's apparently the PWA version, because it doesn't work (can't start at all or crashes as soon as a window is visible)... Anybody else have this problem?

Yes it rolling out to both pc/Mobile
I think they time did with the official rollout 17134.

OMG it's still alive....says silly fanboys everywhere now that Twitter has pwa'ed windows 10 mobile

Lol! This is awesome Sorry, I know you W10M fans are out there. Been there, done that. To me, this would feel like a big F-you from Twitter.

The sad part is that Twitter probably thought that they did the users a favor, and probably don't realize how MS screwed its users over by ending support early.

Looks like the Microsoft store has finally stopped selling windows phones. Borderline criminal they kept selling them as long as they did.

Make a complaint to the police please.

Or just move on and buy one of the other choices.

I miss the uwp design already
but it works well at least

Does anyone know if it's possible to get the old windows app back? I really do not like this PWA version.

This is a great question and I think we'll soon read about it.

get the uwp version ... https://forum.xda-developers.com/showpost.php?p=76384689&postcount=367

Or maybe they're doing us all a solid and implementing service workers on Edge in a surprise update ;) In any case I'm gonna try it, I use Tweetium anyway.
Edit: Oh, the update is not optional, it just comes. This will be a problem for some people.

Hopefully, this might mean that service workers are coming to mobile and they are testing them with the twitter app :)

Aside from the notification hub bub it's actually really good. I use an Elite x3 as my sole device and just happened to be using the lapdock when the update installed. It's smooth as butter on both devices and even though it resemebles the website it runs better! The only bummer for me is that they cut a feature from the native app that I used all the time, which was the ability to cast any video in my feed to any of the miracast receivers around the house right from the video itself.

Great! Doesn't look quite as good as the previous Windows app, but it seems to work well and now has the longer word limit. Not that I really use Twitter much anymore. Happy that this has come though, good job MS! Keep it up.

Hi there, from where i can get this pwa. I have searched in store but there is no update there. What to do??

I can't see a dark screen option on my surface version. Installed yesterday. Looked under settings.

Well, one thing is sure for me. I will never buy a Microsoft product again. Not software, not hardware. This is not the first time that I've bought a high-end device and was left without support or further development of the operating system. Adding notifications for PWAs is the least MS could do for W10M.

I pretty much just read Twitter. I like this PWA.

don't like it? uninstall it, the install the last uwp version ... https://forum.xda-developers.com/showpost.php?p=76384689&postcount=367

Gutted that I had automatic updates on, now I'll never know if I get notifications 😭

PWAs are going to suck for awhile because it's relatively new. The Windows 10/M Windows Central app sucks too and is useless...IMHO

It's a junk attempt on desktop. I see no reason of it when on desktop I can use their website...and no, not on that pathetic Edge browser.

I like it. Shame about notifications, but new features so can't complain.

Push notifications and other features like live tile as well

I hope MS would also ponder upon my suggestion and in near future we will see an update

I don't mind the lack of notifications or the light vs. dark theme. I just need to have multiple account support!

It has a night mode now and it is real awesome 😊

Its almost like Starbucks building a new store in your neighborhood, but they don't call your name or put it on the cup when its done, but hey we still got the Starbucks :) or is it just a residual effect of PWA's somewhat working on mobile like UWP's working on mobile..?

What do I think? It is just really irritating. Salt rubbed in an open wound.

Not sure what everyone is whinging about. I like this new Twitter App. Cleaner, refreshing look and usability. Any update to windows phones is great news for me right now. The live tile and notifications were never reliable for me anyway in the old app.

No me gusta esta actualizacion, la interfaz de la anterior me gusta mas.

...who cares, really? windows10 mobile: the walking dead.

I actually like this new Twitter app as it is more clean in the design. Written on my Lumia 950 XL.

Twitter wont work on my windows phone 10 anymore

"It's dead Jim." What's funny is that mention notifications still work. You just can't see anything. Looks like we gotta use the PWA no matter what. Really wish Microsoft brought service workers to 10 mobile 😔
Windows Central Newsletter
Thank you for signing up to Windows Central. You will receive a verification email shortly.
There was a problem. Please refresh the page and try again.