Two free games each for Xbox One and Xbox 360 in August via Games With Gold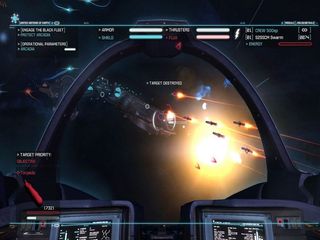 Microsoft has announced the Games with Gold for August for the Xbox One and Xbox 360. Xbox Live Gold subscribers will have access to Crimson Dragon and Strike Suit Zero: Director's Cut on the Xbox One, while Motocross Madness and Dishonored will be available to gamers on the Xbox 360.
Crimson Dragon was an Xbox One launch title. It's an on-rails shooter that lets you ride a dragon, fighting monsters and teaming up with friends in the co-op mode. Crimson Dragon is normally available for $19.99.
Strike Suit Zero: Directors Cut, is a space combat simulator that sees you fighting a war using the titular Strike Suit, a vehicle that transforms from starfighter to mech suit, giving you different sets of abilities with each mode. Strike Suite Zero is usually available for $19.99 as well. Both Strike Suit Zero and Crimson Dragon will be available for free to Gold members from August 1-31.
On the Xbox 360, Motocross Madness is a racing game that puts your Xbox avatar in the middle of the action of off-road motorcycle racing. Motocross Madness normally goes for $9.99, and will be available on Game with Gold from August 1-15.
From August 16-31, gamers can pick up Dishonored. Dishonored is a first-person action/stealth game where you play as Corvo, the former bodyguard to the Empress, framed for her murder. You can pick how you approach the game, with stealth to sneak by or silently take out enemies, or with loud leathality. Dishonored normally retails for $19.99.
What do you think of August's Games with Gold? Let us know below in the comments.
Source: Xbox Wire (opens in new tab)
I'm looking forward to both Xbox One titles!

Sweet! I've been wanting to try Strike Suit Zero but didn't want to plop down the cash without trying a demo out first so that's awesome! And I loved the Panzer Dragoon games when I was little, but they made me sick so I couldn't justify downloading Crimson Dragon - but if it's free, well then I can play for a few minutes here and there without feeling bad about having spent so much money on it. Thanks Gold!

Picked up Crimson dragon when it was on sale last month...is o.k. not what I was hoping but o.k. But looking forward to Strike Suit Zero:)

We will take it like that...better than nothing.

Oh snap, I just purchased Dishonored on sale.

LOL I'm glad I resisted to the impulse.

+925 Me too.The kids might like Motocross Madness.

My 5 year old son loves Motorcross Madness. You race as your avatar, which makes it exciting for kiddos.

It is a fun game. My kids love it, and there "free roam" mode is great for them.

Crimson Dragon! Nice. I've long been hoping this would be a Games with Gold, and I hopefully predicted two days ago on Major Nelson's blog that Crimson Dragon would be the Xbox One selection! Nice to see they're doing two games per month now too.

Good games. Now they just hace to keep it running.

Same. Resisted buying it on sale. XD

Looking forward to dishonoured...happy with these.

Me too. Great game. And It's not old.

Dishonoured is an incredible game, I haven't quite finished it but I am right near the end, it's been an enjoyable romp.

It's better than a punch in the face... Thank you MS

Cool almost brought that space sim one.

Ooh, Dishonored for my birthday... Thanks Microsoft! Lol =P

Dont let Microsoft dishonor your birthday!!! Shame of them!!! ;)

You dumbass -.- he speaks about the Game Dishonored, he haven't been dishonored by MS -.-

I pray to god this is a joke I'M not getting. Because if not? Oh dear.

In case you didn't notice, you're the dumbass...

Okay, now I need to re-enable my gold subscription. Dishonoured is a must own.

I'm just glad Xbox one getting 2 games lol

Doesn't it usually? I only just got my system about a week ago but we got two games in July, Guacamelee and Max: Curse of Brotherhood (which are both freaking phenomenal). So hopefully this is a trend that continues for the future.

Need gold membership now ... Never played dishonored... This game with gold thing is great..

This is considerably better than last month, IMO. At least we get a real Xbox One-specific title, not a re-hashed indie title from PC like last month, and great that we're getting two games again. Neither game particularly excites me, but I wanted to try Strike Suit Zero back when it was part of an old Humble Bundle, so I'm cool with this.

Would have preferred outlast to crimson dragon.

Outlast was release merely 5.5 weeks ago. There was absolutely zero chance it was going to be a Games with Gold so soon. That said, I hope it never becomes one. I have zero interest in horror games. Don't want any nightmares.

Wasn't guacamelee free on the day it released?

It sure was. And that is the difference: launching a game, charging $20 for it, and then 5.5 weeks later making it free = everyone is pissed off. That versus announcing a week in advance that a brand new game will be free = everyone is happy.

I have to wait for dishonored, why not put it first :(

They're all games I don't have. Very happy!

Excellent I only own one of the One games this month!

Xbox One titles both sound great.

I'm already jonesing from Destiny Beta cutoff so I'm gonna try 'Strike Suit Zero' even though I know nothing will fix me until Sept, LOL...

Crimson dragon! Nice :) the same game on both platforms it's also very nice

I have wanted this to, but I was being cheap. Played it on the Xbox One tour and it wasn't half bad.

You would think the author of the article would at least link to WPCentral's review of Crimson Dragon. That's pretty standard procedure now.

I got the $7.99 special on Injustice: GAU on Xbox 360 and am really enjoying it - i suck at fighting games but still enjoy it lol

Is this still a thing? I want this.

Should be - just gotta login to XBL and find the Games for Gold tile and scan through the offerings. If it's a July only offering, you only have a couple of days left to get it though (I don't know when the offer expires...).

Waiting on Outlast and Child of Light to come on either deals or for free

Can someone explain/tell me something about this free game deal? I don't have a xbox one (yet) If i get a one month subscription, then i can download these game for free. After the subscription end, can i still play the games? (without any multiplayer functions obv.)

You buy Xbox live and download the free games. The games are yours forever even if you cancel your subscription. It's awesome.

Bring it to more countries

I truly feel sorry for you people... they say you cant fight for the hopeless... they say you people prefer your shackles... no matter what no matter how pointless it may seem I will continue to fight for you... I refuse to let Microsoft win ANYTHING... ill continue to fight for you...http://en.m.wikipedia.org/wiki/List_of_Instant_Game_Collection_games_(North_America) SONY HAS BEEN GIVING FREE GAMES AWAY FOR YEARS!!! all Microsoft is doing is pulling back on their corporate greed that denied you a service PlayStation users have enjoyed since 2010 FIGHT CORPORATE GREED... FIGHT CORPORATE THEFT!!! STOP SUPPORTING THEIR BULLSHIT!!! STOP BUYING THIS BULLSHIT!!! LET MICROSOFT DIE. the PlayStation offers over 200 free games NOW... a vast majority of them 3party games like tomb raider nba 2k 14 FREE... you are not even the slave that picks the cotton... to Microsoft YOU ARE THE COTTON,. JOIN THE REVOLUTION!!! WE CAN DESTROY THEIR CORPORATE THEFT IF ONLY YOU FUCKING IDIOTS STOPPED BUYING THEIR BULLSHIT.

What? I realise Sony has been doing this for a while but isn't Sony's service also paid to get free games, and always has been? It's playstation plus that gets free Sony titles, not just anyone.

Wow! 2 new games while PS4 gets a ton of free games each month ;)
Windows Central Newsletter
Get the best of Windows Central in in your inbox, every day!
Thank you for signing up to Windows Central. You will receive a verification email shortly.
There was a problem. Please refresh the page and try again.