Two games based on Microsoft's Flight Simulator tech are coming in 2016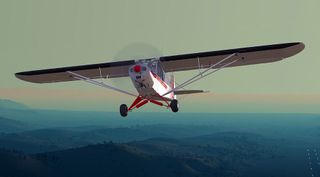 Flight sim gamers will be able to buy two new PC titles based on Microsoft's Flight Simulator technology in 2016. They will be released by UK-based Dovetail Games, with the first, Dovetail Games Flight School, due in April.
Dovetail, which also has the rights to distribute Microsoft Flight Simulator X on Steam, says that Flight School is designed to give first-time sim pilots the experience on how to fly a small aircraft:
The second game will be Dovetail Games Flight Simulator, which is due in the second half of 2016. Details about that game have yet to be revealed.
Source: Dovetail Games
Windows Central Newsletter
Get the best of Windows Central in in your inbox, every day!
Please high graphics game like modern combat 4 for windows phone by any developers.......eagerly waiting.....
I hope others are too

See rise of the tomb raider

If I recall Microsoft's license they sold to Dovetail specifies that they aren't really allowed to do much with the graphics. Also, being that is is a full-world sim, I wouldn't anticipate too much of an improvement than what many newer addons give to FSX

Yes. Please make it available on store and on phone if its possible... I understand thats a tall order cause its hard to make a realistic flight sim with phone input alone but please try.

You have no emotions fool # Lawrence....but obviously I agree with rosary

Not a tall order at all, X-Plane is a blast on IOS and android, really only game I miss. It would be sweet to have a good flight sim on WP

I agree, this on my surface pro 4 for basic controls or "fun" mode would be awesome. Windows phone used to have a nice flight sim but they went full hogwild on iOS and sort of abandoned the platform

I have infinity flight ✈ simulator which is nice but would like to see more.

Very excited. I always loved the MS Flight Sim series. I was bummed that the most recent didn't take-off as much as I had hoped. (pun intended). I always hoped for an Xbox One title, but it never happens.

These comments of making a flight simulator for a phone are making my brain ache. Isn't the point of a simulator to, you know, simulate the real thing? How do you expect to get any level of realism with a touch screen and 6" or less size screen?? Maybe make a companion app for the phone to be used in conjunction with the actual simulator, but c'mon, lets be realistic here (pun intended)

Because Windows phone gaming bruh! Let's bring GTA5 to my smartphone so I can just stand on the sidewalk and not be able to do anything because touchscreen gaming bruh! /s

Maybe they could make Altimeter simulator for the phone. After all, it is approximately the same size as the real thing.

Oh no. Dovetail would probably rip it apart and release 1,500 dollars 'worth' of dlc (I'm not joking. see train simulator)

Oh wow. If they made train simulator then this is going to be a disaster. I got train simulator last year on a steam sale thinking it was a great deal... Well after spending $35 trying to get some content i actually wanted, I still didn't have anything to show for myself.

Exactly! :( I really want Microsoft to develop the games. They used to do an amazing job! Hoping to see a Combat Flight Simulator 4 or at least a patch for CFS3 to make it run on windows 10.

Take a look at Prepar3D, it is a fork of the MS Flight Sim X and maintained by Lockheed Martin

YES!!! Finally a sequel to my flight simulator x!!! Time to bring back my joystick and Boeing

In my opinion one of the most realistic aviation based games is Gaijins War Thunder. Obviously set to simulation mode. Models and physics are very realistic. The game even features Oculus Rift support! Great game overall. My favorite MMO

You just can't compare a game released in 2013 (War Thunder) vs one released in 2006

I hope releasing Flight School doesn't mean they will remove the lessons on Flight Simulator or Flight Simulator becoming more expensive.

They should make a Microsoft Developement Simulator. a game where all projects get delayed., and a month before the actual game is to be released it gets delayed also just for promotional purposes... come to think of it I would really like to see that as a game.

I would score many fatalities there :)

MSFT released "Flight", and that was a disaster...
Let's see how this simulator works, otherwise I'll stay with Prepar3d.

I enjoyed that title and both expansions quite a bit. I still want a real Icon to pull behind my Jeep...

Coming exclusively to iOS and Android.

Does anyone know of a good aerial combat games other than Tom clancy's HAWX series?

If you are asking for Windows Phone, Gaurdians of the Sky is a fantastic combat flight simulator game.

I think ace combat was better than hawx, never played it but everyone said so not sure which one in the series tho.

I am anxiously awaiting this. Loved Flight Simulator since my Commodore 64 days. Microsoft Flight wasn't good. I hope this will be a true successor to the Flight Simulator series.

A flight simulator on xbox one maybe?

Learn how to flight, well thats laready a feature. Maybe not in the X, but it was in the 2004 one, and I think it was also in some earlier versions too
Windows Central Newsletter
Thank you for signing up to Windows Central. You will receive a verification email shortly.
There was a problem. Please refresh the page and try again.