Unboxing and hands on with the Lenovo Yoga Book with Windows 10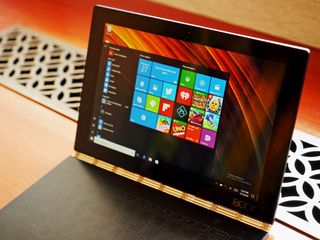 Lenovo exciting new Yoga Book laptop/tablet as announced just a few short weeks ago at IFA, and now it's on sale around the globe. The Yoga Book is a convertible laptop, but it's claim to fame is that it doesn't have a physical keyboard, instead rocking what Lenovo calls a "Halo Keyboard". Instead of keys, it's like a Holographic keyboard built directly into a full touch surface where a normal keyboard should be.
First impressions of the Yoga Book are pretty positive, actually. I was, like many of you, skeptical that the typing experience on the Halo Keyboard would be poor, but from my early impressions it doesn't appear to be. I'm already pretty good at touch-typing, and the Halo Keyboard is basically a touch-keyboard with physical enhancements. It has haptic-feedback and also outputs a sound too, so you get guidance that way too.
Yoga Book with Windows 10 Specs:
Category
Specs
OS
Windows 10 Home or Windows 10 Pro
Dimensions
256.6 x 9.6 x 170.8 mm
10.1 x 0.38 x 6.72 inches
Weight
690 g (1.52 lbs)
Processor
Intel Atom x5-Z8550 Processor
2M Cache
Quad-Core
Up to 2.4 GHz
Display
10.1" FHD IPS (1920 x 1200)
Color Depth : 16.7 Million
Color Gamut : 70%
Brightness : 400 nits
Memory
4 GB LPDDR3
Storage
64GB
Expansion
microSD
Audio
Sound Dolby Audio Premium
Sensors
Haptic-vibrate
G-Sensor
Ambient Light Sensor
Hall Sensor
GPS
Camera
Rear 8 MP Auto-Focus
Front 2 MP Fixed-Focus
Battery
8500 mAh
Up to 13 hrs
Connectivity
WiFi: 802.11 a/b/g/n/ac (DC 2.4 + 5 GHz)
Optional: FDD-LTE, TDD-LTE DC-HSPA+, TD-SCDMA, EDGE
Slots
Nano SIM Card
Material & Color
Magnesium and aluminum alloys
Carbon Black
Price & Availability
$549
October 2016
What's probably the coolest part of the Yoga Book is the fact that the Halo Keyboard lighting can be turned off and turned into a full inking workspace, which works with the dedicated Yoga Book pen that comes included in the box. With this, you can ink into any app that supports it, such as OneNote, Paint, Photoshop and more. Writing on this surface feels real great, and in my opinion is the best inking experience on a device yet. You can even throw a paper notepad on top of the touch surface and draw on it and still have digitized inking.
There are some weird quirks with the Halo Keyboard, however. The FN key is in a peculiar spot, where the left CTRL button would usually be. I keep hitting it when wanting to select text or use a shortcut with CTRL, which is now positioned to the right of the FN key. I'm told you can switch this in the BIOS however, so I'll be taking a look at that.
The other quirk is with the trackpad — in spite of being sectioned off as part of a massive touch surface, isn't the best trackpad in the world. It appears to stick sometimes, and weirdly the left/right click buttons are on either side of the trackpad rather than on the bottom where you'd usually find them. Another peculiar button position change that I'm having to train my brain to get used to.
You can pre-order the Lenovo Yoga Book with Windows 10 directly from Lenovo right now. Hit the link below to get started.
Pre-Order the Lenovo Yoga Book (opens in new tab)
Zac Bowden is a Senior Editor at Windows Central. Bringing you exclusive coverage into the world of Windows 10 on PCs, tablets, phones, and more. Also an avid collector of rare Microsoft prototype devices! Keep in touch on Twitter: @zacbowden.
My questions are:
Can I use any pen or only the included one?
Can I use any kind of paper?!?

Only the included one, but can be used on any paper :)

Dan & Zac, I have placed a pre order for the windows version. Does it have a micro sim slot that I can use for connecting to lte. I haven't see any options while pre ordering. Thanks

It says it has NanoSIM in the article.

The CTRL and FN key placement...grrrr.

Yeah, my ThinkPad tortures me with those placements everyday! :-(

How about other languages for that halo keyboard such as Arabic and Chinese or Turkish

* Halo keyboard... is it a physical keyboard layout (the back-lighting), or is the back-lighting set up by software? In other words, suppose I want a Spanish or German layout -- do I need a different hardware then, or is it just to change the settings? * Pen ink.. is it a proprietary pen refill, or a "standard" such as Parker refill, etc.?

I saw a video were a Lenovo rep answered a related question about the keyboard. He said the layout is printed underneath the surface of the digitizer, and display when lit up. Because it's physically printed, they layout can't be changed, which is why they don't support flashing a different OS on the units with keyboard layouts designed for Windows or Android respectively.

Any idea when it might be released in India? Does it have micro USB or USB type c??

I still don't fully understand why they didn't included a real keyboard and put the pen input in the display. You even tried to select something with the pen on the display lol Needing a special paper and special pen makes this even more impractical, IMO. If one really wants to write on paper, just simply take a picture of it later with apps like Office Lens.

Pen works with the screen too. As to why, because it's something different that has not been tried before and there are some interesting usage scenarios achievable with this design. You don't need special paper. A "special pen" you mean like Surface or an iPad Pro? How is that remotely relevant. I think you need to catch up on the facts of this device a bit more.

Dan & Zac, I have placed a pre order for the windows version. Does it have a micro sim slot that I can use for connecting to lte. I haven't see any options while pre ordering. Thanks

I believe you can only order lte version in the us. Can I ask what's your ship date?

The specs say so but I am not sure if it is optional or included. The date is Oct 17th for all the pre orders acc to the website

Wonder if my verizon nano sim card will work with this?

Weird. My ship date says November 1 and I ordered a couple of weeks ago.

Daniel could you please clarify that if the pen works with "palm rejection" and "pressure sensitivity" on the screen too...

I saw that too!. Hopefully when this device gets reviewed, we need to know how the pen experience on the screen and if its any good to use for digitial painting and writing. Pressure sensitivity, the pen performance on the screen, how effective the palm-rejection is, and lastly the general feel. It would be really great if this device is actually use pen both on screen and on Halo Keyboard surface, since this device can be really good hybrid for using as a tablet mode because of the lack of physical keys at the back when flipped. Personally this seems really interesting device even though I don't think I can really use this for anything involves making reports and programming, but it may be a better device for doing digital art. Still I'm perfectly fine with Surface Pro 4.

OMG.......I want one. I am totally blown away with how this works, I mean this is truly a cool peice of tech that it tracks a notepad that is docked to the device!!! I've never seen that before, and it pulls it off so well!

Looks slick. would be awesome to pair a HoloLens to that to get a true holographic keyboard. Kitchen knife!? You need an every day carry my friend. I like my Leatherman for that.

If you continuously keep writing on the keyboard then it will be easy but what if you stop and attend to something else then come back, now where do you start writing to continue?

Usually the next letter to whatever it is that you're writing

Some pens have a "hover" feature where it shows a little dot where you're about to write

Puzzling that such a newfangled device could not get to USB type C! I mean, is the market rejecting USB type C? Let's get there, people. That's one advantage Apple has - when they decided it was time to move from their proprietary wide cable to the lightning connector, all the devices got the new connector and we were done with it. With Windows, it seems like it is taking eons to move to USB type C. And Lenovo *must* get the prompt to switch into/out of tablet mode working for this thing. *Must*.

Seems like an interesting cross over. But I've had really bad luck with touch "keyboard" interfaces. They never seem to work 100% and the surface wares out quickly. Will be interesting to see how long these last.

Worst case keyboard quality, I guess one can consider the keyboard/drawing part as a solid cover, and the Halo keyboard a replacement for a soft keyboard on-screen -- so that one does not waste screen space by using a soft keyboard. From this perspective, the Lenovo Book is a tablet where screen space is saved by typing on the cover instead. If the keyboard, on the other hand, is decent, then the Book can be considered a 2-in-1.
--
I'm curious about the x5 processor... is it possible to run Adobe Lightroom on it, or would such a set-up be terribly slow?

Yeah, since that this device is trying to aim on creative use-cases, I wonder how this device will performs with those apps properly. I don't expect for this device to fly, but hopefully not worst to be frustrating to use. Now it really gets me to thinking that the Courier-type device seems more feasible day-by-day. This Lenovo Yoga Book shows how the Courier-type form-factor can really look like if we just replace that Halo Keyboard with an actual digitiizer screen. The only remaining thing left is how Windows 10 be perpared to be design for such form-factor. Because with dual-screen device, it needs to treat secondary screen not just an extended monitor but an actual dynamic keyboard and controls. It needs the OS to be really design to take advantage that way without a need for 3rd-party hacky solutions such as from old Acer Iconia 6120 Touchbook.

Thanks for the unboxing! I look forward to a full review. I am particularly interested in seeing how well Cortana and other voice inputs will be able to function on this device. On this video, the Atom processor doesn't seem to have much trouble keeping up the the graphics of the inking processes. The absence of an automatic switch to "tablet mode" with the opening of the hinge tells me that the firmware is not completely optimized at this point. I also hope the sound from the keystrikes can be turned down or off when desired.

Very sorry Daniel, but this is exactly what I call gimmicky. 200 dollar tabs from China come with Pen inputs Doesnt do anything for me at all !

Not to be a spec nut, but isn't this rocking the atom X5 processor from 1.5 years ago? The one that the surface 3 upgraded to an X7? Does the performance seem okay to you?

I want one because it's cool and innovative. But impractical for me right now. Those button and touchpad placements. Ugh. It's gonna be hard to get me to replace my Lenovo Yoga 2 Pro (upgraded wifi to 5ghz chip and win10 pro license). Nice review.

Dan & Zac, I have placed a pre order for the windows version. Does it have a micro sim slot that I can use for connecting to lte. I haven't see any options while pre ordering. Thanks

This was an intreguing device...until we got f*cked here in Europe as usual. 600€ to 700€ for THIS? Yeah, no. Not in a million years this is worth that sort of money. Not with those specs.

What are you talking about? The Android version costs $500 in the US, which is 447€. Once you add 20-25% VAT, that's 536-559€... yet it's being sold for 500€ in Europe! Cheaper than the US! The Windows version is $550 in the US, which is 492€ before taxes. Adding 20-25% VAT takes it to 590-615€... and it's being sold for 600€ which is exactly in the middle of that. This device is priced very, VERY generously in Europe... certainly moreso than in the US.

That's f***kingly awesome... getting one for my GF

With the Halo Keyboard, can you rest your palms and fingers on it without having it register as a keystroke?

Thanks for the unboxing! Uhh, I have a (dumb) question: can the Halo Keyboard be manually triggered to switch into the working ink space?

Zac, Daniel Can I use the provided pen with "Palm rejection" and "pressure sensitivity" on the screen if I want to?.. I could not find any article showing these scenarios as working or not-working decisively.

Can the Halo Keyboard function as a second/extended display?

No, it's not a full color display.

Is the keyboard cramped? Is the Windows 10 64bit?

Wow! Thanks Zac for the great video and review for the unboxing of the Yoga Book. The "Halo Keyboard" is cool!! The only issue for touch typing I feel, is there any feel for where the F and J keys are? This is so you can get your orientation for the rest of the keyboard. I would find that a touch disorientating. Can you get a template to place ontop with some bumps for those keys positions?

Thanks guys! Very interesting device, eagerly waiting for the full review. I'm sold on it except for one specific, key question: how does the device perform on Windows? It seems to be fine from what I've seen but I'm just a bit concerned about that X5 processor doing the heavy lifting on W10 (I'm sure it's just fine for Android). I'm aware things will get slow if you try to run intensive and demanding applications (i.e.: heavy photoshopping, video editing, etc.), but I just want to know if everyday tasks like web browsing, opening and closing normal programs, etc. are smooth or not. Basically, how snappy is everyday usage experience?

Wooooow, this is such a beautiful and interesting device. Of course, the processor and the lack of usb ports are not that interesting, but... WOW!

Tried Android version of this tablet in shop today and have noticed some unplesant issue, when coursor is close to tablet surface it continuously jumps around point , doesn't affect writing though. Are same issue with windows version ?


For the Yoga Book: 1. Can it be used with a printer? 2. Are notes, drawings saved to hard drive or only to cloud? 3. Can notes, drawings be Saved to flash drive?

"The FN key is in a peculiar spot, where the left CTRL button would usually be … I'm told you can switch this in the BIOS however, so I'll be taking a look at that." Even if power users can remap the keys in the BIOS, the keys are physically printed below the surface. Of course, that's still preferable to dealing with such an awkward reversal of key conventions.

How long does it take to charge fully? And what's the expected real-world battery life?
Windows Central Newsletter
Get the best of Windows Central in in your inbox, every day!
Thank you for signing up to Windows Central. You will receive a verification email shortly.
There was a problem. Please refresh the page and try again.