Unite all your cloud storage services with Otixo for Windows Phone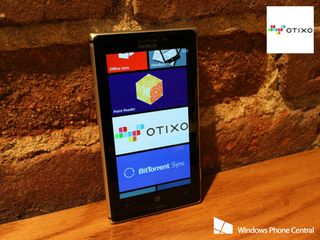 With multiple cloud storage solutions available it can prove rather troublesome keeping track exactly what files are stored on which service. Luckily, this is where the new official Otixo (www.otixo.com) app for Windows Phone comes into play. The app essentially opens up the vast world of online storage for consumers to access numerous services through a single gateway. Think of this are your one shop for all your cloud drive accounts.
The beauty of Otixo is how everything is kept safe through a single login. Much like LastPass (or similar services) for general accounts and security information, Otixo allows users to add multiple services to a single account. Simply log in, add accounts you wish to use and you're good to go from supported hardware. So which cloud storage solutions are supported by Otixo?
Here's a quick list:
Dropbox
Google Drive
OneDrive
Facebook
SugarSync
Picasa
WebDAV
FTP
Cubby
Huddle
Alfresco
Amazon S3
OwnCloud
Dump Truck
FilesAnywhere
CloudMe
UbuntuOne
Yandex
MyDrive
OnlineFileFolders
GoDaddy Online
Strato
4Shared
Digital Bucket
Cubby
GMX.DE
WEB.DE
CloudSafe
HiDrive
Deutsche Telekom Media Center
Bitcasa
As well as being able to access individual services and accounts, Otixo also supports copying/moving files from cloud to cloud without using up your data plans (all files transfer through web servers – not for those who wear tin foil helmets). Users can also search across all services with a single entry, which saves literally hours of crawling through login credentials and multiple interfaces.
Personal media is also available, including photos, documents, videos and music. This content can be loaded via the single app, regardless as to which service (or services) you're accessing. Finally, files can be uploaded to any service connected to the Otixo account, streamlining the experience further.
You can download Otixo from the Windows Phone Store for free (the service does cost money, unfortunately). Thanks, Lance_WPCentral, for the tip!
Windows Central Newsletter
Get the best of Windows Central in your inbox, every day!
Rich Edmonds was formerly a Senior Editor of PC hardware at Windows Central, covering everything related to PC components and NAS. He's been involved in technology for more than a decade and knows a thing or two about the magic inside a PC chassis. You can follow him on Twitter at @RichEdmonds.
Does Amazon S3 support mean that it will work with Amazon Cloud Drive? That's the one thing I'd like to see added to Pocket File Manager.

How does the app compare to Woopiti - they seem pretty similar functionally. Just looking for some initial impressions.

@SocalTouch : Otixo Application provides you offline browsing and viewing functionality also search file around all the clouds, while Woopiti does not provides these functionality. According to me Otixo is better than Woopiti.

Agreed! I only use OneDrive but an amazing application for people with numerous services!

I guess the advantage is having a lot of free cloud storage accounts (services) and unite them all like a big storage account instead of paying to have that big storage capacity on one single service. Useful.

What I would love to see is the virtualization of these storage providers through a common interface. Imagine getting a few free GB from each and having a service such as this abstract them as a single large storage device.

Is there something wrong? Can log cause App is asking for username but web app is asking for email for logging.

Same here, can't find my username in settings either, anyone able to login from phone app?

Same issue with me. I've emailed support to try and find out what the deal is with the user name through the app.

Hey Guidos Dad; I figured it out! use your email and password, but you cant use any special chars. in your password

Still they need to fix it as the website accepts special characters

I wonder what kind of impact resources like these would have on my Lumia 920 in terms of space in the way it has to manage indexing. Somehow I can't see these kinds of utilities having no impact on my phone. I expect the behavior to be like Dropbox is on the desktop, it costs in terms of disk space. Even worse if you share folders.


Cool, and yet I wonder... When a cloud service suddenly goes belly up, how many of its users will have a proper backup?

How about onedrive business?

App may be free, but I thought otixo is a paid service? I stopped using it when they started charging but still didn't have any mobile apps. Now there's an app i might be tempted back also to those worried about cloud data loss, you can copy everything between services using services like otixo, giving you cloud redundancy

Pocket File Manager is also a great solution.

great app , looking forward to download this on my device

I'm curious how this compares to "rainbow drive"....

BEWARE: THE OTIXO SERVICE IS NOT FREE The app itself may be free, but you still need to to subscribe to the Otixo service to access your own data. The store details screen quite plainly provides the demo log-in credentials. As I'm not a subscriber, app deleted!

Its a 14 day free subscription. You need to pay for the service thereafter. $9.9 for mobile devices and 39.9 for desktop. Nothing is free these days. Provided the type of service they are giving I guess it is worth spending $9.9 on it.

The app is fine for the phone, paid the $9.90 for lifetime access, but for the computer, free bookmarks work for me. I have almost unlimited space, so no spending $40.

I wish there was an app for CloudHQ. I love it's service.