Unlocked Alcatel Idol 4S makes its way to the Canadian Microsoft Store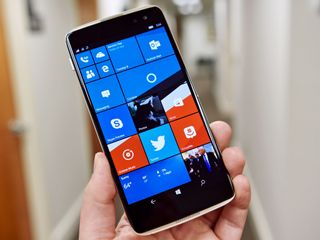 If you live in the Great White North, now's your chance to get your hands on the unlocked Alcatel Idol 4S. As initially spotted by Neowin, the VR-ready phone is now available at the Canadian Microsoft Store (opens in new tab) for a total of $619.
For your money, you'll pick up a pretty solid Windows 10 Mobile device that we came away pretty impressed with in our review. As a recap, here's a look at the phone's full specs:
Alcatel Idol 4S with Windows 10 Specs
Swipe to scroll horizontally
Category
Features
CPU
Snapdragon 820 | Quad Core CPU @2.15 GHz
Display
5.5-inch FHD AMOLED
Dragontrail 2.5D Glass
Memory
64GB ROM
4GB RAM
microSD
Camera
21 MP rear camera
8 MP front-facing camera
Battery
3,000 mAh
Quick Charge 3.0
420Hrs Standby
15Hrs Talk
Continuum
Yes
VR
Yes
Windows Hello
Yes (Fingerprint)
Audio
Dual speakers with Hi-Fi surround sound
Dimensions
153.9 x 75.4 x 6.99 mm
Weight
152g
HD Voice
Yes
VoLTE
Yes
Wi-Fi
802.11 a/b/g/n/ac
Wi-Fi Calling 1.0
Bluetooth
BT 4.1
A2DP, OPP, HFP, AVRCP, PBAP
Of course, in addition to the phone itself, the Idol 4S includes its own VR headset, letting you check out some cool immersive content right out of the box. Throw in Continuum support and a fingerprint reader, and the Idol 4S is definitely worth a look.
Interested? If so, you can head to the Microsoft Store to grab the Idol 4S for $619 right now. And give us a shout in the comments if you're planning to pick one up!
See at the Microsoft Store (opens in new tab)
Get the Windows Central Newsletter
All the latest news, reviews, and guides for Windows and Xbox diehards.
Dan Thorp-Lancaster is the former Editor-in-Chief of Windows Central. He began working with Windows Central, Android Central, and iMore as a news writer in 2014 and is obsessed with tech of all sorts. You can follow Dan on Twitter @DthorpL and Instagram @heyitsdtl.
How to save WP
*Sell more phones at low prices

Windows Phone is dead, killed by Windows 10 Mobile.

For what it offers, this phone is dirt cheap. Also, they tired the budget phone method and it didn't work.

Yup. People bought the budget phones because they were cheap, had the Nokia name and performed well compared to Android phones at the same price. Those people didn't buy new Windows phones though. Android quickly caught up on low end hardware and Windows phone has never been able to compete on high end. They really have no where to go with Windows phones.

Agree, I wonder what's happened to Microsoft + Xiaomi JV? I love Xiaomi for their affordable high-mid specs (not every fan especially in South East Asia, can change smartphone like buying an underware coz gadgets in our country is expensive, Windows Phone especially!), and ready to flash W10, that would be great!

Hmmm... to replace my 950 or not? The HP was a bit too big for my liking. Nice to have the option at least.

I think the idol 4s is a great phone but it isn't much better than the 950 and doesn't worth upgrading. If I was you I wouldn't upgrade, I would wait to a better windows phone, something like a surface phone, which worth upgrading.

The build quality of the Idol 4S and it's Snapdragon 820 is worlds better than the build quality and Snapdragon 808 of the Lumia 950.

Also the battery life is way better. I don't get how that's not enough of a difference. To me, it makes a HUGE difference.

If it had tap to pay I would have been all over it.

I think this is where people are split and understandably so. It's easy for half or maybe over half of us not to consider that because our banks are not supported for this, while the rest have support so it's a deal breaker.

Yep, I don't use it and never will, so it makes no difference for me.

Great phone. Camera is a downgrade over the 950. If you're ok with good, not great, photos, you'll enjoy the Idol...if you love the photos the 950 takes...stick with what you have.

Does Natella know about this?

Natella makes you cancer,my friend

Really? That doesn't even make sense.

Awesome, have been waiting for this forever,

If I could figure out that this WILL run Win 10 ARM, I would get it. It is the same CPU used in the demo after all... Get me an answer and I'll snap one up. Otherwise, my 950XL is still chuggin nicely

I believe it was stated that it needs the 835 snapdragon

It can't. Needs Snapdragon 835 processes for Win 10 on ARM.

I hope it get good enough response in Canada so it is available more worldwide.

Stupid cad$ give me back the on par days! :)

It is good that the availability of Idol 4S is getting better step by step - no longer exclusive for T-Mobile, no longer exclusive for US but it needs to come to Europe - my L930 needs a replacement and no fingerprint on L950 (not to mention the design...) is a dealbreaker for me so far. So come on, Alcatel, bring it home! :-)

I am torn. I want a Surface to replace my L930, but that may never happen. Do I grab this as soon as they manage to sneak a few over the border from France and into the UK? Or wait for a rumor that may never happen? If I get this and come summer the Surface comes out I'll be really annoyed. But this phone is tough to get hold of, so if I see one available that may be my only chance. Very difficult. MS, please let us know when your updated flagship will be released, even if, because your silence stalling the purchasing of Windows devices.

When it comes to cell phones, you buy what is hot at the time. Waiting means that you will continue to wait. I got the L920 when it came out, by January the L925 was announced, by June the L1020 was available. If I had waited I would have lost 8 months. As a result, I ended up with the L920 for 4 years. Now I have the L950, but after a year with it, I went back to the L1520 on W8. The people app is better in W8 and is what I use the most. So in some cases older is better. LOL. Main point, in the mobile phone world waiting is a waste of time.

470 bucks for an Alcatel ? Naah ! More like 250 to make any sense

Even if the logo is not fruit like, the parts are ok for the money... If you are only buying for the brand, get a rolex, buy a bentley and get a gold iphone maybe custommade with a rounded edge... It does not help anything but at least u can say its big brands...

So, you're expecting a phone with high quality build, 820 cpu, 64 gigs of storage, 4 gigs of ram, a fingerprint reader, Cortana, DTTwake, DTTsleep, etc. to sell for $250 dolalrs? Where are you finding all of these quality devices for dirt cheap prices like that? This phone is dirt cheap at $470.

470 USD is still a good price for such hardware. The issue is the price is higher because of the VR thing nobody wants. I am sure when I get mine I will keep it in the box...

I still maintain my L720 and L520 apart from my daily driver, the L735. I also hold on dearly to my Nokia 6300, Nokia X2-00 and Nokia 5310 XMusic.

I'm wondering about compatibility on the Canadian Carriers. From what I've been able find out these are limited to LTE Bands 2, 4 and 12. I asked Alcatel Support if this unlocked variant had additional band capability, they said the LTE Bands are the same as the T-Mobile edition. I also asked about additional markets and basically had that question ignored. Not that I'm worried. Mine works gloriously on my T-Mobile Sim. But there are a lot of Windows Mobile Fans worldwide who would love this phone. Maybe it's time to let Alcatel know.

I think that the Alcatel would be a great phone and by all reports, is. Guess, if someone needs NFC, it's out. HP has all things necessary and is a fantastic phone, but, for some expensive. If I wa you and was wanting to change now, I'd either look for a 950xl somewhere or wait for the WB phone (will be released soon) or just bite the bullet and get the HP or Alcatel. Can't go wrong with any of these phones. I believe the Surface phone is due VERY soon, and by that I mean, it will be announced soon.

I'm in the US and I believe the phone is a bit overpriced. Perhaps it is because currently there's not too many choices for a Windows phone especially through the phone carriers????

I think less than $25 a month on your current plan is completely affordable for this phone if you have TMO. Could it be better? Of course! But it's great for the price.

Wow. That's good news for the non-TMO people that wanted one.

This is great to see for Canada, and hopefully a positive sign for the future that we will no longer be forgotten about. Not to be sour grapes after the fact, but the sad thing is, back when it mattered most for Windows Phone, Canada didn't get the Lumia 925, 1520, or 930, and Canada was the worst country in the world for Windows Phone. I'm still bitter about that, even though I'm fortunate to have managed to get a Lumia 1520 which I love dearly. Considering that I've seen a handful of 1520's in the wild up here in Canada might show what a missed opportunity it was for our market back during the "halcyon era" of Windows Phone 8. No matter the carrier support, all Windows Phone / Windows 10 Mobile devices should always be available from the Microsoft Store for us.

Will this work on Verizon's network?

I have no interest in the vr headset. Wonder how much cheaper this would be without the VR headset

Not much. It's a nice freebie, but not having it wouldn't drop the price by much.

Glad I bought a 950XL for less than $500 on Amazon. Sheesh.

This has a better processor and better build quality for less money, and very few problems compared to what the 950XL has had. And that's not what your phone sold for when it was first released.

Agreed, perhaps not for when it was first released as far as cost; but I've had zero problems with it since. Also, I bought it for way less.

Hey Dan! Could you please share that wallpaper? Looked for it on the internet, but couldn't find it anywhere.
Thanks in advance!

Apart from the screen and the battery this handset equals or beats the Elite X3. The Idol 4S is a good consumer play.