Unlocked Lumia 950 XL phones in UK are getting 'double tap to wake' firmware update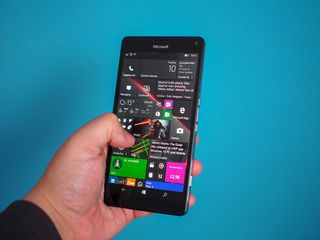 (Image credit: Windows Central)
UK owners of the unlocked Lumia 950 XL phones from Microsoft are reporting they are getting an over-the-air firmware update that brings the "double tap to wake" feature to the Windows 10 Mobile phone.
The firmware update was previously released for the phone in the U.S. and Australia, but is now making its way to the UK (via Reddit). Here is Microsoft's previously published change log (opens in new tab) for the update:
Wi-Fi connectivity improvements, including fixes for Wi-Fi connection dropping randomly and Wi-Fi scan occasionally not returning any results.
Support for double tap to wake enabled.
Bluetooth connectivity improvements.
Stability and reliability improvements.
Camera improvements, including improved image and video quality, improved Auto-focus and fix for a problem that was causing slow motion capture to skip frames for some users.
Cellular connectivity improvements, including fix for a problem that caused occasional network loss for some users.
Audio quality improvements, including fix for a problem that caused voice call audio to get scrambled for some users.
If you own a Lumia 950 XL in the UK and want to see if the firmware update is available, simply go into Settings > Update & security > Phone update and hit "Check for updates". If eligible you will see MICROSOFTMDG update.
Thanks to Robert and "Duke178" for the tips!
Windows Central Newsletter
Get the best of Windows Central in in your inbox, every day!
Little off subject. But will the unlocked 1520 get anymore firmware updates in the future?

Do not buy a new device the 1520 is amazing but with windows 10 annivesary update its become really dodgy

I won't. I love my 1520 :-) it's always been good to me. Im on Redstone 2 now. It's still good lol. Im never getting rid of my 1520 even when I upgrade to the surface phone if it happens haha

Don't forget when the battery performance drops, you are obliged to join the "W10M screwed my battery" brigade :-) lol

Why would he? The 1520 is one of the top 5 WP available still

Just don't expect any firmware updates.

That's fine. All I did was ask a question. Idc if there isn't anymore. Just wanted to know,is all.

Lol there will be firmware updates! The 1520 is in the top 5 catagory for WP why wouldnt they give it firmware updates??

Haha very true. And thanks a bunch. I really had no idea if it was it not lol. I wonder what it will he bringing feature wise and ect.. ? Do you know?

Uhmm, no. We are done here. BTW, your a real looker.

Congrats to all of our UK mates!

Off subject question but when was the last time the Lumia 640xl ds got a firmware update? Mine could really help with one...

It's also still at 8.1 isn't it? Then I only expect an upgrade to help it go to 10.
Would hate losing Here Drive though. Maps isn't doing it for me on the 950 xl, no voice guidance (all voices failed to install, but cannot be deleted from the install list, so no clean reinstall possible).

What are you saying? Mine went to 10 the day it launched for production!

Well good unless you're an AT&T customer with the 950 like me. We probably won't get it to be honest.

Got it two weeks back off wdrt

Oops, I've just tipped this to you by email...
Soz

Just downloaded. Love it. Thanks.

Installing on latest fast ring build. Seems stuck at end of progression bar! Fingers crossed!

Finally, been waiting ages for this. Updating now on Unlocked CPW 950XL on EE. Can't wait to have DTTW back in my life.

It's unfortunately not quite the same. Your double taps have to be a bit slower than before.

Hmmm, seems about the same for me so far. Maybe it can be customised as HP have done with the DTTW feature on the X3.

Ditto, fast taps are fine, works like my old 930 did :)

Fast taps have been flaky for me. I'd say double tap works for me 80% the time, but the times it doesn't is annoying

Ok, mine flaky now in the sense that sense FW update and having DTTW active, when I DT or use power btn to unlock the screen, it stays black and only iris scan unlocks the phone. I've had to disable DTTW to make lock screen work again.

Any camera problems? Mine has gone to **** these last few days.

I also felt it used too much energy. Trouble getting through the day without recharcheing. Maybe will use in winter... though maybe gloves won't work. There is no sensitivity setting like on the 920.

At last. Waiting for wifi to download.

Good but it's not as good as on 1520 and other older devices.... the sensitivity is very low for double tap on 950 and Xl

Yes, a little to low. Hopefully the 950/XL will get the sensitivity settings also. Like the Elite X3.

Dont be too excited 950 owners, It's going to be crappy and very very erratic. Like it is for Lumia 730/735. The only Lumia where it works flawlessly every time was the legendary Lumia 720. Whatta beauty that phone is ! I just wished MS launched it with 1GB RAM and Win 10 ! It's successor, the 730 is a bit unweildly in design and dimensions...

It worked great on the Lumia 920 too!!

950 owners have had it for over a month now lol. It's fine.

You are comparing the technological power of an older and weaker 735 to the powerhouse that is the 950, though.

Don't forget to switch it on in the lockscreen settings afterwards, it's not on by default ;-)

Must be nice! AT&T Mooooove Your ASSSSSS!!!!!!

It also seems to have re-enabled my ability t use wifi calling, on restart it was disabled so I set it to wifi preferred again...and it connected straight away - let's see if it stays this time, when I first got the phone it worked for a little while then went off and has never worked since! Fingers crossed, my EE signal in the house (UK) is poor!

Signal in houses has always been poor for Orange/EE. That's one of the reasons I left as I could never get signal anywhere.

Hi Folks. I presume my Lumia 950XL is not an unlocked version? (supplied by EE in the UK) but just got the update.

Check the side of the box. If it says CV-GB (or GBIE), its the unlocked variant, if it says EE-GB its the EE locked variant.

Cool = It's unlocked variant and My wife's 950 also - Thanks for info.

Typical luck - i just wiped my phone via WDRT to get it as I was growing tired of waiting! Good news nonetheless though!

Of subject but can anyone give me a link to the wallpaper used on the phone in the picture

Why is it just getting this? I remember having the feature a few months after the 920 came out... Posted via the Windows Central App for Android

The feature was redacted from the 950 lines. No idea why. MS rushing to market.

Doesn't seem to be working on mine, tap to sleep is working ok, but nothing is happening.

Mad cabbie should be happy now.

Installed and working. Did seem to take a long time to finish the install. Seemed to be at the end of the progress bar for ages.

Now if ATT would release the update

They should already have the double tap

At last... Just got it OTA and install without any issue... So far, all perfect... And glad to have the double tap to wake feature back...

Downloading now. I was surprised this was missed when the 950 was released.

Those with the 950xl will see marked improvements. Been running on mine for around 3 weeks. DTTW takes a hell of a lot of getting used to! I still go for power button!!!! Battery life has improved somewhat, with at least a full 20-24 hour life, and at a stretch, a day and a half with moderate usage. What with RS and this, the 950xl is the device it should have been 9 MONTHS AGO!!!! That's the annoying part..
9 months waiting for the device to work properly! As a footnote, I did perform an HR to give everything a fighting chance. Now on RS2 insider and the phone just gets better. Think I'll wait for the X3, unless of course the urban myth phone surfaces.....in the meantime, I have grown to like this device. Shame I didn't like it when I first got it!

Yep, with you on the automatic power button reach. Still doing that more than tapping. Damn muscle memory! You having screen dimming problems with RS2 builds?

No. I haven't had any issues apart from Cortana crashing to start screen when tapping the reminder 'lightbulb' on her homepage. Can still ask to set reminder and that works. Absolutely love the different colour options for night glance screen!

I'm having massive camera problems as of today. Camera is in use by another app. Weird. Not sure which colour options you mean, aside from the red, green and blue we've always had?

950 on att is not seeing the update still.

Not available on ATT. They need to approve it first.

This has also given me spot metering - tap to set exposure as well as focus - in the camera which I never had on my 950xl. So happy about that!!

Settings. Personalization. Lock screen. Toggle to turn on/off. --- didn't notice any update today but just bought brand new Lumia 950xl rm1116 and after couple days of updates and app installs there it was. Tested and works great actually. Minnesota, USA Lumia 950xl unlocked bought from Microsoft Store

Hii dr frndz!! Im planning to buy a lumia 950xl , bt my frnd told me his 950xl selfie camera capture always the mirror image..so many times get irritated.. so anyone conform how is the selfie camera capture the image.. its mirror face? How to fix it ?? Plzz reply soon as possible!! Bz today im planning to buy a mobile!! Thankz in advance.. Posted via the Windows Central App for Android

What about the standard 950 users? It's so sad that my mid range L830 has it, as well as my old L920.

Update rolled out last month for unlocked 950 devices. Check your updates and lock screen settings =)

Some had it back in June. All, apart from ATT, should have it by now

I wasn't willing to do that! Had it on 950 some time ago anyway

Also this should be available on the 550

I've always checked for updates in the store,settings and then the option was added to the storage app,the little box,just go to device and then temporary files and update status I think,anyway its gone now,had to reset my phone,groove quit,I'm no longer an insider,but I had att version 1607 and the dude on the website @Windows central said that wasn't even possible,he helped me get groove back on,he suggested I reset my 950,any hoo,it worked,Microsoft is a bunch of idiots for real,but I love em,it's all just a bunch of over priced bull ****,adios

Yes got it!! Now how about the ability to turn off the device time out too

Do you know somethings about roll out in italy?

Just got the update on my 950 XL, Thanks to you guys!!!!! Works perfectly fine on my phone, no problems at all, giving me flash backs to my 1020!!!! :p

Updates galore in the last week ! My 735 UI feels fresh and exciting

Hii dr frndz!! Im planning to buy a lumia 950xl , bt my frnd told me his 950xl selfie camera capture always the mirror image..so many times get irritated.. so anyone conform how is the selfie camera capture the image.. its mirror face? How to fix it ?? Plzz reply soon as possible!! Bz today im planning to buy a mobile!! Thankz in advance Posted via the Windows Central App for Android
Windows Central Newsletter
Thank you for signing up to Windows Central. You will receive a verification email shortly.
There was a problem. Please refresh the page and try again.