Upcoming Windows 10 'Redstone 2' preview builds will release on PC first; mobile coming later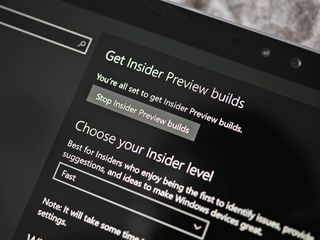 If you're a Windows Insider who loves to test new features, you're going to have to wait a little while before any new features begin showing up in upcoming preview builds. Much like how Redstone 1 was developed, Microsoft has announced that they are focusing on under-the-hood changes first, adding new features later down the line.
This is the nature of development, so this shouldn't come as a surprise to Insiders. Upcoming preview builds from the Redstone 2 development branch will feature a lot of OneCore refactoring changes, and as such Microsoft warns these builds may be a little more buggy than usual. If you're not okay with this, you should switch to the Release Preview ring or leave the program entirely for now.
Not only that, but Microsoft will also be holding back Redstone 2 builds for Mobile at first, giving PC builds a head start for Insiders to test. Again, this is similar to what the company did with Redstone 1, so this shouldn't be all too surprising. Mobile preview builds for Redstone 2 will resume in a few weeks, but for now PC builds will be the focus.
From the Feedback Hub post:
Microsoft is now ready to start releasing Redstone 2 builds to Insiders on PC. As we reported recently, Microsoft could get the first Redstone 2 build out to Insiders as early as this week, which we're super excited for. Let us know below if you'll be testing Redstone 2 builds!
Windows Central Newsletter
Get the best of Windows Central in in your inbox, every day!
Zac Bowden is a Senior Editor at Windows Central. Bringing you exclusive coverage into the world of Windows on PCs, tablets, phones, and more. Also an avid collector of rare Microsoft prototype devices! Keep in touch on Twitter: @zacbowden.
"If this makes you uncomfortable, you can change your ring" Thanks MS, but I like living dangerously. Now give me those builds! *salivating, heavily breathing* :P

Got it, ensure my wife's PCs and phone are off the fast ring. Thanks for the heads up.

Got it, ensure my wife's PCs and phone are on the fast ring. Thanks for the heads up. ***Fixed

If I was your wife, I would be so mad...

https://m.youtube.com/watch?v=dVSjCvGFMnM

"I don't always always participate in preview build rings but when I do its always the fast ring"

So much for 'Mobile first, Cloud first'

Mobile means more than just phones.

It pretty much does since at the moment mobile = ARM and the only Windows 10 ARM devices are phones.

Windows tablet and 2 in1 still not mobile to you? Posted via the Windows Central App for Android

Yeah, didnt they promise that RS2 will be all about mobile? But then again MSFT promises dont mean anything these days...

who on earth is naive enough to still believe them :)) mobile first will always mean for them Android and IOS...Nadella hates winmo

The fanboys around here take everything that comes from MS as gospel. It is truly funny to watch!

Changes to OneCore will apply to mobile also. It's called OneCore for a reason. Geez...ignorant people.

Me, I'm changing to release preview.... For now.

"If this makes you uncomfortable, you can change your ring" Said the proctologist..

Now tell me something new... And someone said that they will shift focus to Mobile. I don't know how "mobile" a smartphone can be anymore...

Mobile ??? Keep waiting...everything for mobile is COMING SOON!

Where is the focus with such statement

winmo is coming soon...rest of mobile for MS is ios and android

I'm guessing with all the early OneCore changes you won't even get a booting and/or properly working phone. So i could understand that they wait until there's actually something useful for mobile.

It's not just phones they target with 'mobile'. But yes, if you remember the first few builds os RS1, you'd understand why they are holding off for now. That was rough.

Focus on mobile will be feature wise, not build wise.

Wasn't the shift to focus on mobile going to happen Q1-2017, the same time as the gossiped "Surface" phone?

I do not think there is an official/annouced time frame for the mobile "focus"

It's only August and they are about to start RS2 when RS1 is barely out the door. The Q1 schedule is still in play unless they make a decision to make other changes to the Core that will delay that wihich will still be fine. New hardware such as the latest SSDs and other advance types and memory chips will soon be coming so refactoring the Core is essential. Intel will be marketing it's ten core chip upcoming which I am very much interested in even though it will be expensive this alone may require some refactoring of win10. My hope is that RS1 will get OEM to put more wp on the market for Q4.

Shifting focus to Mobile, (in this case), doesn't literally mean shifting, as in taking focus away from another area... Rather focusing more on Mobile... Maybe "shifting" is a bad word to use.

It's difficult to focus on 0.1%

what idiot downvoted you? only a blind stupid fanboy would disagree with the truth

We all know you're blind stupid idroid fanboys

Don't hate the player, hate the game....and at this point, MS has LOST THE GAME!

The fanboys are all blind here. Very very entertaining tho!

I'm starting to lose hope for mobile,we always behind

Don't worry, it just doesn't make sense to test OneCore changes on a device that can easily be bricked by a bad update. Because they'll start with Mobile later doesn't mean it isn't their focus.

Jerry, Seriously starting to lose hope? really? I started losing hope 8 months ago....and ditched everything. Sold my last microsoft device today! wooo hooo bring on the apple devices, and up to date features that actually work instead of promise after promise. By MS.....Nutella is costing you customers at an alarming rate!

New features later down the line when? Redstone 3 in 2018? Everything else first, Mobile last! - Nutella

iPhone and Android apps first, cloud second, W10 mobile last.

Maybe you should try thinking first instead of last. RS2 will of course include new features but, just like early build of RS1, they will be concentrating on the core first. If they were to add features first then they would break when they then made core changes later on and you'd be whining about that instead. Haters gonna hate, idiots gonna idiot.

Same BS we heard around this time last year when the LONG development on RS1 started? Okay got it!

That could be do to the fact that Intel having to make a change leaving ARM as the main chipset available for now at least. If Intel is still in the mobile game in this case phones then maybe we are about to see some significant hardware/software innovation that Microsoft can use and I am thinking of the 950XL which is as innovative as I've seen from Microsoft yet the carriers will not sell it here as far I know and I am wondering why.

The carriers here tried to sell it but not many bought it, the carriers then took note of this and that's why they haven't really tried to sell it in other places. My 950 (not XL) is a really good phone but not as innovative as the Lumias were when Nokia was developing them

You want to test mobile builds, but have no idea what OneCore is? All of the OneCore changes will apply to mobile.

My 950XL is ready when you are MS. Bring on those RS2 builds.

I'm going back to release preview I think :D I'm not brave enough for the fast ring in this section of development, but don't want to entirely leave the program. I'll jump in on fast ring again, shortly before the official release of RS2 :D

I'm with you bro, although my spare 650 will have to suffer on the fast ring!

What I'm wondering is whether slow ring will actually have a point this time around. At some point in RS1 development, it became the practice to send builds to the slow ring even when the fast ring found major bugs. On the other hand, release preview didn't get any RS specific stuff. So there hasn't been a ring for "I'll help you test while my feedback will still make a difference, but I need to know that my device will function."

I also considered the slow ring, but dropped the idea because of this. If I had a spare phone, it surely would be on fast ring all the time. But the 535 I'm currently writing this comment on is my one and only at the moment :D

Same here, it's what I did for Redstone 1, until I see the bugs are livable

RANDOM DS! WIMP. Thought you were an MS fan. Had total faith in them....GO FOR IT! TEST THE GOODS!

I dual boot the public release and insider on my desktop. So I will have no trouble getting the Redstone 2 build as long as it does not affect my dual boot system.

I tot R2 is to focus more on mobile

So, why don't you still think that?

Because of a lack of actual thinking.

Lord of the rings, we are here to stay. Bring on the builds and we slay then

Come on, it couldn't be worse than the first win10 mobile previews...

But if you get in trouble, make sure you have a spare phone lying around.

Tarku13 In MS land its YOLICS.

Is coming later the new coming soon? Posted via the Windows Central App for Android

Yes. Coming later. that means longer than soon, the real verion of all of this win10mo talk is COMING NEVER!

I'll be staying in the RP Ring for this one. I may use an old 830 to see what it is like. But I am quite excited! I'll be patient and waiting for the mobile versions and will get the PC versions on the RP ring as well

My phone is installing 10.0.14393.67 as I type.

The way they describe this process, I now imagine Windows as a sphere and the OneCore is what it says... So when they "improve" that before all the rest, I imagine the separation between them creates the issues of incongruity. Earthquakes and aftershocks of bugs can only be the result...BING. It. ON. O-O

I'll be staying on the fast ring too, for the first few releases at least, and as long as my devices are functional and not interfering with my business and leisure pursuits' I will stay on , looking forward to the ride !!!

Splendid... Windows 10 Technical Preview for phones (10.0.14393.67). Downloading

Sure they have to finish the V1 of w10m Posted via the Windows Central App for Android

Anyone remember when this place was Windows PHONE Central? Back when MS was innovating with WP7 such that even Steve Wozniak took notice? Now its just endless waits for builds that'll make Windows Mobile reach parity with WP8.1. It'd be easier if I just didn't care at all, but WM is still my favorite mobile OS.

We can't do much but to believe "new features will come soon".

My 950XL just received an update about an hour or so ago and wants to restart. Guess mobile didn't have to wait very long.

The RS2 build isn't out yet, mate. What you got was an RS1 update they released earlier today.

I thought RS2 had a focus on mobile.

Re-read the article, mate. The first few preview builds aren't about features; just "cleaning the pipes" (priamrily for OneCore). This is how they've started each revision (TH1, TH2, RS1). OneCore optimizations with public testing on Desktop, then they start releasing new features and improvements after OneCore is relatively stable. Mobile is still planned to be the focus.

I've dropped my desktop, which I use to remote into work at least one day a week, and my laptop, which gets daily use in the lounge room, back to Release Preview after joining the Fast ring to get the Anniversary Update sooner but my Surface 3, which I use while commuting, will stay in the Fast ring. My 950 XL has also been dropped back to the Slow ring for now as it's my primary device but it will rejoin the Fast ring as soon as the builds appear to be relatively stable. I can handle a few bugs and a hard reset here and there, but I do need to finish Lara Croft: Relic Run first, so that I don't lose all my progress yet again. Why oh why do they not support saving progress to the cloud for that game? I guess it's because, unlike Lara Croft Go, you can't play it on PCs as well as phones.

I'm just going to assume every build for everything that ms releases if going to be in this order: PC, ios, android, xbox, beta tests, edge, whatever satya is using at the current moment, cloud, business, cortana, patch Tuesday, next quarter, E3, tokyo gameshow, next build conference, after galaxy and htc release in February, lg mid year, apple september, win10mobile somewhere within that timeline where we can fit it and if we feel like it.

....and I be 1½ year older by then.

So when does it actually start so I can leave the rings?.
Wouldn't want to see that watermark on desktop.
Oh but didn't worry, I'll be back late June 2017 like I did with this years anniversary.

If you jump in again in late June 2017, you'll be getting the mid-development Redstone 3 builds...

Please change that wheel animation during update in mobile make it same like pc. I hate those 8.1 cogs.

Well I hope when the RS2 build for phones is released for insiders "later" it will stable enough to use on my primary phone. As someone said in the comments probably they will release builds for pc and after a while when it is more stable they will release it for phones. If not, I expect it to be a 3-4 month wait from now before RS2 is stable enough. Till then Release Preview ☹

RS1 didn't even come to mobile yet and there are already people ******** about not having RS2 insider builds...

Year in and year out, many of us still waiting for what the Slow/Fast ring get and now msft is talking Redstone 2.... gimme a break.

Have a break, have a kit kat.

my Aunty Elise just got an awesome metallic Mazda CX-7 SUV just by part time work from a compute
►► ✒✒✒ ✒ http://www.factoryofincome.com

Mobile first in Satya minds is Mobilty of the experience, i.e. iOS and Android platforms. They have made the future of Windows Mobile very clear, it is now for 'enthusiasts' and Enterprise only, not general consumers.

Focus been focused even more now. Enterprise only. And when hp phony flops then more focusing is imminent..

At what point will MS actually complete any workable version of RS1? As it seems RS2 builds will be pushed out for testing shortly before the general public actually receives the long waited anniversary update fit for general everyday usage. At this rate RS2 build will be released for testing and everyone else wouldn't have been on the first RS1 build for more than 1yr. As it's going no one on any version of W10 for Mobile have been able to enjoy any iteration of that OS for any extended period without there being any bugs or issues. When MS is able to release a public accepted OS version is the day we'll know MS is finally serious about it's desire to give its small consumer base something in appreciation for sticking it out for this length of time with all the disappointments of OS and hardware expectations.

Called it as mobile focused and

Called it as mobile focused

I think with mobile focused RS2 update they meant adding more features and functionality to mobile and not literally releasing mobile builds first. With the stable rate of updates we have had leading up to RS1/AU, I would have though more people would see that

The Insider program has been an outstanding feature for me both personally (I still have a Lumia 735) and for testing phones that I could not get images for. Very nice, keep up the good work. Some day I'd like to get a 950 or 950XL but I am sort of stuck with Verizon due to a large family with many devices having overlapping contract maturities. Too bad.
Windows Central Newsletter
Thank you for signing up to Windows Central. You will receive a verification email shortly.
There was a problem. Please refresh the page and try again.