Update to Twitter for Windows 10 brings full in-app account settings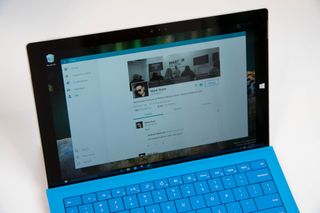 Twitter has updated its official Windows 10 app today, bringing a pretty substantial change — if you're into tinkering around with settings, that is. The Windows 10 Twitter app now includes toggles for the full range of account settings, including security, muted and blocked accounts, and more.
Prior to this update, the only real settings you had access to in the Windows 10 Twitter app were for notifications. While that was convenient for the app itself, it meant having to navigate away from your preferred Twittering method to a browser just to tweak simple account settings.
Now, however, you should be able to mostly live in the official Twitter app for Windows 10 if that's your thing. If you'd like to check out Twitter version 4.2, be sure to hit up the Windows Store link below. And no, sadly Twitter 4.2 isn't available for Mobile quite yet.
Download Twitter for Windows 10 (opens in new tab)
Windows Central Newsletter
Get the best of Windows Central in your inbox, every day!
Dan Thorp-Lancaster is the former Editor-in-Chief of Windows Central. He began working with Windows Central, Android Central, and iMore as a news writer in 2014 and is obsessed with tech of all sorts. You can follow Dan on Twitter @DthorpL and Instagram @heyitsdtl.
Because nobody gives two poops for Windows phone, sadly

Think again...its 10s of millions more of users for WP if they deploy it for win 10 mob too...with barely any change of code...why would they pass on that? Why would they start from scratch with a Universal app in the first place and not continue with the 8.1 version if they had no plans to use the code in mobile and other devices...?

I work for a software company of 60+ people and have been raving about WP for years... nobody has yet to get one. If it's not android or iphone... nobody wants it!

I've been pleased with wp8 for years as well, and evangelized it, too. But with as awful as the betas still are when we're supposed to be a month away from launch, I think I'm done. My upgrade is now available, and I'm pretty sure my next phone will be an iphone. Posted via the Windows Central App for Android

As it should be. You can still enjoy Microsoft services on these other devices ) Posted from my Note 5

You better go on leaping from android to iPhone.... You don't know the essence of wp and never will.

MS wants W10M release to be huge with many NAMES like twitter and FB

I think that Tinder and Snapchat wont join that party...

The app itself is responsive so it's been developed with mobiles in mind. I'm sure they're waiting for an official OS release and then it'll go live. For time being instead of whining just stick a "coming soon" badge on it. But it will go live for sure.

So Twitter is gonna to wait for the Lumia 950 release to made this "universal" app available to mobile? Seams like Facebook is doing exactly the same...

Yup. If the Twitter for Win10 is any indication, they're waiting for the official release of WinMo 10

Excited for it. The Twitter app has gotten really good.

Great, I use this app all the time and it's pretty good already. They should improve tablet mode though, too much wasted space!

Nothing less than universal app!!

I hope the delay brings periscope with it

Telescope really doesn't cut it

Looks like you can also better manage your personal lists and pin them to the start menu.

Omg! Facebook Beta is by far way better looking and overall better than the old Facebook app..

Twitter already announced universal app but let the wp os officially release.(when window 10 announced)

OMG OMG OMG! Such amazing day for Microsoft and Windows 10. Hated having to use browsers for full web versions to access stuff like this. Finally twitter, finally! I hope Facebook learns something from twitter as well.

Mmm, it appears to be just a webview though. Only the Notifications and Profile areas are native setting panes. All the rest appears to be pulled from their website.

It's nice but still doesn't allow you to edit your Tweets or (this is key) spellcheck the tweets!

Do you still have to click to load more tweets?

Where can I complain about the @ filtering? This has always been a problem with the Win8 and Win10 app that is not a problem on the phone app. I don't want a list of the most popular user names when I'm trying to @ my friend who's user name.

And still can't send a tweet with Ctrl+Enter

Twitter has really stepped up their app support for the Windows Store.

that is steve ballmer investing in it for you

that's pretty fucking close from ok

Still hate how the Store cant give notifications on which app has been updated

I'm quite sure they hide those dates on purpose to not scare off all the new users. These dates look bad on many apps. Last updated in 2013/2014 is not rare. I think they will show the dates once the store is healthier.

just need version number there and at least somethign that tells you in the action centre that something has been updated.. at the moment suddenly tiles are not working and apps look different - this is the only indicator i have for updates :O

Can't wait for the mobile version.

New app, more updates, and still can't do basic stuff like opening a profile picture or notifications about being quoted (without mention). Something Android, iPhone and Tweetium can do. Amazing. I hate being dramatic but I'm going to start believing developers hate this platform. How difficult is it to add something so basic such as profile picture viewing? Jeez.

Oh there's something else you guys didn't mention. They actually show reply threads now.

Hate the white. All these apps need black themes.