Wireless charging car holder updated to support the Lumia 1520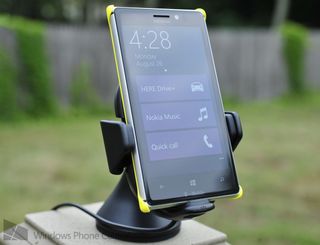 We're big fans of the Nokia CR-200 car accessory. Not only does it give your Lumia handset a prominent position within your vehicle, but it ensures your phone stays juiced through Qi wireless charging. Nokia has 'updated' the CR-200 to CR-201 for those with larger devices like the Lumia Icon, Lumia 930 and Lumia 1520.
What's new with this 'updated' version of the CR-201? It's easy to update software, but what about hardware? Here's what Nokia say's is new with the CR-200:
And there you have it. Some users with the Lumia Icon/930 noted that the camera button would be pressed in the older CR-200. This updated version should hopefully address that and accommodate large devices, like the Lumia 1520, with a bit more ease.
Those on AT&T with the Lumia 1520 of course don't have the Qi wireless charging standard. But where there's a will, there's a way. If you're willing, you can add Qi wireless charging to your AT&T Lumia 1520 with a bit of work.
Update: The new CR-200 is called CR-201, appropriately and it can be had for $98 from Mobile Fun, a reputable site that we've purchased items from in the past. Thanks, Andrew, for the update
Anyone out there thinking of picking up the updated CR-200? We're not seeing it up for sale yet at retailers, hopefully it comes soon. We'll order one as soon as we can and let you guys and gals know how it measures up.
Don't forget to check out our review of the CR-200.
Source: Nokia (opens in new tab)
Thanks for the tip Alan M!
Windows Central Newsletter
Get the best of Windows Central in your inbox, every day!
Isn't the CR-201 the updated version?

I don't see the point of this update. My 1520 fits perfectly well into the old 200 (even with a case on). If they want to update it they should fit a normal ball joint so that you can get it in the best angle, instead of facing the passenger...

If it had a vent mount, I'd get one. There's a third party qi charger on Amazon which does have vent mount.

When are they going to update the non qi Nokia branded charger?

i've had the updated version for the past 4 months. So far so good.

I've been using it for the past 4 months. Works very well with the 1520.

Hmm, I have two of these that won't work with my Icon; clamp presses the camera button.. Wonder if Nokia will do a trade in.

Will definitely buy if it supports the 928...

I still wish it was built into the AT&T 1520.

This has been out a while as the CR-201

Good news, and right on time. Just about reading to start seriously thinking of purchasing a lumia 1520.

How will you know if you're buying the new one or the old one? It seems a bit confusing to not update the model number to CR-201 or CR-220 or something.

I wish this version was available in Canada... :(

This has been on sale for a few months under the CR-201 label. I bought mine at mobilefunDOTcom and my 1520 with case fits very snuggly.

The updated CR-200 is CR-201 and it's on sale in Poland (and Europe I think). Priced nearly equal to CR-200 (~60 Euro). Do you understand why it has minijack power plug? It's stupid.

I thought the CR-201 was the updated CR-200? I bought one a few weeks back for my 1520 from mobilefun.com. It's a snug fit, as in, the clamps don't extend much wider than the width of the phone. But mine works fine. No issues as of yet.

I dont know about the States but in Europe it is available as CR-201 since late 2013-early 2014. The CR-201 is the updated model supporting Lumia 1520. I don't know if it is OK with Lumia Icon/930 but sooner or later i will know (Pre-orders started in Greece for Lumia 930!!).

There is also, apparently, an improvement to the release mechanism, which broke under normal usage for many customers. http://discussions.nokia.com/t5/Accessories-Car-Phones-and-Other/Difference-between-CR-200-and-CR-201/m-p/2280539#M23432 There were also folks complaining the original variant did not charge the phone faster than it was discharging while using Here Drive. I'd pay a premium for this charger, but not if the battery on my 925 (w/charging plate) would be lower after using it as a navigating unit.

I bought mine in the UK while trvelling and then the mechanism broke just a few weeks after returning to New Zealand. Nokia NZ wouldn't consider a replacement and said I should send it back to the UK which would have cost more in postage than the unit was worth. I didnt even ask for my screen to be replaced which had fine scratches on it after it slid along the dashboard after the mechanism gave way. Customer sevice from Nokia is among the worst of any company I've ever dealt with and that will be my last Nokia purchase.

I had both problems with the CR-200 and my Lumia 920. Nokia just changed my charger, I hope it gets better now.

Hopefully they also fix they plastic part that always breaks and replace it with a metal piece

Can anyone confirm how well the Cr-201 works with the Icon? Does it press any buttons?

T-Mobile puts their logo under the Windows Button? Wow... at least it's not as bad as Version's ugly logo lol. Thank god my 1020 ain't got to stupid Carrier logo on it.

If US carriers could sign you up for a 20 year contract and tattoo their logo on your forehead, they would certainly offer. And sadly, we'd have a few takers.

This is the best accessory ever!! Pitty Telstra don't have the 1520 coming to AUS :(

does it work with a 1520 with a case on it?

Umm, I bought it a month ago after reading that CR-200 had issues with bigger phones and with its lock mechanism. There are plenty of CR-201 here in Poland, just look up at allegro or ceneo.

I really liked Lumia 1520 after playing with it in the local MS Store, but then I discovered Sony Z Ultra on Google Play with its unbelievable 6.4" screen, stock Google Android with no crapware and thinnest profile among all smartphones... and sooo many sooo manyyyy Android games jeezzz..., XCOM, Dead Trigger 2, Farmville 2, jeeezzz.... Looks like Android won again ;) Sorry MS, until you learn to support fast porting of latest games and apps to mobile Windows nobody will buy your mobile devices hehe :P

Windows Phone as an OS is better than Android for the average *unintelligent* crowd. The only thing is apps, which is a direct result of adoption, which is a direct result of apps. :/

I have the CR-200 and I use it with the Lumia Icon. With a sharp knife, I just cut away the lower half of the right side pad so that it will miss the camera button. It still holds the phone quite securely.

So lumia 521 cost around $70 or less! CR-201 cost $98! Do i missing something?

Lumia 520 can be had for as cheap as $45 if you shop around.

Any one knows what kind of case being used on the phone shown in the picture? Thanks

will it fit a 1520 with a case on it

CR-200 is so flimsy. The plastic breaks easily. Does the update version work better?

I got my father the CR-200 for Christmas unfortuneately he left it in a rental car. He just ordered a new one and got the CR-201 I was pleasently surprised to see the fix for the bigger phones and the mechanism issue

I ordered the CR-201 from Mobile Fun, and received the CR-200. The refund process is bad. :|

Finally! WIll definitely be picking one up.

I'm still rocking my 925 (T-Mobile US) with the CR-200 and loving it. I'm holding out for a 930 or possibly something better down the line. Having to crap out another $100 bucks for a CR-201 to accomodate whatever I decide on is a little irritating, but it is what it is. It's just so damn convenient to use in the car.

Hi, I have a question about the CR-200 base, The base is a really sticky surface or has glue?, It Can damage the dashboard finish?

Isn't this an old story, the CR-201 has been the release version for some time now, in fact months?? I've got one and very frustrated with it I am too. Great design and holds the phone well, but is useless at charging my Lumia 1020 (with charging plate)! Works sometimes but mostly refuses to charge.... I'm on my 4th unit, 5th charging plate and 3rd phone to try and eradicate issues... Same applies when trying to charge either my Lumia 925 (with charging plate) or Lumia 820... Useless. Worse Nokia UK don't have a clue. Specifically got this to charge my phone and use Nokia Drive as a replacement to my aging TomTom, but after about 1.45 hrs of driving (depending on battery state before I set off) the phone is usually dead so unable to rely on it as it discharges so quickly. The charging chimes, chime every few seconds telling me it started to charge then it stops. Tried all positions to try and get the coils aligned nothing consistently works horizontal or vertical or phone in different positions in the clamp... Utterly useless, but a great albeit expensive holder at best.

My CR-200's suction cup melted in the hot, hot Australian sun and Nokia sent me a CR-201 as the warranty replacement. Being a 920 user I haven't noticed any difference (other than a non melted suction cup) but apparently they've altered the points on the sides that the holder grabs the phone so that it no longer presses the camera button on the 1520. Also, two thumbs up for Nokia warranty support - be sure to use the live chat though.

It's been available for some time http://discussions.nokia.com/t5/Accessories-Car-Phones-and-Other/Differe...

Unless somebody can prove it supplies more juice I'm not interested. The 200 doesn't supply enough juice to do GPS for an entire trip.

this article is outdated. anyway, cr-201 got the plastic issue fixed, but same juice of cr-200.

Guys, I own a CR-201 (that's what it says on the box) and it does not work well at all with my Lumina 1520. The right arm is right on the camera button, and the CR-201 bends at any small road bump, as it clearly is not designed for the weight of a large phablet!

Boy! I just pre-ordered an orange 930 and I was hoping to be able to use the Road Vision app again: http://goo.gl/T0qfsG After I bought the NOKIA CR-200 for my NOKIA 920 I quickly found out that NOKIA had missed the fact that the charger was covering the camera lens. And now this!

Would love to see a side-by-side photo set of the older and newer charger. I have really wanted one of these for my car, but the rumors of it pushing buttons and not holding well because of that have held me back. I have a 928. Maybe WPC can do an article with a series of photos with the charger and all their phones sitting in place so people can see exactly how their phone works. Thanks for the article.

just tried to order the cr-201 from amazon, the one store selling it (yy something) states shipping will take 17-28 days...what the heck is with that?

Someone could use the NFC between CR-200 and the 930?

Can someone please tell me if the smaller Lumia 950 (not XL) is compatible with this? Thanks!!