Surface Tablet ads begin appearing, Microsoft gets fresh with urban art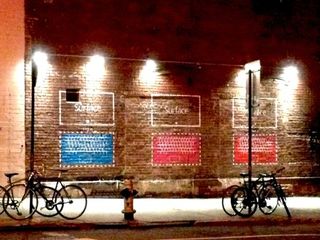 Looks like Microsoft might be trying its hand at a viral advertising campaign in the lead up to the release of its Surface tablet. The advertising, in the form of hipster compatible urban art has been spotted in a couple of locations such as the one above in Brooklyn. The pseudo graffiti seems to continue with the imagery we first saw at the Surface reveal. The theme is of an elegant two-part diagram, depicting tablet with detachable keyboard.
The Surface device is going to be big news for Microsoft on a number of levels. Surface is not only going to be the first Microsoft designed computer, it will be the poster child for Windows 8. When we see the new OS advertised and demoed, we can be pretty certain it will be on a Surface tablet. We're expecting a marketing tsunami with the combined Windows 8 and Surface product launches.
Surface, getting Urban chic
The Surface announcement was some time ago, since then it has generated a veritable storm of rumour and speculation. The ARM devices seem to court the most controversy with cost being the focus for much of the debate. We are seeing rumors of pricing ranging from $199 to $499, the same price as an iPad. Hopefully in the coming weeks this should all become clear.
It doesn't end there, some of Microsoft's partners aren't happy to see the company commence production of its own computers. We also have general availability questions, performance and even anti-trust concerns all hovering around for attention too. How often do we see this kind of attention given to a Microsoft product?
The Surface has the potential to be a hugely important product for a number of reasons, but for many consumers it may simply provide an affordable and more functional alternative to the iPad. Microsoft's Surface product is a consumer-orientated device and so it is of no surprise to see these fun adverts appearing. We did see ads like these appearing before with the launch of Windows 7..
Windows 7 Adverts from back in the day - Windows not walls was my idea..
We'd like to know what you think of them and if you spot any ads, please do let us know.
Source: Neowin
After seeing second ad , if someone thinks SURFACE is clothing brand , I won't be surprised.

He apparently didn't read the article and must be referring to the last ad...the old windows 7 ad...smh.

I do not get why he said "Clothing" but I do share the opinion that the second ad does nothing for someone that doesn't know about a "Surface"... BUT, this is a mainstream item, the thought is you are just hitting consumers across the head with an item they are already familar with or get them talking...like when you see an ad with just the word "CocaCola" on a red background...you wouldn't for one second think "I bet those are jeans", because the company expects everyone to already know it is a drink.

This advertisement is better then what u see with others lol the iPhone every pic I see it has a shattered screen yet people still want it over Nokia witch is on par with Chuck Norris drop a Nokia it breaks the floor and so on :P so people need to be smart and follow Microsoft items and Nokia ;)

Everybody complains that Microsoft don't advertise enough and wen u see it everyone complains messed up

Let's be more accurate. The complaints are were about there not being enough advertisement and the little that was done misses the mark. These? They get the message across that this is some kind of computing device. They just need to follow it up with advertising showing what this thing can do

Im liking the tile idea across the platforms even on Xbox new stuff that's pretty awesome

It's the dotted line. When you chalk out a pattern on a piece of clothing, before cutting it with scissors.


I cant wait...I feel like a child on xmas :D

Yaay finally! Let the advertisement madness begin! I want that Surface Pro soooo freakin bad... Too bad I'm gonna have to wait for at least January 2013...

There is no way I can wait that long. I am getting the RT. :-)

Plus I don't need a super computer in a tablet.

The urban art is a great idea. I can see this changing peoples perception of Microsoft as a company if they really push this style of advertising. Very playful.

I agree. These are like teasers for a major film. Hopefully there will be full blown trailers bombarded everywhere just before the release

I think these are interesting, but my problem with this type of ad is whether enough people see them and understand what they are. I see no reference to Microsoft, and the new Windows logo just isn't distinguishable to people yet. The ads don't say anything about the product either... no web site, nothing for people to get more information. I'd love to see the video posted on the Surface website run as a TV ad though... that would be cool.

yup I agree with Goodthings.....if they don't have a strong tv ad campaign going for them then what's the scene? wp7 woulve blown up if they took the "smoked" campaign to television ads where people would actually SEE them.

If I was Microsoft, I would've been hesitant to advertise WP7 too much before WP8.
If it would've gone too well, they would've been in even more of a pickle in the break of the OS from WP7 to 8. They would've known this over a year ago, realized the fallout from too many 'legacy' WP7 owners, and that would've influenced the amount and type of marketing so it could throttle the impact.
In the meantime, Nokia bridged the gap, became a sacrificial lamb, but kept WP on people's minds and maintained some media and industry attention.
That can all change now with WP8, Surface, Win8, Skydrive, Office 365, Outlook.com, Xbox, etc all queued up for a new generation and harmonized release. If there's a time for Microsoft to go big, wide, and engaged in marketing their ecosystem, it should start teasing now and get pervasive by late fall this year.

The promo video on site is very very well done. Only commercial they'll need :P

Coolest commercial with modern kickass music!

+1 that's the on they should air for the tv ads

For someone like me that's what sparks my imagination and curiosity. Seeing and ad like which doesn't directly link me to anything makes me want to research it. It gets me interested about an unknown. Also think about all the fan boys/girls who aren't on top of the tech world everyday. If they see its a Microsoft product the may just walk on by. But not knowing what the hell it is may get them to take 2 minutes of their lives to look it up rather than passing it off as just a Microsoft product.

Well, that's true... and I do want to research things I don't know about, but I'm naturally inquisitive that way. It's the same reason I pay attention to Apple news and products even though I don't like Apple. HOWEVER, my point is that there's not enough information in the Surface art to do any research, and just going online to searchfor Surface could produce lots of generic results. I'm also aware that MOST people are NOT as inquisitive about these things.

Agreed. I personally believe that having the single word "Surface" plus some graphic as they do in these "ads" is good enough. People will research it if they aren't in the know. That said, if they included the word "Microsoft" that could very well turn people off that very instant. "Surface" alone is probably intended to inspire curiosity. Microsoft isn't going to be going for the flock of people that don't know anything, there is already a market for that. Its going after another underserved market of people - people that want something different and more useful - traction will pick up after they grab the attention of their principal targets. At least, that is what I think. To say that there isn't enough info of Surface is kind of silly. The first three and more results in either Google or Bing return product websites.

Maybe thats thier idea, many people see the word "Microsoft" and cringe because of all the heresay that has went around in the last years by either Apple or who ever. Maybe they are trying to get a good type of perception of this and then later drop the curtain and say tah dah, its us Microsoft we did this awesome product that you were anticipating this whole time (toward regular consumers, not us lol)

They will run ads on TV. These are just a way to create hype and get the name out.

I like the ads. Keep it up, Microsoft!!

I like it, but the second image, without the keyboard keys, looks like a new Nintendo DS...

That's exactly why I like the first, not the second... the keyboards give me a better idea what it is. The second one could be nearly anything.

The Surface ads are cool, but IMO, way too soon. They shouldn't have put them up until no more than a month before launch.

I think Microsoft will sell a bunch of these things for Christmas. If only they sold a bundle with a widows phone 8 of your choosing or a surface and an XBox 360. Cross pollination is the whole point of Smart glass right.

Below each, it should simply state ' Surface.com '. Then it should go straight to the release video instead of the normal ms.com/surface site. Just my 2 cents.

I cannot W8 for this. I'm getting a surface rt and then a pro when that comes out. All this excitement is making me stressed! Lol

It should say "I'm a PC, and windows 8 was my idea". 8 windows instead of 7

They should also incorporate the ms tag for people with phones. Those tags are already graffiti in appearance. :D

i like these ads. They are simple, modern and get the name out there to people, it would make them curious to what that is. and this really keeps the word about Surface relevant. Great start to build momentum to the day they offically announce either more info or when they are available.

Finally someone who gets it.

Put it on tv commercial many popular tv stations.

There is another ad up in Brooklyn. On the corner of Knickerbocker Ave. and Flushing.

Check out this blog post "Dissecting the Microsoft Graffiti Surface Ads"
http://mcakins.wordpress.com/2012/08/24/dissecting-the-microsoft-graffiti-surface-ads/
Excellent read.
Windows Central Newsletter
Thank you for signing up to Windows Central. You will receive a verification email shortly.
There was a problem. Please refresh the page and try again.