Surface Tablet ads begin appearing, Microsoft gets fresh with urban art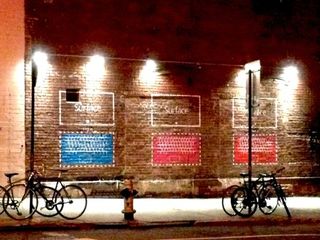 Looks like Microsoft might be trying its hand at a viral advertising campaign in the lead up to the release of its Surface tablet. The advertising, in the form of hipster compatible urban art has been spotted in a couple of locations such as the one above in Brooklyn. The pseudo graffiti seems to continue with the imagery we first saw at the Surface reveal. The theme is of an elegant two-part diagram, depicting tablet with detachable keyboard.
The Surface device is going to be big news for Microsoft on a number of levels. Surface is not only going to be the first Microsoft designed computer, it will be the poster child for Windows 8. When we see the new OS advertised and demoed, we can be pretty certain it will be on a Surface tablet. We're expecting a marketing tsunami with the combined Windows 8 and Surface product launches.
Surface, getting Urban chic
The Surface announcement was some time ago, since then it has generated a veritable storm of rumour and speculation. The ARM devices seem to court the most controversy with cost being the focus for much of the debate. We are seeing rumors of pricing ranging from $199 to $499, the same price as an iPad. Hopefully in the coming weeks this should all become clear.
It doesn't end there, some of Microsoft's partners aren't happy to see the company commence production of its own computers. We also have general availability questions, performance and even anti-trust concerns all hovering around for attention too. How often do we see this kind of attention given to a Microsoft product?
The Surface has the potential to be a hugely important product for a number of reasons, but for many consumers it may simply provide an affordable and more functional alternative to the iPad. Microsoft's Surface product is a consumer-orientated device and so it is of no surprise to see these fun adverts appearing. We did see ads like these appearing before with the launch of Windows 7..
Windows 7 Adverts from back in the day - Windows not walls was my idea..
We'd like to know what you think of them and if you spot any ads, please do let us know.
Source: Neowin
Get the Windows Central Newsletter
All the latest news, reviews, and guides for Windows and Xbox diehards.