USAA banking app returns with Windows Phone 8 support in latest update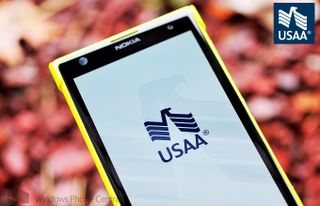 After disappearing from the Windows Phone Store nearly 11 months ago, the United Services Automobile Association (USAA) banking app has finally returned with some new features and Windows Phone 8 support.
The app was pulled in early 2013 and USAA later went on record stating there was simply not enough market share for Windows Phone 8 to justify their continued support of the app. Since then, people who had the app previously installed could not even use it as it stopped working.
Today, version 2.0 is live in the Store and with it Windows Phone 8 support, finally giving their customers the much needed option. The app had been developed internally and was in private beta testing for the last few weeks. Evidently the company has had a change of heart or Microsoft lent some elbow grease, as they are known to do for high profile apps. From the app description:
Indeed, it sounds like the app is what most people wanted from USAA and it's great to see the firm return to Windows Phone. Banking apps are crucial to the success of Windows Phone, though it's difficult to wrangle them all to create native apps. The more, the merrier.
Grab the official USAA app for Windows Phone 8 and Windows Phone 7.x here in the Store (or scan the QR code below). Thanks, Arile, for the info!
Windows Central Newsletter
Get the best of Windows Central in in your inbox, every day!
Daniel Rubino is the Editor-in-chief of Windows Central, head reviewer, podcast co-host, and analyst. He has been covering Microsoft since 2007 when this site was called WMExperts (and later Windows Phone Central). His interests include Windows, laptops, next-gen computing, and for some reason, watches. Before all this tech stuff, he worked on a Ph.D. in linguistics, watched people sleep (for medical purposes!), and ran the projectors at movie theaters because it was fun.
Awesome. Thanks usaa. Oh and Finally, Its Really Starting To look good on WP.

+925. The apps are here! Let's get an awesome update and new features asap.

Glad they brought it back, was sad to see they removed it a while back. I just hope my bank ever gets an app, but not looking good.

Awesome, can't wait to use it! Thanks USAA!

....The Rock has come baaaacccckkkkk to........ Wait, never mind.

Fwiw, it is just like the Mobile web page, but with quick login support (pin only)

It also has deposit mobile so it is better than the mobile web page. :-)

True, just a mobile wrapped page with the quick logon and deposit mobile. Two great features. What a waste of an app. They had an opportunity to do something nice and they just wasted it. I have talked to the EVP of USAA and hopes it would return, but I did expect an actual development attempt.

Would you please clarify as to what you mean by "What a waste of an app."? Were you hoping for something specific? Frankly, I'm just happy to have their official support for the platform again. (That said, this "new" app looks an awful lot like the older one.)

Sure, an app, in my mind, is something richer and better than a native web experience on a phone. Sure, I am VERY happy there's an app that has a couple of very important features, but building an html5 web wrapper is a lazy mans way to build the app. It doesn't win you support. It simply puts you in the mix. To me it looks nothing like the old app. The old app was 100% WP built, no web wrapping. It looked like an actual app. Not much worked on it, but it was at least an official app. I'm happy that there's an app as USAA is my bank. But it doesn't even mirror the effort they put I to IOS and Android.

Thank you for taking a few moments to clarify that. :) I can definitely get behind what you're saying. My knee jerk cheer to this article just stems from the ability to use the "app" version since it does bring the quick logon and mobile deposit options. A richer experience would be awesome, though. I hope that they find this version to be popular enough to warrant further dev time.

Please note that this is app is their first offering at the WP8 platform. More features/changes will be coming. I'm on their beta testers list and have been told that another beta test is coming really soon. When you say more features, what exactly are you looking for? The app almost has all the features you could want in a mobile app. If you can explain a little further, then I will pass those comments on to the developers.

Hopefully navy federal credit union steps up next!

Yes please... I have my auto insurance from USAA, but I bank at NFCU. Tired of launching the app on a separate tablet to access my account.

Great MS, now you can start to look another countries around the world... We also need some new apps or updates... For examplo, the biggest Brazilian bank has a app for WP since the begining, but NEVER recieved a single update!! Never!
You can see the amount of 1 star reviews of the app:
http://www.windowsphone.com/pt-br/store/app/bb/4d906950-a17e-44e4-8d65-c31dc63a117b

Great. But, the old app never stopped working for me. The update looks great!!! We are definitely on a roll!

Yyyyyyyyyyeeeeeeeessssssssss!!!

Thanks USAA! I have missed using this app!

WOOHOOO!!! I was really unhappy with them for pulling this and held on it until getting rid of my old phone. It's a welcome app to have back :D

Since I dont have access to mobile deposit, I never missed anything when the app was pulled. never had issues with the original app, the web works fine for me and is fast. Ill still try this out too.

Just tried it out. For me not much different than using the web but quick login speeds up access. Glad to see them come back though. I wasnt worried. USAA has been one of the best banks as far as using new technology and mobile device support.

Great news! Was scared I'd have to hard reset at some point and lose the app for good!

It doesn't work. I still had the original app. I updated and now it crashes on opening account.

Try deleting old app and install new one.

Just a mobile site wrapper. No, thanks.

Thank you, thank you, usaa.

Wish we had a capital one app

DAMN! There goes that excuse for getting an iPad...

thank god they finally brought this app back its been gone way too long

I hear you. I had to send them some naste emails and twits because of their lack of support for Windows Phone. I guess now I have to go and fet back me account again.

USAA!!! Awesome and Neat app!!!

The last app I was waiting for on WP8. Thank you USAA!

Just for the record, this isn't just a banking app. It also has tools for insurance (auto, renters, and homeowners) and investment accounts. However, it's the ability to cash a check that is a must-have for USAA members, so now I can finally retire my Samsung Focus.

Finally! I actually signed the change.org petition for this last week.

awesome! I have been missing this.

Just used it to pay a bill. My wife really missed this app from the iPhone. Every first party app is a win. Yes, it is mostly a wrapped website with Check Deposit feature, but that doesn't matter at all as it's only useful when online anyway. Now we can do every bank action from the palm of our hand. Thank you USAA!

Finally! Mobile check deposit is back! They were among the first to have mobile deposit, then WP8 came along, they dropped everything, and I had to watch every other bank get mobile deposit and add it to their WP app. About time! I logged in on IE in WP as often as I could just to show that we WP8 people exist!!

Banking apps seem to take forever. Waiting for pnc, everbank, capital one360, and SCHWAB!!!!

Thanks USAA! We missed you.

Annoying, I went to the USAA site and there is no mention of a Windows Phone App, just iOS and Android. i wouldn't even know about it if it weren't for this site. It would be nice to see a Windows 8 app (they have an iPad app).

Finally, I've watched my old iphone 4 with USAA on board get updated numerous times. Not everyone uses iphone, USAA. Put more effort into your WP app. My wife and I both use your services and guess what, we both have Windows Phones.

Thank you USAA! This app is greatly appreciated. Now I don't have to leave you.
Windows Central Newsletter
Thank you for signing up to Windows Central. You will receive a verification email shortly.
There was a problem. Please refresh the page and try again.