Using Windows 10 Technical Preview ? Make sure you check for updates.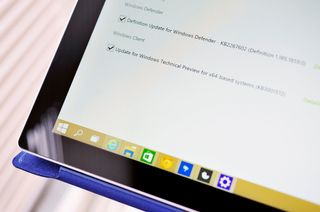 Windows 10 Technical Preview is only a couple of hours old, but Microsoft already has some patches out for it. If you have installed the Preview, you should head into Settings and check for those updates as you may have waiting for you.
Microsoft has even included a nice changelog of the fixes and patches, one of which applies to Surface owners.
Update for Windows Technical Preview for x64-based systems (KB3001512)
Issues that are fixed in this update
Issuer Distribution Point (IDP) sets are removed from Windows Tech Preview or Windows Server Tech Preview. This change prevents Microsoft Surface devices and Nokia tablets from obtaining firmware or driver updates.
Adobe Flash update does not contain premium video playback.
Some problems in the Compatibility View list for Internet Explorer 11.
Regarding the first fix for IDP, it sounds like if you have the Preview installed, you will not be getting new Firmware fixes for the Surface. This change could be bad news if you were hoping to get some hardware improvements on your device, but on the other hand, Microsoft clearly did this because they cannot guarantee the Surface and Windows 10 Preview will play nice after a firmware update. It is not clear if Microsoft will offer those independently for Surface owners, or, for as long as you are in the Preview program, you just do not get the firmware.
Update 3: Microsoft has confirmed with us that this update ALLOWS you to get new firmware. It does not block it, so yes, you should take the update.
Update 2: Microsoft has revised the changelog. Instead of IDP and mentioning of the Surface/Nokia devices, it now just says "In Windows Technical Preview, certain devices do not receive firmware or driver updates." This evidently fixes this problem, and does not prevent firmware updates.
Update: As pointed out in comments, it is not too clear if they are describing the fix or the change. In other words, the Surface may have been blocked from getting new firmware and this fixes that. We are trying to clarify with Microsoft.
Alternatively, you could skip this update and risk taking on the new firmware down the road.
The other two fixes are self-explanatory for the most part and sound like good fixes.
Have you installed the Windows 10 Technical Preview? How do you like it so far?
Daniel Rubino is the Executive Editor of Windows Central, head reviewer, podcast co-host, and analyst. He has been covering Microsoft here since 2007, back when this site was called WMExperts (and later Windows Phone Central). His interests include Windows, Microsoft Surface, laptops, next-gen computing, and arguing with people on the internet.
nokia tablets mentioned in an X64 update?? intersting

Wow good eye that's interesting to know. It appears there might be an iso for ARM after all ;) Either that or they made a mistake :P

Loving Windows 10 right now!

your files weren't deleted? i'm still downloading, i had a trauma when i installed the preview for 8.1 a few months back...i'm just making sure

It all depends on how you're installing it. If you're upgrading then your files should remain. If you're formating the hard drive and doing a clean install then obviously your files will be gone.
You should always back up your files anyway. Also you should only install this on your secondary PC or a VM.

Hmm to live life on the edge or not ....

I need help installing using Hyper-V. Anyone?

This would be a great article for some expert on WPCentral to post!

Maybe this can help:
http://m.youtube.com/watch?v=H0Z4E2bkFqs

Thats a great video. I'm still having trouble with the installation media. Do I have to just copy the iso onto a flash drive then try to setup the vm?

You load the media in the properties on your vm in hyper-v. TechNet is a good place to look if you have anymore questions about hyper-v they have great tutorials. Also you just need the ISO no need to put it on anything

This should help you in detail. Here you go: http://www.eightforums.com/tutorials/2493-hyper-v-how-use-windows-8-a.html

Where are you stuck? I work in hyper-v quite a bit.

Downloaded the iso. It's sitting on the computer as DVD Drive (E:) JM1_CCSA_X64FRE_EN-US_DV9 When I'm configuring the VM, and it asks for the installation media I select the iso file but it doesnt recognize it as an iso. The directory just shows E:

Point to the downloaded ISO location, not the virtual DVD drive (e:)

I had a Hyper-v error maybe it's the same as yours. But, here's what I did: Search for "Turn windows features on or off" Untick Hyper-V Restart Re-install (W10) This worked out for me Edit - I used VMWare to install W10

Me too. Having some problems downloading files.

Daniel, are you using it in a VM?

Can I install it on my Surface 2? Or only Pro Versions?

X86 or 64 machines right now. Possible that the consumer preview will include ARM. Hope it does... Edit: Not to sound like a jerk, but if you weren't aware of that, I probably wouldn't install it until the consumer preview or final product. Things can and will go bad quickly if you don't know what you are doing.

Well I didnt have the time to read the information about Windows 10 and was irritated as the headline says "Surface" :) thanks for clarification

Only pro. The preview does not support ARM based services.

I agree. I had to read comments for Clarification on whether the preview was also on windows rt. No site specifically mentions it in their article.

Rip nice animations of UI and start screen :(

Keep in mind that it is unfinished. I would be surprised if they didn't add animations for Task View, modern apps, and/or the Start Menu.

The Continum mode may be what you're looking for. After getting comfortable with 8, it does feel like a bit of a step back on the Surface Pro to not have that Start Scren anymore. I like the idea (and have always wanted) to have it as an option, not forced on users who don't want it. Right now though 10 on the Surface Pro (first gen) actually does feel faster than 8.1, and I did an upgrade instead of a clean install.

Well you can always just enable the Start Screen again from taskbar properties...

The animations were probably not Microsoft's #1 priority when making this Alpha/Pre-Alpha build, but trust me, there will be animations in the final version (don't forget that they still have almost a year to improve and polish Windows 10 before they launch it), in fact, you can see some of the new animations in this video which they posted yesterday to show off the upcoming continuum feature:
http://www.youtube.com/watch?v=F_O-LrGL-YQ

Maybe you best not install that? https://twitter.com/robertmclaws/status/517365453485006849

Not sure what that means. My Modern Apps work fine after the update. A few have issues like Breaking News, but that was before I did this patch. YMMV.

https://twitter.com/Chris123NT/status/517389899461591040

Is the original surface rt able to run Windows 10 TP?

That question indicates you are not the target audience for the TP and should refrain from downloading it.

I mean, I get why they're not allowing any more firmware updates, but IMO they should push them out, so they CAN see the bug fixes that they would need to make. Obviously I'm not a Windows engineer, but that's my $.02

This isn't a consumer preview. That's just wasting time right now.

not quite. people run strange hardware configurations and it is valuable feedback for it can detect problems that will need to be addressed. I will have to agree with OP. They may as well shut down the whole program if they don't want to hear about problems.

It is not a "bug test" or something like this, it is not a consumer preview.

They probably are rolled out internally to a QA group

To be honest I think this is actually the opposite of what everyone thinks. If you look at the second two items you'll notice that they are describing the issue, not the fix. This is common when writing bug reports and often finds its way into changelogs as has clearly happened here. Considering those two are stating the issue rather than the action taken, look at the first one. It's describing an issue wherein Surface doesn't get firmware updates. Following general software development logic, this patch should fix it rather than implement a hold on updates.

Glad you said that as I went back and forth on it...confusing as hell. I'm pinging Microsoft for clarification.

Cool, it would be interesting to know for sure! It's confusing as it could go both ways -- either description of a bug or description of action taken -- but I'm quite used to seeing change logs written this backwards way especially in tech docs that aren't intended for consumers.

rt can't get windows 10 yet.

Not ARM support. I hope more people read the comments before asking.

Windows 7 users can upgrade to the final version for free? Via Windows Updates, i just wanna know.

Windows Phone Preview users should mostly skip this.. If you don't know what DLL means and is, don't install this. Much more raw level compared to Windows Phone DP.
If you do install, expect headaches. Expect no upgrade paths. Expect possible data loss.
If all that is fine and you won't complain when your PC dies, have fun.

first of all the PC won't die. the worse that happens is you have to reinstall the preview or win 8.x it is virtually impossible to brick a PC because you can always boot from media and fix anything that this preview did. this is unlike a phone where you can very much brick them and then what?

His point though is: Don't do it if you don't know what you are doing 100%. I tend to agree with him after see many amusing comments surrounding WP DP.

You can absolute brick a PC using bad firmware.

Some of these comments worry me. If you are asking some of these questions, you really shouldn't be installing this preview. This is like alpha software and will be very buggy, incomplete and not support everything. It seems many people think this is an almost final product like the 8.1 preview and are want to use it as a main OS.

My Pro2 has not received any firmwares in a while anyway so that doesn't concern me too much.

that sounds horrible. reminds me of how we couldn't get cyan for ages on dev preview. besides what's the big deal? let's say a frimware update breaks the preview, so? roll back to the standard 8.1 OS which if you're using the preview, you should have as you clearly made a recovery usb drive.

If someone releases firmware for a new OS that has issues with an old OS, rolling back isn't going to work.

It is not about the Phone OS. You can install Technical Preview (Windos 10 for PC) on a separated partition/hard drive or use virtual machine.

Installed it on my Acer E1-522 laptop. So far so good. I'll see how it acts in next few days.

If I upgraded my surface pro, would it void the warranty?

no. just make a recovery drive using the windows recovery disk wizard.

Doesn't the Pro already come with a recovery partition?

It does, but I'm not sure if it'll get overwritten or something.

I've the same problem with the surface Pro 3, I was so exited with the Windows 10 that I forgot to make the backup in a pendrive before installing the Windows 10. I tried to roll back to windows 8 doing the reset but it goes to clean Windows 10 again :S I'll let you know if I fix it :D

Daniel. Did you do the update? Issuer Distribution Point (IDP) sets are removed from Windows Tech Preview or Windows Server Tech Preview. This change prevents Microsoft Surface devices and Nokia tablets from obtaining firmware or driver updates.

I have Lumia 2520 im not updating until everything settle down

that is an ARM device. you cannot update anyway.

I have it installed. Loving it! I installed over my main machine. Cinema 4D, Adobe CC (photoshp, premiere pro, after effects) all work perfectly.

The article is not clear enough. What Surface are they referring to? Surface Pro lines or the Surface RT lines? Reason i asked is because Nokia tablet was mentioned and the article still states X64 architecture. Someone pls help clarify!!

It's painfully obvious that its the Pro line considering there's current no Windows 10 for the RT devices.

I believe the reason he is asking is because 1. The Nokia tablet was mentioned (which he stated). 2. Windows 10 is going to be universal to PC's, tablets, and phones. It makes sense to consider that the preview might support additional architectures. Give him a break.

just out of curiosity - is there any nokia tablet the technical preview can be installed to?

Just because they haven't done a public release for ARM doesn't mean they haven't built and testing internally.

Can't wait till I get to home to check it out.

Installed and running on a VM, pretty smooth expereince so far. Liking the pop-out metro apps and the multiple desktops. I'm glad that the "Turn start menu off" option is available

For some reason my Dell Inspiron 11" 1137 laptop wireless does not work AT ALL with Windows 10. Weird because it's supposed to be "just like Windows 8.1" as far as hardware compatibility. Having a tiny laptop tethered to ethernet is a real drag!

Hi i am having a problem can anyone help me?? I installed the preveiw on VMware workstation All works fine but when i visited the recovery and backup page i found that there was a new preview so i clicked on install but nothing happened Any help will be Appreciated E-Mail : itzzmeameer@gmail.com

When next will b rolled out for windows 10
Windows Central Newsletter
Get the best of Windows Central in in your inbox, every day!
Thank you for signing up to Windows Central. You will receive a verification email shortly.
There was a problem. Please refresh the page and try again.