Virgin UK bundling a Fitbit Flex for free with the Lumia 735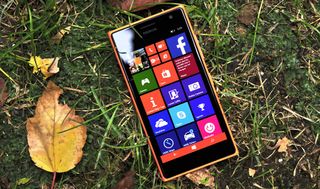 Here's a great offer if you're looking to get the Lumia 735 in the UK. Virgin Media has announced that it will be bundling a Fitbit Flex with every purchase of the device. The deal is valid on online purchases as well as Virgin's high street stores, and will run through December 31, 2014.
After purchasing the handset, here's what you need to do the redeem the Fitbit Flex:
You will then receive the Fitbit Flex within two weeks' time. To view all the terms behind the offer and to register your handset, head on over to the source link below.
Considering that the activity tracker is currently available for £67 ($105) on Amazon UK (opens in new tab), Virgin UK's deal is a great way to save some cash on the bundle. For customers stateside, it looks like AT&T will offer a similar deal, albeit with the Lumia 830.
Who's looking to pick one up?
Source: Microsoft UK (opens in new tab)
Thanks davidD93 for the tip!
Lol are we still going to complain about it being US only?

Only in Portugal we don't see anything like that :(

That's actually a good offer.

Complete Off topic:
Rumor is that Nokia will re-enter the smartphone business with full fledged Android flagship smartphone(unlike Nokia X) with full Google service support.
If that is the case I'm sorry to say that I LL quiet Windows Phone,reason is I'm a die hard Nokia fan. All these days I supposed Windows Phone only coz of Nokia.
#NokiaReborn
Source: http://www.phonearena.com/news/Nokia-rumored-to-be-planning-a-return-wit...

I doubt that would happen

As per the agreement between Microsoft and Nokia. Nokia should not enter into mobile devices market. But hope it could.

I also doubt that it will happen.
By the way im also a fan of Nokia Lumia not only Nokia

I don't even care anymore. I believe I've picked and invested into the wrong OS. I've read that the office suite for iPhone is way better than the suit we have on our windows phones. How on earth can they do that? Every bragging point that I've had to brag about is gone. There is literally no reason to stick around. However, I'm stuck because I'm totally sold out into Microsoft. Shit!!!!!!!

They can't exactly update office for windows phone whenever they want to because its tied to the OS. Take a deep breath. Grab some soap...and wash your mouth out.

I've already washed my mouth out. And its filling up with dirty words again. Also I'm truly craving for another high-end windows phone. A 1520 successor, truly wanting a 6.4 inch screen.

Isn't 6.4 inch a bit much?

Free Microsoft band would be better
Windows Central Newsletter
Get the best of Windows Central in in your inbox, every day!
Thank you for signing up to Windows Central. You will receive a verification email shortly.
There was a problem. Please refresh the page and try again.