Windows Phone Central visits Microsoft headquarters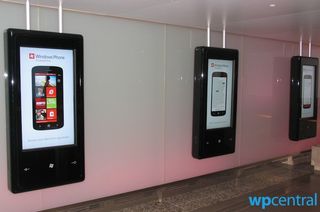 We're in Washington this week for Casual Connect Seattle, one of the country's largest game developer-centric conferences. As you might know, Redmond is only a stone's throw away from Seattle. As such, we threw our own stones over to Microsoft headquarters (also known as the Microsoft campus) for a little visit. The campus consists of over 40 buildings spread across 300 acres - a lot to take in! In the interest of time, we focused on Studio C (home of the Windows Phone game marketing team) and the Visitor Center. Lots of pictures follow the break!
The teams like to decorate their windows.
External view of Studio C, where the Windows Phone magic happens. Yep, it's pretty big.
Your friendly neighborhood gaming journalist and Beth Goza, Senior Community Manager at Microsoft pose in front of this life-size Halo Reach statue.
In celebration of the 25th anniversary of Star Trek: The Next Generation, these Microsoft employees donned outfits from the original series. I should show you mine sometime (it's not a dress though).
Upon entering the history wing of the Visitor Center, you're greeted by the cast of Anchorman... I mean, the Microsoft founders!
This wall depicts the evolution of technology, while the text below compares those changes to Microsoft products. Note the Atari 2600 console at right.
These computers allow visitors to try out Windows 8 before its official release. In the background, avatars are projected on the wall.
Just about every Windows Phone handset is on display for the masses. Not pictured, the screen of a first-gen Samsung Focus suffered from extreme burn-in. Maybe that's why the released version's screen times out after five minutes.
Xbox Live Achievement aficionado TNTJudbud test drives the original Surface table computer.
The Xbox 360 area hosts a number of popular games like Forza Motorsport 4 and several LEGO titles.
Kinect Star Wars looks great projected onto this wall. Too bad the display doesn't photograph well, but you get the idea.
Outside, these Emergency call terminals are everywhere. Don't push it, dude!
Do these crates contain Xbox 360s, or something more sinister?
Paul Acevedo is the Games Editor at Windows Central. A lifelong gamer, he has written about videogames for over 15 years and reviewed over 350 games for our site. Follow him on Twitter @PaulRAcevedo. Don't hate. Appreciate!
Decorate their Windows Lol :)

It looks to me like they are with sticky notes/post its. If so, that is actually quite impressive.

There were lots of people around - we just tried to get unobscured pictures as much as possible.

Gotcha. What's the atmosphere like there? Would you work there? Are the people cool? I'm sure every office has their micro manager(Dan R ;) but does it seem like they enjoy working there?

I see what you did there ;)

Most of the people we met were really happy and friendly. It feels like a bunch of mini companies tied together as opposed to one large company though, if that makes sense. (Can't really go into much more detail...)

Yep, mini companies, it's why the tablet never took off from the start, and why it took 4 years to get office mobile on a handheld. The company's own internal red tape was holding it back, though the 'mini companies' seem to be coming together over the past few months, and we're getting great products because of it! They'll get there eventually.

We like to think of it as clean.

My first Gen focus had the burn in after a few weeks, so anytime a light screen pops up it's says people across the top

Haha mine has the full keyboard, bottom dash buttons, the text box, and my girlfriend's name burned into the screen. I guess I text her too much. :P

Next time your there if you see a full qwerty wp8 slider (nokia e7/htc7pro) STEAL IT AND SEND IT TO ME!!!!!!!

I bet those huge crates are Halo Spartan outfits as the next XBOX 360 input device....or not.

Nah, x-Robots. Personal robots powered by W8 ;)

I am XBox NeXt how may I serve you?

That what I would to hear opening that crate

Those crates look like toilets.

Agreed, I thought they were public bathrooms until I saw the words "Xbox" written on it :)

Did you get to hold the Juggernaut Alpha?

Not a Surface table computer anymore ;). Cool though, what are you not telling us though?

Oh you know, just the roadmap for Windows Phone over the next 10 years, the release date of the first WP Halo game, phone numbers to prank call at Apple HQ... Ha ha, just kidding. :)

Those wall-hung mock-ups of Windows Phones in the first pic. Why can't they get the back button and Search button right? Sheeesh! Annoying.

Gotta find something to complain about right? Sheesh!

It's called attention to detail. If they can't even engage with their own brand why should anyone else?

Those are just concepts and have been existing since 2010. In fact that's how I thought those buttons were going to look. Its not an issue like you're making it.

The original developer emulator designs were the same as those on the wall, with a little bit of grey thrown in. If I remember rightly, they actually had the first prototypes made using those soft key designs too.

Cool pictures. I once toured the campus for an interview about 12 years ago and had a great time... but that was still back in the hay days, so to speak. Even the silverware in the cafeteria had the Microsoft logo on them... not sure if they still do or not. Anyway, it would definitely have been a fun place to work, I think.

Windows Phone is way more then just studio C. It spans multiple buildings all in that area.

so do the employees go to these little propoganda stations from time to time and just drink in the pure awesomeness that is microsoft? (dig dig)

also are those xbox crates getting ready to be opened and reveal a world take over plot by microsoft using only xbox and wp?

looks like a fun place, I wish I was a bigger geek than I already am and had gotten into computer programming instead of what I actually do :) (not that you have to be a geek to be a programmer but im sure it helps :p)

and with that I guess I should really get some work done

nice to see the articles from your trip up here in WA! :D

oh you guys had a great trip!
FYI those are broken Xbox consoles or repaired ones in the last photo, since every crate has a label with a fatal error code on it.(E74, E46, E11 etc.)

Those Xbox crates appear to be filled with broken Xboxes. The red parts on the corners appear to have error codes on them that appear on your tv screen when something is wrong with your xbox.

"we threw our own stones over to Microsoft"
when i read that i half chuckled and said "Ouch" hehe....
Windows Central Newsletter
Get the best of Windows Central in in your inbox, every day!
Thank you for signing up to Windows Central. You will receive a verification email shortly.
There was a problem. Please refresh the page and try again.