VLC for Windows 8 is now available in the Windows Store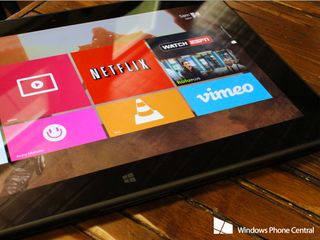 Not everyone are fans of the native Windows 8 Music and Video apps, but for those who are looking to find an alternative solution – you will not have to wait any longer. Back in November of 2012, VLC announced a Kickstarter campaign to launch the software on both Windows 8 and Windows Phone 8. As of today, the application has passed certification and is now published in the Windows 8 Store for x86 and x64 based machines.
RT and Windows Phone versions will still have to wait, though they are planned.
The company's official Twitter account, @VideoLAN, tweeted out today that "VLC for Windows 8 first beta is now 'Ready for Release' and just moments ago, the VLC app showed up in the Windows Store. We do remind users that it is a beta application and thus possibly not the most stable application on the block, but never less– we are excited for today's launch!
The user interface that is displayed in this current version of VLC is no surprise; back in January, we received official word on what was prolonging the development of VLC for Windows 8 along with a collection of various screenshots. Some menus have been changed slightly, but for the most part everything is consistent with what we had seen.
The application is split into several categories including "home", "videos", "music", "external storage", and "media servers". The Home screen gives you quick access to the latest videos and music in your collection, while the other sections allow you to explore media content on your local PC and network devices.
The audio section has a beautiful visual breakdown of all of your artists along with a list view for convenience. If you have a large collection of music, you can choose to sort it by artists, tracks, or even just your favorite albums. The video section is simpler and displays a collection of your videos along with the last video to be played.
If you have any external multimedia, either stored on an external drive or network attached storage device, you can head over to each of the respective tabs to browse and playback from those sources.
For those of you who are picky with your audio and video, the VLC app for Windows 8 supports a collection of formats. The player will play all video and audio formats of VLC; these include, but are not limited to, MPEG-1, H.265, FLAC and MPC. The same codec types are also supported including WMV3 and VC-1.
Other supported features are noted below:
works on Windows 8.0 and 8.1: too many people are still on 8.0, so we had to use that. This decreases the stability of the application, though...
is compiled for Intel x86 CPUs: Windows RT version will follow as soon as we are able to compile it. ARM version will also apply to Windows Phone.
plays all video and audio formats of VLC, including MKV, Ogg and Mov files or FLAC and MPC;
supports the same codecs as the VLC application for desktop, from MPEG-1 to H.265, through WMV3 and VC-1;
supports multiple-audio tracks selection;
supports embedded subtitles;
supports Background Audio playback;
features a easy-to-navigate but complete UI, notably for audio browsing;
supports Live Tiles!
supports removable storage and DLNA servers.
It is unfortunate for us to note that that this version of VLC is only compatible with Windows 8 devices and not Windows RT machines. For those of you on an ARM processor running Windows RT, you will be waiting a bit longer.
To download VLC from the Windows Store, click here.**VLC will not work on Surface RT, Surface 2 or the Lumia 2520
More information about the release can be found on the developer's blog.
Are you a fan of VLC - will you be downloading it today?
Get the Windows Central Newsletter
All the latest news, reviews, and guides for Windows and Xbox diehards.