VLC for Windows RT UI mockups published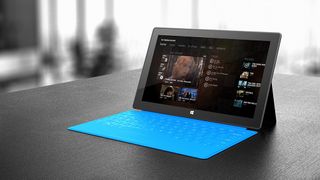 The VLC team has published two more mockups in a Kickstarter update post so those who are planning to back the project can see exactly which direction they're heading down. The project is to bring VLC to Windows RT and Windows Phone, which would prove to be a massive bonus for those on either platform who rely on the media player.
Currently the fundraiser is currently just over 73% of the total amount required, but the team is confident they can hit their target and get the apps ready for publication. Currently there's no official support for both Windows Phone and Windows RT, though the desktop app can be ran in Windows 8 as was the case in previous versions of the desktop operating system.
Looking at the images provided (the one above looks most realistic with the tablet used), we're liking the direction the team is heading and believe the UI (should it reflect the concept) will be warmly welcomed by consumers. We've reached out to the team for more details on the Windows Phone application that's in the works. We'll update accordingly.
Source: Kickstarter (VLC)
Get the Windows Central Newsletter
All the latest news, reviews, and guides for Windows and Xbox diehards.
Rich Edmonds was formerly a Senior Editor of PC hardware at Windows Central, covering everything related to PC components and NAS. He's been involved in technology for more than a decade and knows a thing or two about the magic inside a PC chassis. You can follow him on Twitter at @RichEdmonds.
LOVE THIS and have donated to the cause. Thanks for bringing attention to this project!

I love VLC and Firefox. I want Firefox too.

Donated as well. Looks nice.

decent design we need to support them if we want to see vlc on windows phone

Thanks for the heads up Rich! Donated!

Perfect timing, I just made a tweaked version of it! Link

This whole kickstarter is a crock, how about make the app and I'll buy it if I like it. I would never pay you until I get a product.

You don't really understand the difference between funding & buying a product.
Maybe you should start there : http://www.kickstarter.com/help/faq/kickstarter%20basics?ref=nav
Kickstarter helped many great projects to take off...
By the way, if the project does not reach the necessary funding capital, the project will just be postponed for at least 1 year. This is directly coming from one of the project maintainer : http://www.pcinpact.com/news/76229-vlc-pour-windows-8rt-route-sera-semee... (in french, because he's french).

Because VLC is free so everyone can use. It's great for those who have a few pounds spare who can help get a project off the ground to benefit everyone. Kickstarter and other such schemes are great and drive smaller developers to make applications and games which aren't gaurenteed main stream success, see Star Citizen.

This would make W(P)8(RT) so much better imagine MKV, Flac and more playing on your devices! I really want for Videolan to make it to our nice platform.

I'd love this, but they're entirely glossing over the fact that the UI is the easy part. We might not have a Windows RT version of VLC until 2014, if ever. Don't get me wrong, I'd love it to come sooner, but it's not going to be as easy to port to ARM for something like VLC.

VLC does already run on ARM devices thanks to our ports to Android and iOS (and even to iPAQ back in the days). The difficulity is adapting the Windows development environment (MinGW) accordingly, but we got a MinGW developer for this on board. :)
Felix from VideoLAN

Yeah, I knew it's on Android and iOS, but I was trying to simplify rather than explain about compilers and such. I should have mentioned that I meant porting to ARM for Windows.

But hey, if it's going to be quicker than I thought, that'd be great. It just doesn't sound that way, and I think a lot of people are donating with the idea that this is going to be a quick process.

There's also the issue of certain codec distribution that they don't have a license to do - this is legal under French law (where they are located), but getting something like that in the marketplace in the US wouldn't last very long if it happened at all. Although, perhaps they're planning on this being part of the cost of developing it? That'd be really great, honestly, if true. Otherwise, I can't see how this would see the light of day in most countries given the stringent rules in the MS marketplace on things such as this.

I want VLC everywhere so me so happy.

Finally donating as well. I need more functional Modern UI apps. This looks great.

Awesome - didn't see this before now. Just bacame a backer.

Is that firefly on the screen?