Wacom says it is putting the 'final touches' on its dual protocol Bamboo stylus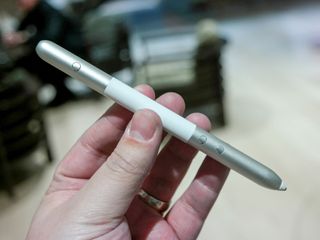 Wacom has announced (via Surface Pro Artist) that it is almost ready to launch its first "dual protocol pen" — a digital stylus designed work over both Wacom's Active ES and Microsoft's pen protocols. Broken down, that means the pen will be the first to work on Microsoft's own Surface products and Wacom devices.
An exact release date wasn't given, and we still don't know what it will look like (that's the Huawei MatePen above), but Wacom does say it is putting the "final touches" on the pen, and that it will be released under the Bamboo brand. Given that it's been almost a year since we first heard about the licensing agreement between Wacom and Microsoft that led to the pen's development, it's definitely good to hear that it's still in the works. And it couldn't come at a better time, as inking features heavily in Microsoft's upcoming Creators Update for Windows 10.
In any case, we'll bring you more once Wacom has a release date and price ready to go. In the meantime, you can check out Wacom's full press release below:
Wacom Putting Final Touches on New Bamboo Stylus that will Support Both Active ES(TM) Pen and Microsoft Pen Protocols
TOKYO, Japan—January 2, 2017—Wacom Co., Ltd announced today that the company is developing a new stylus capable of using both Wacom's own Active ES™ Pen protocol and Microsoft Pen Protocol.
The new stylus, which will be released under the Bamboo brand, is the first result of collaboration between Wacom and Microsoft based on the licensing agreement in March 2016. Incorporating the two leading pen protocols, the stylus will offer the broadest compatibility on the Windows market, enabling users to alternate seamlessly between multiple pen-equipped devices with a click and tap into ink applications including Windows Ink.
Styli have continued to gain popularity, amid growing recognition of their potential for improving productivity and creativity with mobile devices. Targeting this market, Wacom has since 2014 shipped its Active ES Pen solutions for a range of OEM customers. Microsoft has been actively promoting ink with Windows devices and this culminated in Windows Ink in 2016, where styli play a primary role for creating and manipulating content. Both companies concur the potential of digital ink and pen have in store for us.
"As more devices come onto the market equipped with styli and a broadening array of ink solutions emerge, it is vital to stay focused on the customer experience. The new stylus can be used seamlessly across devices, enabling the user to take advantage of digital ink solutions such as Windows Ink," said Mike Gay, SVP in charge of Wacom's Consumer Business Unit.
Wacom announced the establishment of Digital Stationery Consortium, Inc. in October 2016, which aims to promote the wide adoption and market development of digital stationery under an open partnership, harnessing the power of digital pens and digital ink, to serve creative minds in the most natural and intuitive way. A single stylus which can unify two different technologies fits this objective.
Wacom and Digital Stationery Consortium, Inc. will jointly host the event "Connected Ink Las Vegas" on January 6, to establish digital ink as universal, open and smart content format by promoting and managing WILL™ (Wacom Ink Layer Language)-based ink formats.
Windows Central Newsletter
Get the best of Windows Central in your inbox, every day!
Dan Thorp-Lancaster is the former Editor-in-Chief of Windows Central. He began working with Windows Central, Android Central, and iMore as a news writer in 2014 and is obsessed with tech of all sorts. You can follow Dan on Twitter @DthorpL and Instagram @heyitsdtl.
I would really love to see a Surface like device from Wacom.

Uh, you mean like the Cintiq Companion 2 that's already been out for a while?

Do you know the experience compared to the Surface Pen

Surface Pen sucks balls after you've been used to Wacom laptops, desktop tablets, and full Cintiqs. I'd rather be using a T732 Fujitsu than a Surface with pen. Plus, you get a real keyboard that doesn't suck while typing. I broke my Surface keyboard within the first month, then the replacement many times afterwards. Finally got rid of it and went back to real TabletPC design platforms. The bigger bezel and buttons of the Companion make it much more usable and less consumer-tablet-toy like.

not exactly. I want a kickstand and not the additional thing. And I don't want the big bezels. I mean the black bars around the screen. The Companion is more like a Cintiq with some PC parts.

I take it you don't own one, nor have you ever used a Cintiq, eh?

Hmmm...might that mean that it will work on the original Surface Pro but continue to work (e.g., as a backup) on a new Surface Pro (say, SP4) if the old SP gives out? There was a Bamboo that worked great on the original SP.

It should work with the entire surface line.

Nope. Surface Pro and Surface Pro 2 use Wacom Penabled (now Feel IT) digitisers (as found in Samsung's Note line, and most older tablet PCs). They have the EM field generated behind the display. The more expensive Wacom devices use the same technology, but with several tweaks (mainly in firnware). Wacom Active ES and NTrig (owned by Microsoft and used from Surface Pro 3) up have the EM field generated by the stylus; so can easily be integrated into one pen).

Awesome info! Thanks for clarifying.

I don't think the original surface had Wacom Active ES, I think it's got Wacoms older tech with the active digitizer built into the display like Samsungs Note Products.

So we weren't "Bamboo-zled" about the stylus.

Any word if this would work with synaptic based pen tech? It would be nice to have 1 active pen that works with all active pen enabled computers.