Wage battle in the Middle Ages with Gameloft's newest game March of Empires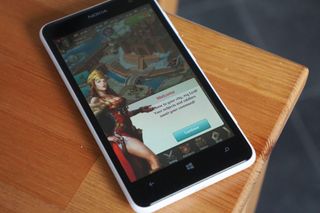 Gameloft is launching a new free-to-play multiplayer strategy game called March of Empires. The Middle Ages-style game has a few new features compared to other games like Clash of Clans, such as gaining bonuses for conquering new territories.
Here's a look at what players can expect from March of Empires:
Break away from reality and ascend to the throne through the art of war! Claim your title as Highland King, Northern Czar or Desert Sultan, and join this genre-redefining strategy game where you will wage constant war for real territorial conquest! Fortify your castle, fuel a massive army, and enter the ultimate fight for realm domination! But as your empire expands it's bound to run into other ambitious lords, and only one emperor can dominate! Do you have the cunning to unify this land under your banner? Or will you watch your kingdom burn at your feet?
THE EMPIRE IS IN YOUR HANDS: Dispatch armies, construct buildings, conquer territories and make strategic decisions that will reshape the balance of power every day; Every inch of your empire comes to life with amazingly detailed graphics
CHOOSE YOUR FACTION: Highland Kings: Knights of honor and piety; Northern Czars: Cunning on and off the battlefield; Desert Sultans: Passionate defenders of knowledge
RELISH IN TERRITORIAL CONQUESTS: Invade territory to watch your influence grow daily; Unlock special bonuses as more lands fall under your banner; Fortify your land to ward off enemies
BUILD A THRIVING NATION: Build regional structures that you and your allies can benefit from; Establish thriving Trade Centers, sacred Temples, secure Stockpiles and much more.
ENGAGE IN TACTICAL BATTLES: Choose your battle formation carefully! Cunning tactics are more powerful than mere numbers; Time your actions wisely to take advantage of the ever-changing seasons.
JOIN MASSIVE ALLIANCE WARFARE: The alliance management system makes it easy to organize with allies; Engage in tense diplomacy with other alliances. There's almost as much to gain from helping as there is from betraying; Chat with players whenever you have a minute to spare.
Download March of Empires from the Windows Phone Store (Free)
Download March of Empires from the Windows Store (opens in new tab) (Free)
This game will be as Bad as any other gameloft game... waste of time and money...

Another new app in the store by a major developer and another person complaining....you sir, have the wrong attitude.

Agreed. Plus gameloft games are great for mobile entertainment. While they may not have the best story writing, they're still really enjoyable.

A waste of money for you if they don't like their games. Not a waste of money for other people who do like their games.

A waste of time for us people who used to play games like asphalt urban gt and many many more games which didnt require a penny. Today they are only concerned with money. Releasing all these bullshit crap is not worth my time. The guy saibot is totally right. I don't play any of their games now. They should make the game paid and provide full features.

I thought at first that this was a game about salary disputes...

I wonder what happened to Age of Empires : World Domination

It's there and going great!

Just let it come in no matter what.

how do i install it on my windows phone, if i click on the link now sends me to the windows 10 store, but wont let me install it to the phone.

Hi. you can try and access windows central from the link here on your windows phone. it will direct you to the windows phone store. Or search for the app on the windows phone store.

hi! thanks for the answer! yeah problem is that if i go to the link from my computer it wont show the option to install it on my phone, and on the phone it wont appear yet onthe store, i had to go to this link from my internet explorer from the phone and then i got the store. Are you people able to install to your phone from the actual store from the pc? i see a button that says " get it for your mobile" but doesnt seem to do anything

Is it just me or is this an Age of Empires: Castle Siege clone with less races and more suckyness?

This is Gameloft's 9th non-Xbox game released since rejoining mobile Xbox game development. #SaveXboxWP, details here.

I like this more than Age of Empires.

Nice thigh. Best part of the chicken.

Is this landscape game or portrait game

http://www.youtube.com/watch?v=EpROUcAmUA4 video game
Windows Central Newsletter
Thank you for signing up to Windows Central. You will receive a verification email shortly.
There was a problem. Please refresh the page and try again.