Warframe: Plains of Eidolon – Impressions from the new social hub and open-world map
A new city and open-world map await you, Tenno!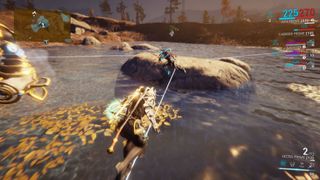 Warframe is the Xbox One's longest-running free-to-play game, having arrived in 2014. Digital Extremes still updates Warframe to this day, having just released the Plains of Eidolon expansion with a new social area and a huge open-world map. Read on for impressions!
How to reach the Plains of Eidolon
The new Plains of Eidolon expansion is designed to be beginner-accessible, so new players should be able to reach it in a matter of hours.
To start with, you'll want to complete the Vor's Prize quest. This is the first quest you'll encounter, and you must finish it before gaining access to your personalized ship.
Once you have a ship, head to Earth and complete missions there. Once you've unlocked the junction to Mars, you should be able to start the expansion's content.
On Earth, select the Cetus junction. This transports you to the new social area, Cetus.
From Cetus, you can head through the great gate to the vast Plains of Eidolon.
Plains of Eidolon impressions
Warframe is one of my favorite early Xbox One games, though I haven't had the chance to play for a while. Stepping back into it, I was initially confused about how to reach the new areas. Unlike some previous expansions, the game doesn't automatically give you a quest to point you in the right direction. But eventually, I learned that I just needed to go to Earth and pick Cetus, which was really easy.
Having been away for so long, Cetus was my first visit to one of Warframe's social hubs. These are Destiny 2-like areas where you can see interact with other players and NPCs. It's a large town built on a seaside hill. The vendors there sell unique items and weapons in exchange for Standing, the resource earned by completing missions in the Plains.
From Cetus, it's a short jaunt to the Plains themselves. Again, Warframe could direct players towards the gate that leads to the Plains a little better. You basically have to wander around till you find it. Once there, you'll wait in an airlock-style area while the Plains load and the game matches you with a squad of up to three other players.
The Plains is the largest map in the game; it's truly huge. There you'll encounter patrols of Grineer and Husk enemies to thwart. You can take on limited-time Bounties and Incursions in order to earn Standing to exchange in town. And you can even fish, though I haven't had the chance to do that yet.
The new Plains of Eidolon area is beautiful and shows a lot of potential, but it feels incomplete at present. The Plains are huge and mostly empty, so you have to do a lot of running to get anywhere. An open world is only as good as the number of activities and features that populate it, and the Plains just seem too sparsely populated at present. Hopefully, Digital Extremes will add more missions and points of interest to the area over time.
Welcome to Warframe
If you haven't tried Warframe yet, what are you waiting for?
With over 30 distinctive playable Warframes (characters), countless weapons, parts, pets, and companions to collect, and more than fourteen planets and planetoids filled with missions, Warframe is a huge game that you can enjoy for free. Team up with up to four online players cooperatively to take on missions and hunt for resources.
Warframe has been going strong for over three years on Xbox One. The game has drastically grown and evolved since launch, so it's definitely worth a second look from lapsed players. Don't let this game's free to play nature fool you – Warframe is one of the best online action games around. It's also available on PlayStation 4 and PC.
See on the Microsoft Store (opens in new tab)
Xbox One premium currency provided by the publisher.
Windows Central Newsletter
Get the best of Windows Central in in your inbox, every day!
Paul Acevedo is the Games Editor at Windows Central. A lifelong gamer, he has written about videogames for over 15 years and reviewed over 350 games for our site. Follow him on Twitter @PaulRAcevedo. Don't hate. Appreciate!
Warframe is beautiful, it has nice gui interface, most items could be bought with in game currency.

It's a great game, the grind is real though.

That's how they keep you playing. ;)

I like open world MMOs more than linear. Might try this game again

It's nice that the publisher is continuing to support and update this game. The new expansion looks great.

I haven't played this game in a couple years. I think it's time to pick it back up!

I've tried the game before but not for very long, I need to give it another go! I like how the new expansion is even accessible to new players!
Windows Central Newsletter
Thank you for signing up to Windows Central. You will receive a verification email shortly.
There was a problem. Please refresh the page and try again.