The Weather Channel app now works with Windows 10 and Windows 10 Mobile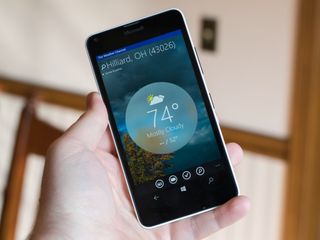 The popular Weather Channel app for Windows and Windows Phone has now been updated to serve as a universal app that works with both Windows 10 and Windows 10 Mobile.
In addition to the new Windows 10 support, The Weather Channel app has some new features
Customizable Push Alert
Severe Weather Alerts: Stay safe with notifications of severe weather from your national weather service and know when the next big storm is going to impact your area (USA and Western Europe only).
Rain Alerts: Never get caught in the rain again with real-time alerts for your GPS location and morning rain reports for your favourite Locations.
Pollen Alerts: Know the pollen counts near you (US and UK only). It's easy and free!
Cutting-Edge Maps
Touch anywhere on the map to see precise weather conditions for that exact Location.
Show your saved locations on the map.
Tilt the road map for a different perspective.
Zoom out to see global weather.
Download The Weather Channel for Windows 10/Windows 10 Mobile (opens in new tab)
Gonna try it for the live tile on mobile, but I really like the MS Weather one.

MS Weather never worked on my 1520 and 930 running w10 for mobile preveiw though

Mine works, but all live tiles have been very inconsistent in the week I have been running on my 1520.

The msn app is amazing on win10 mobile and also has great live tile...

It's great aesthetically but I find wc or accu more reliable

They announced it yerstday and its ready today...very fast!

get it together facebook! see how it's done!

It needs alot of work. Cuts off pictures and data on phone. Already left review

I don't know if I'm the only one but I liked the old version better. This new one has a bar on the top and left which take up a fair part of the content for nothing. Hopefully they will tweak it to where the side bar minimizes and only opens when you press the hamburger or something. The old way of showing allergens was more concise and clear to read but I guess the new one gives more info. Either way, it's nice to see the Weather Channel keeping the app fresh.

Definitely agree. I'm hoping they make the next update more mobile-friendly; this looks like they just focused on the desktop version and did the bare minimum to get it usable on mobile.

Good.. I thought it was the OS... So, this gives me hope for a lot of apps that refuse to work, or install..
HERE Maps
HERE Drive
WC
My att
tons of others.....

Cannot update to windows 10 because network error...

Still not working properly on my L930 with W10M. Same problem as others have mentioned. I left a review about it too.

Off-topic: I've seen you (WC) saying over and over again there aren't many apps in WP as in other operating systems and that it is a big problem for us (WP users). Then you show new apps and updates to older ones. I agree with all this... But since Windows Central is the biggest Microsoft community, couldn't you make an effort to update your WP app? Sometimes it says I can't connect even though I have a good internet connection, other times it loads the article but says it couldn't fetch the comments, when we scroll down (main page) sometimes the "load more" part does appear and I need to refresh, and even sometimes the refresh button doesn't appear (on top of the main page). I wouldn't expect having this trouble with a tech oriented site. Regards and hope this changes with windows 10 mobile. By the way, please do continue to make such amazing articles. Thanks in advance for the response.
Regards
A Windows fan
PS: Sorry for the long post
Edit: It happened just now when I tried to upload this comment - had to try again.

Maybe WC wants to wait until the OS is officially released so they don't have to keep updating it in case a preview build breaks something.

I hope so. I was trying to get a response from the WC team regarding this issue. (one more thing to point out os that scrolling in comment section isn't synchronized with the gesture)

They need to suck it up and try anyway. How else are you gonna know if it works. WC tends to be a bit two faced. Lamenting developers who don't update their apps, when they are just as guilty.

I read a previous comment from another post where the person claims that Mobile Nationals lost their original developer but gave no word on the search for a replacement.

They are working on it. They lost their developer..

I like it ok, though the text size and spacing (at least on my 1520) is off - for example, the degrees symbol in the second temperature box [under "right now"] is slightly out of frame, and right next to it the sunrise time is missing (but sunset shows). They need to scale it to make sure all that fits in there - can't imagine what it looks like on smaller handsets. [Update: just checked in landscape - that resolves the issue, but then when you go back to portrait, the sunset time stops showing] They probably focused primarily on desktop for this and just enabled mobile. Hopefully they'll optimize for phones in the next update.

Now if only their website worked consistently on Edge... or Firefox... or Chrome... *sigh*

Seriously, bring back the download app section in the mobile app. Why did this go away? I don't want to search through a terrible link UI to try to find the store link.

It's the same culprits. The editor in chief needs to do something about it.

Going to try this out. MS Weather and AWHD live tiles haven't budged recently aside from the initial pinning, on W10M.

It's about damn time. Their previous update screwed the pooch. Couldn't install it on Windows 10, then they released a patch. It installed, but wouldn't let you pick a location. Took 3 weeks to fix.

Download link. Download link. Download link. Download link. Download link. Download link. Download link. Download link.

Anyone else seeing a different closing animation than usual on this? It zooms back and to the upper left corner of the screen. Is that a universal app thing?

Sorry to say that it isn't a Universal app. The mobile version has reverted to 2015.717.0 You can tell because the universal app is listed as The Weather Channel once installed. And the version currently on the store shows as Weather when installed. The Desktop version is 2015.1007.1.0
Windows Central Newsletter
Get the best of Windows Central in in your inbox, every day!
Thank you for signing up to Windows Central. You will receive a verification email shortly.
There was a problem. Please refresh the page and try again.