This week in Xbox One news - March 29th 2015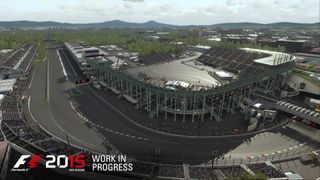 Welcome to our weekly ICYMI for Xbox news!
We'll still be posting major Xbox announcements in the main feed, but I'll be collecting some of the more nuanced news, rumours and talking points into one handy thread every weekend!
So without further ado.
Alan Wake sells 4.5 million units to date
Remedy CEO Matias Myllyrinne praised his team on news that Alan Wake has crossed 4.5 million units sold on Xbox 360 and PC. The news bodes well for the future of the third person thriller, which won a ton of critical acclaim.
Remedy are hard at work on the time-warping Xbox One exclusive Quantum Break and have been coy about the future of Alan Wake, which has a somewhat open-ended finale. With sales like that and rumours of an HD re-mastered version for Xbox One, we could be hearing more about Alan Wake sooner rather than later.
Double Games with Gold for April
Starting on Wednesday, Xbox Live Gold subscribers get to enjoy twice the usual amount of freebies as part of the Games with Gold program.
Xbox One fans can get their hands on Child of Light - Ubisoft's highly praised hand drawn JRPG love letter and Pool Nation FX, a brand new Unreal Engine powered pool sim from Cherry Pop Games.
Xbox 360 gamers, on the other hand, will receive Terraria, Gears of War: Judgement, Assassin's Creed IV: Black Flag and Army of Two: The Devil's Cartel.
Star Wars: Battlefront set for mid-April reveal
EA have confirmed that the reboot of Star Wars: Battlefront will enjoy a full reveal at next months Star Wars Celebration convention which takes place in Anaheim, CA on April 16th - 19th.
Battlefront is expected to be part of a blockbuster year for EA, as the publisher previously confirmed during an investor's call that they would be committing a Battlefield-sized marketing push for the game. Star Wars: Battlefront will also enjoy its own Battlelog and associated companion apps, courtesy of Uprise, EA's own app studio. Expect a deluge of new information in just over two weeks.
Liu Kang returns to Mortal Kombat in new MKX trailer
Detailed in the Maxim Russia exclusive Shaolin trailer, we get a look at Liu Kang, Kung Lao and newcomer Kung Jin, who have risen from the dead. If you're of weak constitution be warned, this trailer is as violent as they come.
Mortal Kombat X is landing on PC, PS4 and Xbox One on April 14th and in June for PS3 and Xbox 360.
Xbox One's instant on standby mode costs $250 million per year claims environmental report
The standby state which allows you to turn the Xbox on using voice commands comes with a hefty price tag, according to the National Resources Defense Council. Noah Horowitz claims that the instant-on standby state costs us $250 million in unnecessary electricity bills per year collectively.
The blog post also notes that the problem is exacerbated because the Instant On feature is enabled by default in North America and other territories, which stands in contrast to Europe, which has it switched off by default. The report states that the console is using 12.5 watts of power at all times, which is typical of an average light bulb being switched on at all times. The consumption accounts for 40% of the consoles total usage.
The figures may make some users think twice about the cost v. convenience, what do you guys think? Hit the comments!
Pure Hold 'Em beta is available free for Xbox One right now
Poker sim Pure Hold 'Em is now live on Xbox One for free, by searching for "poker" via Bing. Ripstone and VooFoo Studios have teamed up to bring an authentic poker experience to Xbox One, complete with full blown eight-player online lobbies and an increasingly difficult single player campaign across several tables.
If you've given the game a try, you can send VooFoo feedback here.
Codemasters announce F1 2015 for June Xbox One release
Legendary UK dev Codemasters have exploded back onto the scene with some incredible screenshots of their upcoming F1 2015 racing game, slated to hit Xbox One, PC and PS4 in June.
The game has been developed ground up utilizing a new engine with the goal of recreating the Formula One experience in as much authenticity as humanly possible.
In addition, the game will support Kinect voice commands, allowing drivers to communicate with their engineers to prompt race information, weather updates, tyre status, tyre requests and front wing changes - teasing further commands in the full game.
Game Director, Paul Jeal had this to say:
Image 1 of 4
Hisako joins the Killer Instinct roster, Cinder teased
Hisako has joined the Killer Instinct roster and received a spine tingling character trailer, which you can view here. At the end of the trailer, in typical K.I. style, Iron Galaxy teased the next character - Cinder, pictured here. Gamers have been divided on his new design, but Iron Galaxy will eventually release a retro style costume for Cinder for fans wanting something a little more classic.
Hisako sports wall jumps and an aerial attack which allows for further combo chaining. Famed K.I. YouTuber Maximillian managed to pull off an insane 151 hit triple ultra as a result of Hisako's aerial attack. Which you can check out for funsies below.
New game releases for the week ending March 28th 2015!
Forza Horizon: Fast and Furious (opens in new tab) - Arcade racer
Forza Horizon: Fast and Furious builds on the arcade racer, injects a health dose of nitrous oxide in the process and introduces iconic cars from the popular movie franchise.
Oddworld: New n' Tasty (opens in new tab) - Puzzle platformer
Oddworld: New n' Tasty is a remake of the legendary PS1 platformer, Abe's Oddysee. We've recently interviewed the developer, who praised ID@Xbox and emphasised that a remake was what the fans were asking for. Start asking for Exodus now!
Slender: The Arrival (opens in new tab) - Survival horror
Slender: The Arrival is an re-imagining of the indie hit Slenderman: The Eight Pages, which is based on a strangely hypnotic meme from a SomethingAwful.com photoshop thread. Not for the faint at heart.
Game of Thrones: Episode 3 (opens in new tab) - Adventure
Telltale's Game of Thrones adventure game series continues with Episode 3: The Sword in the Darkness. This latest instalment tells the story of House Forrester, a noble family loyal to the Starks of Winterfell. Expect betrayal, and blood.
Life is Strange: Episode 2 (opens in new tab) - Adventure
Square Enix's own adventure game effort Life is Strange has finally received its second episode. The game allows the user to rewind time, experiencing consequences resultant of decisions made as a plot device. The game has a staunch following, and should not be missed by adventure game fans.
Borderlands: The Handsome Collection (opens in new tab) - FPS
Borderlands: The Handsome Collection comprises Borderlands 2 and Borderlands: The Pre-Sequel in one handy package. This acclaimed FPS with a Diablo-like loot addiction allows up to 4 players to explore the wacky and deadly borderlands of Pandora. Players will blast their way through giant aliens and violent vagrants using millions of procedurally generated weapons.
And that's a wrap!
Hit the comments to kick off the discussion! And keep your eyes trained to Windows Central for all the biggest Xbox One news and reviews. I'll see you again next week!
Windows Central Newsletter
Get the best of Windows Central in your inbox, every day!
Jez Corden a Managing Editor at Windows Central, focusing primarily on all things Xbox and gaming. Jez is known for breaking exclusive news and analysis as relates to the Microsoft ecosystem while being powered by caffeine. Follow on Twitter @JezCorden and listen to his Xbox Two podcast, all about, you guessed it, Xbox!
WC is going on the right track. RIP--Whiners for unwanted/undesired articles can now shut up.

Sure, but resuming games and apps does not work correctly all the time. Far too often I have to restart an app or game because it doesn't resume correctly, it wont register any button presses within the app or game. Instead of new features all the time, which is great, they need to work more on stability

Sorry to hear that. I have had no issues yet with games coming out of standby. I hope it works for you in the future.

Completely disagree. Its no where near worth it.

I completely disagree. It's absolutely worth it: not just being able to say "Xbox, on" and have it IR blast on the Xbox, the TV, and the set-top box, but being able to use SmartGlass while at work to buy games and apps and then have them already downloaded by the time I get home = awesome.

So if someone filled a football stadium with light bulbs, turned them all on, then told you these need to stay on 24/7 for the feature, you would say OK?

there are like 20 million xbox users. At $250 million per year, that's $12 per yer per yser. you decide if the cmvenience is worth $12/year

Consider the environment as well please. Its not just about money.

It messes with my router manufacture say to turn off to avoid double nat

Sounds like the company that makes your router is being lazy by not providing a fix for the problem since it has to do with their coding.

Their not the only ones I heard that like my router manufacture virgin's modem in order to get fm xb1 games multiplayer to work the fix is to enable all the alg options. Whats funny is my router has made for w7 certification. Guess ms made major changes to w8

How old is your router? Firmware update may help?

Hadn't produced an update for NA in a while im afraid due to it being a ubicom chipset. Doesn't bother me much as im in the preview & seem to have had to factory reset dozens of times with no change to the consoles game boot loader

FYI: Mortal Kombat for 360/PS3 got delayed until June/July. XBO/PS4 unaffected.

Ah yeah, I forgot, cheers!

So confused....I thought there were only 12 months a year. Must be dog months or something if you guys are already up to 29.

*Worldwide style. Only the US flips the days & months around the wrong way

I wish everyone would just adopt the international ISO standard of YYYY-MM-DD. Makes sense, just like HH:MM:SS for time. Could you imagine people writing time as MM:SS:HH? Chaos! Failing that, let's just totally geek out and use Stardates. Haha!

I've amended the date, please accept my apologies!

You couldn't figure that out on your own? I agree, the US should adopt this date format, along with SI

U.S. rules the world and WC is located there..that's the way it tis.

But Europe is way cooler, and stylish.

I'm saving my pennies to see...

Can't wait for F1 2015. Never played Abe's Odyssey so looking forward to giving it a try.

As far as the using too much power usage story goes, I'm trying to offset it by killing fewer trees. Less arse wipe being consumed here. I'm typing this with poopy fingers.

Good lad, save a tree by not wiping your ass. Now, go make a samach with some "finger" food...

Just keep your xbox controller to yourself please. lol

Looking good! Fast and furious add on I amazing.. And FREE!!!

Cost vs convenience? 12.5 watts x 24 hrs = 300 watts. Round up to 1000 watts every 3 days, that's 10,000 watts per month. Electric companies charge by the kWh, so that's 10kWh per month, 120kWh per year. 120 x 0.018 (1.8 cents, current rate per kWh here) is $2.16 per year. $3.93 per year if the summer rates lasted all year long, which they don't. Factor in the tiered rate scale for usage in the hotter months, we're looking at realistically less than $4-5 MAX per year. Per Xbox, obviously, but the cost to me is miniscule. We waste alot of electricity in other ways, leaving on lights that are 30-60W, etc. This report is about environmental impact, multiplying all the consoles together. So if 120 watts per year concerns you for something as convenient as three second startup times, and you're huge on stuff like this for the environment, then you probably want this off. Otherwise, cost per user is extremely miniscule

I was going to post the same thing. This ​ is a non story. If you don't like instant on for some reason (router issues, doesn't always work properly, privacy concerns, even environment) fine, but don't use cost as on excuse. If you can't afford three dollars a year you probably don't have an Xbox one.

Agreed haha, some people do try to cut costs and reduce carbon footprint as much as possible. Lots of little things can add up.

Carbon Footprint is nonsense. One volcano eruption covers my whole life. Why is it carbon footprint criers are the same people rushing out to wait in line for the next iPhone? Yeah phony whatever makes people feel better. Someone noted that burning one lit candle for an hour puts out more carbon then all the light bulbs in a house. Go figure.

Haha, I'm the worst ever. My room is probably needs it's own national grid

What about burning 1 iPhone in a fire?

I always was against the always on. Thought it was a waste. Same as the tv pass through. Why have two boxes on? Nice round up, and some news I missed through the week. Result! Thinking Star Wars Battlefront will be very Battlefield. So that may be good.

Agreed. Can't wait for Battlefront. Thanks for the kind comments.

No worries, you're very welcome. Looking forward to the poker game too. As for Battlefront, I really don't know much about it. Hoping there is plenty of polish on it, they will have hopefully learnt much from Battlefield 4.

"Why have two boxes on?" Because it's hugely convenient and costs almost nothing.

Cost is minimal, I accept that. Convenient, yes I see that. It was the pass through I had most issue with. Different strokes for different folks.

My annoyance, albeit very small, with instant on is that the fans are constantly running. Since my Xbox is in my bedroom, the subtle noise is enough for me to notice when I'm going to sleep.

Half the time instant on doesn't even work, I'd be playing NBA Live, hit the power button and come back half an hour later and go right back to the game and it'd make me start over. Just like how they used to brag about how you'd be able to "play games as they're downloading" you can start the game, but majority of the time all you can do is just sit at a main menu that tells you how much longer you have till the game's done downloading. Only game that's actually let me play as it was downloading was Alien: Isolation and Battlefield: Hardline

Problem is a lot of devs don't use the APIs that make it work properly, its not mandatory to pass Xbox certification.

How much electricity would be saved if the National Resources Defense Council shut their doors?

I sincerely hope Alan Wake gets a sequel, if nothing else to wrap up his story, but it needs an accompanying series like QB because it would be amazing to see Ilkka Villi perform as Alan on screen! Hopefully Remedy would allow Ilkka to use his own voice rather than having Matt Poretta (sp?) dub over him because the man can speak fluent English with nary an accent.

Agreed. Franchise has a lot of potential.

Meanwhile DVRS record all night long.

bla bla bla. My computer is always on if only asleep. Is it so bad? I love convineance. My xbox is allways up to day! I have slow internet. No need to wait anymore. I hated when I wanted to game in the past. System updates first. Once thats done. OMG Game updates! After 2 hrs waiting sometimes I would then no longer want to game. I love the new system and instant on. I game more now!