This Week in Xbox One News - Day-Z delayed, new Fallout 4 screens, Legacy of Kain to return?
This week we're looking at the possible return of Legacy of Kain, new Fallout 4 screenshots, Overwatch for Xbox One, Assassin's Creed Syndicate's sales struggles, Day-Z's Xbox One delay and more!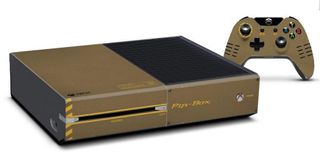 Welcome to our weekly ICYMI for Xbox news!
We'll still be posting major Xbox announcements in the main feed. However, I'll be collecting some of the more nuanced news, rumors and talking points into one handy post every weekend. You can also rely on this weekly column to keep up to date with all the latest game releases too.
So without further ado, here's the latest edition of This Week in Xbox One News.
Assassin's Creed Syndicate sales impacted by damaged consumer confidence
Although most outlets seem to regard Assassin's Creed Syndicate as a return to form for the franchise, the sales thus far have been disappointing according to a recent investor's call. While discussing Ubisoft's quarterly financials (which included a general 57.2% hit in revenues for the first half of its fiscal year), Ubisoft outlined the problems Syndicate has been facing in the marketplace (via Gamasutra):
Ubisoft CEO Yves Guillemot added:
Guilletmot didn't respond to questions about whether Syndicate was outperforming Unity across the same two week period. Instead, he emphasised Assassin's Creed IV: Black Flag as an example of a title that beat its predecessor after a slow launch. I haven't had chance to try out Assassin's Creed Syndicate myself, but I've heard pretty good things. If you've tried it, how does it stack up against the previous titles? Let us know below.
Bethesda detail some of the improvements made to their Creation Engine for Fallout 4
Bethesda recently released a blog post detailing some of the improvements they've made to the engine powering Fallout 4.
The blog post also delivered a ton of new screenshots, showing the way different weather effects can impact a scene's mood.
Image 1 of 8
Can excessive hype be fatal?
Fallout 4 lands next week on November 10th, for PS4, PC and Xbox One.
Bioware teases Mass Effect Andromeda with a celebratory N7 day video
Mass Effect Andromeda is likely to be one of the crown jewels for 2016's holiday game line-up. We don't know a great deal about the new title, besides the fact it'll use the Frostbite engine, focus on a human-led expedition into the uncharted Andromeda galaxy, and it'll feature a big focus on exploration. To celebrate N7 day (November 7th, with N7 being the brand name of Shepard's iconic armor), Bioware released the above video narrated by the female version of Commander Shepard.
In the video, Shepard effectively passes the torch to the new cast of characters, saying: "We will say goodbye, and you will look back one last time and know, that wherever you go, we will be with you."
There's every chance the video is just a nod to fans of the series, but as far as I know, it could also mean that the Andromeda expedition launch was overseen by Shepard her/himself, possibly taking place some time before the end of Mass Effect 3. Who knows?
Blizzard explains why Overwatch isn't free to play
At Blizzcon, Blizzard revealed that Overwatch is coming to consoles in addition to PC. They also revealed that the game isn't a free-to-play title, despite sporting a MOBA-like hero-based gameplay model. When asked by Polygon, Blizzard's Jeff Kaplan explained that character switching mid-match is too central to Overwatch's gameplay to lock heroes behind pay walls.
When asked if Blizzard will include more heroes as DLC, Kaplan explained that Blizzard has yet to decide:
Overwatch appears to blend elements of MOBA games with team-based shooting mechanics seen in the likes of Team Fortress 2. There are tanks, high damage characters, ability counters and ultimate attacks. Team-play appears thoroughly paramount, more akin to League of Legends than Call of Duty.
How do you feel about Overwatch being a fully-priced title? Let us know below.
Overwatch launches on June 21st, 2016 on PS4, Xbox One and PC.
Star Wars Battlefront gameplay launch trailer shows off Boba Fett, Emperor Palpatine
Star Wars Battlefront is almost here, and EA have launched this slick trailer to remind us. Battlefront is an accessible first and third person multiplayer shooter that EA touts as the "ultimate" Star Wars experience. Players can collect power-up tokens that spawn randomly on the game's sizable maps to take temporary control of iconic vehicles, super weapons or staple franchise heroes.
Regardless of how Battlefront reviews, the game is likely to sell in ridiculous quantities. Launching on November 17th, Battlefront shares a general marketing push with Star Wars: The Force Awakens, which is wholly likely to be the biggest cinema event of the past decade.
I have mixed feelings after playing Star Wars: Battlefront's open beta test a few weeks back. While I enjoyed my time with it, I found the mechanics to be a tad simplistic, and for me, the mash up of Star Wars heroes served to break the fantasy rather than enhance it. What do you guys think?
Star Wars: Battlefront launches on November 17th for Xbox One, PS4 and PC.
Day-Z for Xbox One delayed
Microsoft announced at E3 that Day-Z would be hitting the Xbox One Preview Program some time in 2015, sadly that no longer seems the case. The game's developer, Bohemia Interactive, confirmed the news on Twitter back on November 4th.
Day-Z is an MMO tactical shooter hybrid that puts players in a zombie apocalypse sandbox. Players are tasked to manage their survival while running the risk of being murdered and looted by other players within the game's world. The game begun life as a mod for ARMA 2, highly praised for its emergent, dynamic gameplay. It was later being picked up by the ARMA developers themselves to be built into a stand-alone title - expected to be completed in 2016.
Rise of the Tomb Raider developers are considering reviving Legacy of Kain
Crystal Dynamics have quite a storied history as developers, responsible for classic titles like Gex and Pandamonium. Besides their work on Tomb Raider, Crystal Dynamics are perhaps best known for the Legacy of Kain action-adventure series.
Rise of the Tomb Raider's senior designer, Michael Brinker, said to Finder that a franchise revival was possibly on the cards.
As someone with fond memories of Soul Reaver (whose World of Warcraft character is named after the game's protagonist), the possibility is more than enticing. Who knows, perhaps Microsoft could step in to save another Crystal Dynamics project in exchange for another controversial exclusivity period! Maybe. Maybe not.
ICYMI - Some of Windows Central's biggest Xbox articles of the week
Overwatch: Origins Edition and Collectors Edition contents revealed
Some Xbox One Call of Duty: Black Ops III gamers hit with DLC download issues
Blizzard's Overwatch coming to the Xbox One in Spring 2016
Battleborn gets hit with a delay, will now be released on May 3, 2016
Sky TV in the UK confirms its app is coming soon for the Xbox One
Fallout 4 launch trailer shows the people and places of post-apocalyptic Boston
New Xbox One game releases for the week ending November 8th, 2015
The Peanuts® Movie: Snoopy's Grand Adventure (opens in new tab) - Action & Adventure - Activision
"Take Snoopy on a grand adventure through amazing environments, created in his imagination, as he tries to find Charlie Brown and all his friends."
Need for Speed™ (opens in new tab) - Racing - Electronic Arts
"Become the ultimate icon of today's urban car culture in Need for Speed™, featuring Five Ways to Play and a huge open world to race and explore from dusk 'till dawn."
Call of Duty®: Black Ops III (opens in new tab) - Shooter - Activision
"Call of Duty: Black Ops III combines three unique game modes: Campaign, Multiplayer and Zombies, providing fans with the deepest and most ambitious Call of Duty ever. The Campaign has been designed as a co-op game that can be played with up to 4 players online or as a solo cinematic thrill-ride."
And that's a wrap!
This week I've been hitting Divinity: Original Sin pretty hard, trying to finish it off before Fallout 4 lands. It's not Xbox related, but I've been watching the World of Warcraft expansion news coming out of Blizzcon quite intently, wondering if Blizzard will ever be able to recapture the magic that led WoW to 12 million subscribers at its peak. I also interviewed Xbox OS development lead Mike Ybarra last week, and I'll be posting that up tomorrow, you won't want to miss it!
How do you guys feel about this week's Xbox One news? What have you been playing? Let's discuss it in the comments!
Windows Central Newsletter
Get the best of Windows Central in your inbox, every day!
Jez Corden a Managing Editor at Windows Central, focusing primarily on all things Xbox and gaming. Jez is known for breaking exclusive news and analysis as relates to the Microsoft ecosystem while being powered by caffeine. Follow on Twitter @JezCorden and listen to his Xbox Two podcast, all about, you guessed it, Xbox!
Not missing much with Day z. Posted via the Windows Central App for Android

"the main focus of the @dayzdevteam is the pc version"
Uhh... So how come the pc version is still just as broken and useless as it was one year ago? They keep saying they're working on it but the pc version has LITERALLY seen zero improvement so far.

The legacy of Kain series is one of my all time favorites. I'd love to see a new entry, though, not a remake.

Personally I'd love to see Blood Omen: Legacy of Kain get a complete overhaul and re-release. It's these kind of games that really need the HD treatment. Completely rework it into something like the Witcher III or Skyrim. It's a great project for a start-up studio. No need for writers or engine builders or anything like that, just use an existing engine, reskin it and release it, sell it for something like $35. These are the kind of games that need the HD remaster treatment! I'd also like to see Bethesda get with interplay and redo the first 2 fallout games into the FPS style rather than the isometric turn based stuff. There are so many games out there with amazing stories and lore, but although I loved them at the time, I find them really hard to play now.

Looking forward that Interview tomorrow.

I don't care about Day Z for Xbox One because I'm waiting for the new State of Decay Game. Until then I play the SoD Year One Survival Edition.

Assassins creed 2 was the best 3 was good but black flag and unity were just boring and full of bugs, mostly unity. These are my opinions.

I think black flag was the best and should have just been a stand alone game as opposed to an AC game.

They just milk it now days :/ used to love AC 2.

A NEW Legacy of Kain is a game I would buy day one or maybe just maybe preorder it if it was to be for PC.

I loved the series as well, definitely one of my favorites. I am open to a reboot as long as they have the story elements lined up. The Soul Reaver story seemed to jump around. Skip online and focus on the story; if DLC is a requirement, use the DLC to add chapters to complete the story.

They should finish the story, it was EPIC and missing one final game to wrap up the ending.

About Assassins Creed Syndicate, It's very similar to Unity but with horse and carts instead of crowds on the streets. The lighting has improved at the expense of character model detail and density. Side missions are Unityesque with the return of "catch the thief" and "stop the criminals" scattered around the streets. A new inclusion is the ability to kidnap criminals and deliver them to an English bobby. Each area now has a gang leader that you must defeat to liberate that area. And you have your own gang that you can upgrade and level up. You can order gang members to follow you around for free and sick them on to people like dogs. I've hardly scraped the surface but if you like Assassins Creed and have followed even part of the story, this is a must. You can see the resemblance of Watch Dogs character Aiden Pearce in the Syndicate lead character Jacob Frye's appearance and outfits too, which leads me to believe a convergence of the two series is imminent. I Hope it converges on a backdrop of the 1980's. ​It still has a few glitches in some cut scenes and once I jumped out of a carriage and fell continuously forever. But the combat is better with a freeflow combat reward system and more guns. It's also got boats and trains.

Can you swim? I find it highly amusing that you go into a immediate spaz attack when trying to swim lol.

Sounds quite good, might have to pick it up.

These next two weeks are murder on my wallet!

HALO HALO HALO HALO HALO HALO HALO HALO HALO HALO HALO HALO HALO HALO HALO HALO HALO HALO HALO HALO HALO HALO HALO HALO HALO HALO HALO HALO

Basically why I couldn't pick up AC Syndicate...lol sorry =P

I'm loving Halo 5. I really need a fireteam for playing multiplayer on legendary. I'm The Big Snit if anybody is game. Although I only play at 11pm est or later.

Ahh Crystal Dynamics. You were best known to me for 'Crash N Burn' on my uncles 3DO. It seemed so ahead of it's time. Unfortunately the game froze something terrible. Could have been the game or faulty console. That game was something special. I'd say revive that game as well.

I would LOVE them to finish Soul Reaver/Legacy of Kain. I felt like the LoK: Defiance was the two series finally hitting their stride. It left off with such an epic cliffhanger and lead-in to a sequel. I really feel there should be only one more game though.

Legacy of Kain? Yes, yes, a thousand times yes. Especially the Blood Omen series, I much preferred being Kain than Raziel.

Xbox one was outdated on day one. The hardware is so beat at this point.

Not sure what you're talking about. My Xbox One plays my Xbox One games just fine.

Most all consoles are outdated the day they are released even the PS4 but it is still the most affordable way to game.

I NEED that Pip Box....why u teasin me like dat???

Oh god please bring back the Legacy of Kain series, its by far one of the best story telling I have ever seen in a game so far with an impressive and addicting gameplay, if they can somehow manage to revive the series, I bet a lot of new people will get into the series, not to mention that tragic ending that has been in the minds of fans for decades, I would suggest making either a reboot, or a complete new series based on the previous installments, just do anything, but for the love of god bring back the series, I assure it will come back to life as it once did.

LEGACY OF KAIN! please they need to do that even if it wasn't a full AAA game and something more like the abe remame id be happy

Any info on the picture you used?

It's a "Pip Box", Limited Edition Fallout Xbox that was given away in some contests.

I like the Assassin's Creed games, but I have absolutely no compulsion to buy them on release week. I'm more than happy to wait for it to drop down into the $10-20 range and pick it up then. I have far too many games to play to worry about something I probably won't even play for another 6-12 months. Multiplayer-only games, on the other hand, are worth getting close to launch as that's when you'll have the most players online.

Given that remastering classics is a trend that is being well received with Blizzard working on Diablo 2 remaster and Warcraft RTS remaster and then Kickstarters like Wings, Wasteland 2 and Battletech going gangbuster, Microsoft should reboot their FASA Properties of which they truly have exclusives since they own all the IP rights.

"perhaps Microsoft could step in to save another Crystal Dynamics project in exchange for another controversial exclusivity period!" The fact that Microsoft's deal regarding Rise of the Tomb Raider is even seen as "controversial", let alone the nonstop vitriol and hypocritical double standards spewn towards Microsoft from biased Playstation gamers and the biased Playstation-worshipping gaming media, is so vexing. Meanwhile, Sony snags FULLY exclusive titles like Street Fighter V, regional exclusives like Destiny in Japan, and a slew of other similar exclusivity deals, in an attempt to cover up their weak first-party lineup, and those same gamers and journalists applaud them for it. Ridiculous. I wish Microsoft just flat-out bought the Tomb Raider IP at this point.

Yeah haha, I was being sarcastic with that comment. Don't look at Crystal Dynamics' @replies on Twitter, people are still angry about it.

Oooh more soulreaver please.

Lots of Legacy of Kain fans here! Awesome.