Papyrus, Demand 5, Amazon Kindle and more are your app highlights of the week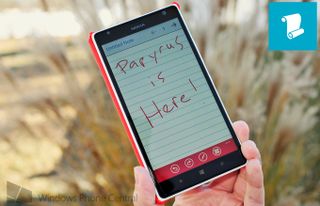 Here we are on another Saturday taking a look at the past week of new apps, app updates, and more for the world of Windows Phone. It was a relatively calm and quiet week compared to the last two weeks. That can maybe be attributed to the holidays here in the US, but nonetheless let's check out the happenings from the last seven days.
New
Demand 5 –Live in the UK and fancy some television shows when you're on your phone? Then you might want to check out the Demand 5 app for Windows Phone 8 that gives you access to content from Channel 5, 5*, and 5USA. The app gives you a free 7-day windows to catch up on most programs on those networks. Plus there's a growing selection of items in the catalogue for you to check out. It's currently in the Windows Phone Store.
Nokia Video Director –Want to make some cool videos on your smartphone and tablet? Well if you're rocking a Nokia Lumia 2520 and any Lumia device with Windows Phone you'll want to check out Nokia Video Director. This week they launched a companion app for Windows Phone that gives you the power to start working on video projects on your phone and then continue them on your Lumia 2520. Get it in the Windows Phone Store. (Free)
Papyrus –Have the desire to capture ideas constantly? Then you'll want to get Papyrus for Windows Phone 8. It's a new note taking application that was announced first at Nokia World. It's now available in the Store and provides users with the ability to take great notes by hand. It's packed full of features for a version 1.0 release and definitely worth checking out if you want to get creative. Grab it in the Windows Phone Store. (Free)
Nokia Play To – Have a Nokia Lumia 1520 and want to share content using the magic that is DLNA? Then you'll want the Nokia Play To (beta) app that just came out. This version is currently available for the Lumia 1520, but there's already another version in the Store for all of you folks with other Lumia handsets. Grab it for your Lumia 1520 in the Windows Phone Store. (Free)
Update
Amazon Kindle –When it comes to buying into a reading ecosystem you've got Amazon's Kindle and Barnes & Noble's Nook duking it out. However, we find ourselves in the Amazon camp and we're pleasantly surprised when the Kindle app for Windows Phone was updated this week. New to the update is fast app resume, a Live tile with book progress, a new wide tile image, and more. Get the new update in the Windows Phone Store today. (Free)
Foundbite –This is by far one of our favorite apps that's exclusive to Windows Phone and it was just updated. Foundbite is a great app that combines images with sound to create a new multi-media experience on your phone. The latest update gives you the ability to find friends through Twitter and/or Facebook. You can also notice performance boosts when scrolling with the flickering issue now gone. There are a variety of other small improvements that make this recent update worth getting. So go get it in the Windows Phone Store. (Free)
Phonly –If you're wanting an official Feedly app for Windows Phone you can just stop right now. Phonly is an unofficial app for Feedly that does everything you'd want and it does it in a beautiful package. The most recent update to Phonly is notable for giving Phonly Pro users a new battery saver theme and general bug fixes to everyone else. It's an app worth picking up in the Windows Phone Store. (Free/$1.99 to remove ads)
Beta
Facebook Beta –The last few rounds of updates for Facebook Beta were basically performance boosts, bug fixes and the support of additional languages. This past week the app finally received a fairly large number of new features added to the mix. Notifications have been made faster and more reliable, while there are now toast notifications for Facebook chat. There's also been a redesign for the primary tile and a handful of secondary tiles like chat, events, and more. You'll also notice some improvements in the messaging department. Get it today in the Windows Phone Store. (Free)
And that's this week. Have any apps you really liked that are new to the Store or received big updates this week? List them below!
The demand 5 app is pretty good, actually its a 1000 times better than the Xbox version.

I tried Papyrus and thought it a bit crap. Unless you can sharpen your finger there's not enough space to do anything useful.

I agree with the space issue unless you have a large device. My 4.3" screen isn't big enough.

Tried in on my 920 and on the 1520. While using a stylus would make things a lot easier on both devices, on the 1520 it is pretty decent to write down short notes or a phone number quickly. Not so great on the 920. Definitely more useful on the larger screen

Nook doesn't even compare to Kindle. 1 or 2 countries for Nook vs worldwide for Kindle. I can't even register to buy books online for Nook, let alone find one in a store.

The Kindle app on Windows Phone is not very good. You can't download, sync and read personal documents like you can with Kindle devices or Android and IOS apps. In other words it's not assigned a kindle.com email address. If it wasn't for that one app, WP8 would be almost perfect.

Sorry this is off subjective but whatever❕ This is F%$&#d up❕
http://www.nydailynews.com/news/national/paul-walker-dies-crash-report-a...

Too Fast... Too Furious ... ... Too Soon?

Yes.. He was too young.. This sux.

Papyrus is great on my Note 2. Too ba the 1520 doesn't have a stylus.
Windows Central Newsletter
Thank you for signing up to Windows Central. You will receive a verification email shortly.
There was a problem. Please refresh the page and try again.