Western Sydney University to provide 5,000 students with Surface 3's this year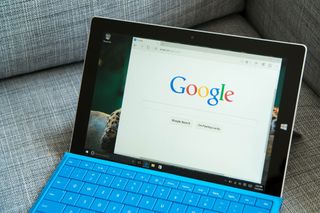 Western Sydney University has announced that this year it will provide 5,000 students with Microsoft's Surface 3 tablet. The university is working with Microsoft and other partners to create opportunities for students to learn by using new technologies in ways that provide greater flexibility. We've seen airlines put the Surface 3 in the cockpit, and now we are seeing it adopted in even more places.
With technology becoming a bigger part of our everyday lives, it is great to see the university leveraging Microsoft's great products to push the limits of its students.
Source: Microsoft (opens in new tab)
Windows Central Newsletter
Get the best of Windows Central in your inbox, every day!
Jared started off writing about mobile phones back when BlackBerry ruled the market, and Windows Mobile was kinda cool. Now, with a family, mortgage and other responsibilities he has no choice but to look for the best deals, and he's here to share them with you.
Nice choice of website in the picture! But hell, 5000 more surfaces in the world is a great thing

How can you not see sarcasm here ?

How do you know I didn't see it?

Poor photo choice, agreed. It would be more relevant if the screen was off - as Google is not involved in any shape or form in this article.

It is an awesome photo! My son is in college and has to deal with a google world. Chromebook, google docs... He has a hard time using the dumbed down software when he has Office 365 right at his hands on his Pro 3. More colleges need to make the change away from google.

Aw poor baby Posted via the Windows Central App for Android

Make emm pay... He should switch to Sydney university.

You missed the bright side ; site is open in Microsoft™ Edge™ and Recycle bin back there shows he/she/cookie monster deleted Scroogle™ Chrome™ years ago.
#RiseOfMicrosoft
#AllHailWindows10 #Soon™

Keep yout friends close, and Google on your desktop.
- The Godfather -

What is that garbage on the screen? Yuck

Why is Google in the screenshot?

C'mon Dipane... The people have spoken. Change that headline picture and learn from your mistake my, buddy!

Why supply the surface 3 when it's been superseded by the surface 4 which is heaps better. Topical government department fuckup.

Thats the surface pro 3. Surface 3 is the smaller cheaper variant.

The Surface PRO 3 has been superceded, not the (smaller) Surface 3...

Surface 4 isn't out yet...like even the leaks have not even started

The uni is private, it is not a government department. Microsoft most likely has a ton of them laying around, they are good enough for uni work eg take notes.

No surface 4. No worries, its a TOPICAL mistake.

This stupidity about Google being such and such never ends on this website/forum

Well there's always Android Central...bye Felicia

Tell me about it. Pitiful Posted via the Windows Central App for Android

Cool uni - check out their ad of the year http://youtu.be/buA3tsGnp2s

Definitely an interesting ad Posted via the Windows Central App for Android

Same thing I ask when I see the sign at a local used car dealer, "Your Approved." My approved what? LOL

Maybe I should have said, "Don't be so possessive."

Watch the marks plummet... Posted via the Windows Central App for Android

Terrible choice of website for ad picture!

Would Boeing advertise the Dreamliner with Airbus printed all over it ? Most odd!

Great stuff! Now they just need to advertise this awesome gesture

To all the people who have the problem with Google in the picture. What part in the surface does Microsoft make? You people sound like the apple fans that hate samsung when the processor of the iPhone is made by Samsung Posted via the Windows Central App for Android

Lol. Surface was designed and prototypes and test batches are built at redmond. The manufacturing is then contracted to the chinese. If we'd strictly follow your logic, Alphabet should acquire Intel.

And which part of the process is Google involved with to qualify for such a big amount of screen space.

Google doesn't make any part of the Surface.... Those copy-Cats won't even make a one simple app for the store. So that really doesn't make sense.

Fameusss3@Gmail.com Posted via the Windows Central App for Android

All the rage over a picture of a website that will probably be their first stop anyway. Hilarious.

First stop will be download of fully functional browser as they may not be aware that IE is also available.

Google on the SP3, why... because they can!!

Few years ago they were giving iPads to students. I'd like to think they chose the surfaces this time round because they are more productive and not just cos they're cheaper

Unfortunately many schools private, public and others require that kids bring ipads as BYOD. For one they have applications that are used in Australian schools such as matheletics, planet...., (also available on the Android platform); nothing on the windows platform yet. Productive becomes relative.

I think its because ipad pro IS OVER 9000!!!!!!!!!!. Surface is more prductive at about half the price.

When will the Surface 5 be out? I hear those specs are amazing!

Google # 1, 2, 3......23; then duckduckgo.

I don't get the staff at windows central??? Do u think if it was an android tablet that they would have a picture of any Microsoft software program in the photo. I bet they wouldn't. I get that not everyone uses Bing but this is windows central. At least don't promote google products!!! I'm sure that whomever buys a surface would know how to change the browser on it!!!
Please stop being jerks and don't promote google on this site anymore!!!!!

Any news on surface 4 for students?

Jeez this is like people going crazy over that plain red Starbucks Christmas coffee cup. Guys, IT DOESN'T MATTER. Look on the bright side: The browser being used to access Google. If that still doesn't please you, go outside and take a walk. Seriously.

Friends don't let friends sell themselves to Google.

The Surface has well and truly arrived.... now if only replicate this feat with Windows Mobile ...

Good news with a disastrous photo..

Guess Microsoft just had too much for them in stock anyway. The Surface 3 wasn't exactly a hit. Slow Atom SoC for a premium price. Not powerful enough as a notebook replacement and not enough good apps in the Windows store as an iPad or Android tablet replacement

I'm sorry but where are the numbers to back that statement up? The Surface 3 is a very capable device and $500, which is cheaper than a high-end but less powerful smartphone and the pen support makes that an excellent price. I've seen plenty out in the wild and it's been said many times, the app gap is nowhere near as big a deal on desktop because.... it's a desktop.

Intel Atom is a fast soc, comparable with any other tablet in the 500 dollars segment.

I Love my surface 3. edit: I like that I can play Torchlight 2 on Steam, which my ipad air only dreams about. Plus I have yet to find an app "I" use that doesn't have a website I can use or has a Windows "app".

Surface mini next year. A budget device is I want with that pen. Ot would be great for college students who cannot afford pro devices too and enjoy windows 10.

Lol. Next year is 2017. Thats 12,months away at least. A really long time.

Won't expect Microsoft to launch surface mini this year. They might not launch that bcoz it may hurt their OEMs.

Greater Western Sydney University is the major Institution in a rapidly expanding area of Sydney Australia.
Congratulations on this tertiary Institution choosing Microsoft as there choice of provider for this addition to students kit. Microsoft is doing wonderful things here in Sydney especially since opening it's Flagship Store. For example they are running special courses for teenagers girls to learn computer code during School holidays,in the auditorium at the new Store. A wonderful idea in my opinion something Apple who have had their flagship store in Sydney for years, has never considered doing, and Microsoft is running these courses for free.
Cheers from Down Under

I came here looking for interesting tech news and all I got was a bunch of people behaving like in pre-school.

Yet you post such an intellectual and contributing response. Go **** yourself.

A good evening to you too, sir.

Using google as a home page for a picture?! C'mon, WC!?