What are the advantages of using an alternative carrier?
Using an alternative to the big four wireless providers is a great idea for many of us, and here are some reasons why.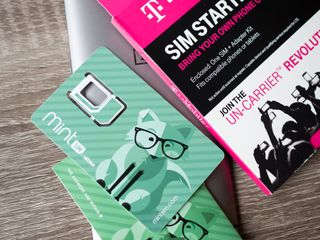 When we talk about phone companies, most of us automatically think of the big four here in the U.S.: AT&T, Sprint, T-Mobile, and Verizon. But they're not the only choices when it comes to who you get your service from, and the popularity of alternative carriers is on the rise.
It's not difficult to understand why. Having a carrier that uses the same nationwide networks that the big guys do without some of the baggage that comes along with those big guys is an attractive position for a lot of people. There is a lot to talk, good and bad, in any discussion about finding the right carrier and whether or not a smaller alternative option is best for you. The advantages for you are especially important to consider.
Advertisement
You can save a lot of money
Depending on how you use your phone (as always) you can save a nice chunk of money every month. Different companies use different ways to price out your data. Some will let you buy several months worth of data at significantly less compared to a monthly payment. Others let you buy an amount of data and use it until it's gone, and others charge a flat fee and bill or credit you based on how much data you use in a month.
The thing they all have in common is that you're not paying for data you didn't use. Combined with cheaper prices per block of data this can mean a smaller bill if you don't use a lot of data. Alternative carriers are not for people who need unlimited data, but not everyone needs unlimited data.
Take Mint Mobile for example (opens in new tab). The company doesn't sell unlimited packages, but it uses T-Mobile's network to offer ultra-cheap 4G LTE data — as low as $2 per GB — in bundles of 2GB, 5GB and 10GB. And by bundling service into multiple months, you pay less when averaged out over a 12-month period.
Advertisement
This is the biggest reason people choose to move away from the big players in the industry and try something different. If you look at where you use your data and how much you use, you could be one of those people.
You might get a better coverage map
An alternative carrier doesn't own the cell towers and infrastructure it uses to provide service. They lease it at a set price from the bigger carriers and resell service to you and me. Sometimes they lease from more than one carrier and can provide service in all the places from both.
No carrier is good everywhere, but unless you're in a very rural part of the country you'll have at least one company with good service. A company that can offer service using two coverage maps has an advantage for anyone who spends time where they are covered by at least one.
Not all carriers do this, so be sure to do your homework when you choose. Two notable examples are Net10 and Red Pocket, which lease service from all four major carriers.
No-frills service
You're paying for calls, texts, and data. That's all you're going to get.
Advertisement
There's no denying that some of the perks phone carriers offer are nice. Unlimited texting to Canada and Mexico is a good example. But some folks just don't need anything extra.
By not having extra services, the price can be cheaper. If you don't need anything more than basic service and 4G data, an alternative carrier could be great for you.
No credit checks
Times can be tough, and less-than-great credit can make getting a post-paid account with the big four carriers difficult. And a credit check leaves a record on you that can adversely affect something like a car loan or mortgage.
If you don't want to go through a credit check for any reason, you might choose an alternative carrier that doesn't require one. Most don't, and you simply pay up front for what you use.
Bring your own phone
As long as it's compatible with the network you choose, you can bring your existing phone and use it without any problems.
You can also buy any unlocked phone that works with the network from anywhere you like. This gives you a lot of choices.
Best of all, you can change phones at any time. If you like the phone you have now, you can use it until you like something else better. With the cost of the service being completely separate from the cost of your phone any decisions are yours to make.
While they aren't for everyone, you can see there are some really compelling reasons to give an alternative carrier a try, even if they don't have the brand-power of the bigger ones.
I'm an RHCE and Electrical Engineer who loves gadgets of all kinds. You'll find my writings across Mobile Nations and you can hit me on Twitter if you want to say hey.
I've been using Cricket for about three years now and I'm quite happy with them. LTE is capped at 8mbs (enough for 1080p video) and I only get 8 gigs of data, but the savings has been well worth it. Plus Cricket uses AT&T towers so coverage is great. (FYI: they're owned by AT&T) While I've been tempted by T-Mo before, their coverage around here is terrible. Furthermore, Sprint/Verizon are too limited when it comes to what phones they'll allow on their network.

I just switched from Cricket to T-Mo (unlimited plan for almost same price in two lines, gift card for switching) and while I'm loving the perks, coverage was generally much better with Cricket. I'm not saying I regret it, but Cricket is a great choice for the price IMO.

Agreed. Switched my family plan from AT&T (same network as cricket) to T-Mobile One and am loving all the perks along with saving more than $100 a month for better plans too. But the coverage, so spotty and often slow, in my area at least.

Yep been with Cricket for more than 3 years...except one nationwide blackout, no-VVM integration with Android/WP and occasionally dealing with sub par customer service (they're better now), Cricket has been outstanding. Only downside is carrier phone options are very less...though I always buy unlocked.

On Android there is a pretty good visual voicemail app https://play.google.com/store/apps/details?id=com.mizmowireless.vvm

I'm on Fast Ring and VVM FINALLY works!

Fast ring of Windows Phone? Vvm already works without having to be fast ring.

Yes. Cricket has better coverage over where i live too

I've been using cricket 2 for about 2 years now and the connection is great and you should be able to use the AT&T APN's to get AT&T speeds. Also, any AT&T devices will work on cricket network without needing to be unlocked.

I switched to Cricket when I purchased my Lumina 950 and couldn't be happier. Well, except that Cricket said they don't support tethering yet on W10M. Has anyone been able to get it working?

Before you had to pay extra to get tethering working on Windows Mobile. A message would pop up saying to contact Cricket to get it enabled...... but... It works on the Fast Ring. I don't know it was accidental on MS's end, but I enabled it a few days ago and was sharing my cellular connection with my computer.

Wow. What phone are you using? My Lumia 950 on Release Preview ring gets the contact Cricket msg. When I checked a few months ago they said it wasn't available for my phone yet, but coming. Maybe I should try moving the SIM over to my 640 on Fast Ring for a test. Being a convert from the CDMA world, I've never done that before. Switching the SIM between phones shouldn't cause any issues right?

Switched to Cricket a year ago 5 smart phones for $100 a month with no taxes.....What can touch this??? Unlimited talk, text with 3 gigs of data. I bumped my own data to 8 gigs for and extra $10. Service has been great and the ability to use any ATT phone (including Go Phones) makes it a no brainer.

Yes, I'm on the same Cricket plan with 5 phones - I only needed 4. Add to that, they've recently bumped the free data to 4GBs which is way more than enough. I've bumped mine up to 8GB w/tethering. Defintely my recommendation. Used to be on TMO which unlimited data was nice, but coverage...

I had 3 mvno's net10, cricket, black wireless . When it gets congested your screwed, speeds are unusable, also texts arrive hours later, pings are pitiful around 200 sometimes (black wireless) not to mention customer service or a lack of it. Save yourself a headache pick a big 4 prepaid not a mvno.

nyjet12, your bad experiences do not extrapolate to all MVNOs or all areas. I'm among those saving money and having a great experience with alternative carriers.

I just ordered mint for my wife I'll see how that goes.

Straightalk on verizon towers this end.. been with them for years with zero problems.

At least say 'US only' in the title !

Yeah they should have a comparison of US and European carriers. But that would make Americans sad.

I have cricket 8 gigs a month for 45 a month and it works good I get some text messages late but from Mexico

Well got it yesterday and tried to register the damn thing and it won't let me. Tried calling but close on the weekend I'll try calling tomorrow the but wife ain't too happy at the moment. And that's one of the downside to these service they have none .

I switched to MintSIM last week with no issues. What seems to be the problem?

In Canada, a cheap alternative to Rogers & Telus is PC Mobile (Available at President's Choice​ Stores).
If you byop, it's only $28/mo USD ($38 CAD) for unlimited Nation-wide talk/text.
As for data, 500MB $2.24 ($3 CAD), 1GB $4.48 ($6), 2GB $8.96 ($12), 3GB $13.41 ($18), 4GB $17.89 ($24).
If you just want unlimited text and don't plan on making calls, Rogers has a pay as you go unlimited texting for 1 year at $74/yr ($100 CAD)

These MintSIM ads-as-articles are going to make Windows Central just as worthless as Android Central is. Keep that in mind.

Yeah, I understand they gotta pay the bills, but it is pretty blatantly a purchased 'article'.
Windows Central Newsletter
Thank you for signing up to Windows Central. You will receive a verification email shortly.
There was a problem. Please refresh the page and try again.