What exactly is Windows Insider 'skip ahead?'
Insiders now have the option to "skip ahead" to the next Windows 10 OS update and begin receiving Redstone 4 Insider builds early. But what exactly does that mean?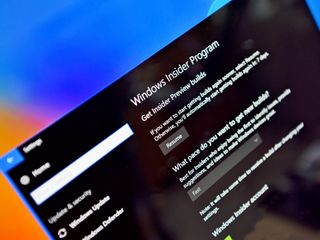 (Image credit: Windows Central)
Last week, Microsoft announced a change in the Windows 10 Insider Program that lets Insiders in the Fast ring skip ahead to the next Windows 10 release preview. There are a few reasons why this change is taking place, and depending on the kind of Insider you are, you're going to want to know about it. Here's everything you need to know about Windows 10 skip ahead.
In short, skip ahead is a new option for Insiders in the Fast ring that allows users to jump ahead, past the current Fall Creators Update preview builds, and onto the development branch where the update coming after the Fall Creators Update is being developed. It puts Insiders on the Redstone 4 channel of development builds, meaning Insiders who choose to skip ahead won't be given the chance to test the Fall Creators Update RTM.
The two options
Insiders will notice a new option in the Insider Program area in the Settings app that provides a drop-down menu with two options. By default, the option is set to "Active development of Windows," which tells the Insider Program that you wish to continue receiving preview builds from the Fall Creators Update development cycle. This option will only be present until the development of the Fall Creators Update is complete, which should happen around mid-September. Once development on the Fall Creators Update is done, Insiders in the Fast ring will then be automatically switched to the Redstone 4 development branch.
The other option, which Insiders will have to manually switch to is "Skip ahead to the next Windows release," which does exactly what you might expect. This option will put you on the Redstone 4 development branch now, ahead of the Fall Creators Update being finalized. This means that you will skip ahead to Redstone 4 development, and not be able to test final Fall Creators Update builds as they roll out to Insiders for testing.
At first, Insiders who choose to skip ahead will receive builds that are practically identical to the builds that roll out to Insiders who are continuing to test the Fall Creators Update. That won't be the case forever, and when Redstone 4 development ramps up, Insiders who skip ahead will start receiving builds from a much higher range of numbers, which will include more bugs and eventually new features.
On the flip side, Insiders who remain testing the Fall Creators Update will see fewer big features and more bug fixes and stability updates as the preview program progresses, as we're at the tail-end of development of the Fall Creators Update, which means Microsoft is now focused on making sure the Fall Creators Update is as stable as possible for public rollout.
What's the point?
Lots of Insiders are wondering why this option is now available for Insiders. In the past, Microsoft would just continue flighting builds from the active development of Windows, only switching to development on the next version of Windows once the active version has been signed off. With the new skip ahead option, Microsoft can begin testing the next version of Windows 10 much sooner than in the past, even before the active Windows 10 development cycle is complete.
It gives Insiders a choice between testing the upcoming release or testing the release that's coming after the upcoming one. It also allows Microsoft longer testing times on the next version of Windows 10, giving the company a few additional weeks that it wouldn't normally have to collect feedback.
From Microsoft:
Which should you choose?
Should you skip ahead in the Insider Preview? That comes down to how you're using the Insider Program. If you' use the Insider Preview builds on your main machine and aren't willing to risk system instability and bugs, then remaining on the Fall Creators Update preview branch is your best bet. Builds are only going to get better from here on out, with more fixes and eventually the final release.
If you're in the Insider Program to test new features, regardless of how buggy and broken things may get, the skip ahead option is going to be for you. Skip ahead will fast track you to the newest features and builds over the next few weeks, but you won't be able to test the Fall Creators Update anymore as a result. Instead, you'll be testing the next update.
Windows Central Newsletter
Get the best of Windows Central in in your inbox, every day!
Zac Bowden is a Senior Editor at Windows Central. Bringing you exclusive coverage into the world of Windows on PCs, tablets, phones, and more. Also an avid collector of rare Microsoft prototype devices! Keep in touch on Twitter: @zacbowden.
It should be noted that there are a limited number of openings on the "skip ahead" branch, and then it will be closed down. That is so they keep a sufficient number of testers in the RS3 branch.

In the past, didn't Microsoft have a department of people testing their software? People that actually got paid to do that work? One way to get around having to pay people to do that kind of work is to entice the public to be "insiders" and make them feel like they're part of the development of the software, and they are - they're just not getting paid to do so like was done in the past. Sorry to sound so negative for what is ultimately a good thing, but it seems like large corporations find more ways to get rid of paid workers and still get someone to do that work.

"large corporations find more ways to get rid of paid workers "

Sure, from their perspective it's two kill birds with one stone. Insiders get what they want - early access to Windows builds with new features before anyone else, and the ability to give feedback/voice opinions; Microsoft saves money by not having to pay testers. Creating jobs for the sake of creating jobs is not necessarily a good thing and corporations don't owe jobs. Plus, Microsoft has shifted as company

away

from Windows as its main focus - another smart move considering the changing computing landscape. In fact, you could argue that Insiders are more passionate. They're giving feedback/reporting bugs not because of a paycheck dangling in front of them, but because they want to/really care.

To add, I think it also creates a better final product due to the much larger number of testers. It used to be that a product was tested by a small team then dropped on the masses who would usually find even more issues. Now most issues are found before a more stable public release is launched.

Microsoft has for years had a process called "dogfooding" where they would deploy unreleased software (Office, Windows) for employees to use and debug/polish in advance of going RTM. The Insiders program is more like an extension of the dogfooding process that incorporates community feedback than it is a threat to specific jobs at Microsoft. That's not to say quality assurance engineers aren't being laid off - it's just that the drivers have a lot more to do with the impact of automation and modern design methodologies (agile, rapid prototyping, extreme programming, etc) than with the Windows Insiders program.

I don't see this as an option on W10M...at least not on the Lumia 950. So, I'm guessing it truly is dead (thus no future development) or it's already closed for moving to the new branch.

Mobile is on RS2_feature2 (existing hardware forced into obsolecense as Microsoft pivot to cellular PCs) We're talking RS3_Release and RS3_PreRelease It would be cool if we could buy an Android SD835 based device and enroll it in the insider program and install Windows on Arm or Windows Mobile (if they plan to continue with phones).

I mentioned this only because the exclusivity wasn't mentiobned in the article and the picture LOOKS like the mobile form.

Yep, that's further proof that W10M won't get either RS3 nor RS4

Oops, sorry, I have it too on my 950. I take it back

I have this exact option on Lumia 950XL and have selected already. Did you check Windows Insider Programme as well as Windows Update menus?

In the latest build that was just released on mobile the Windows Insider Program settings has the skip ahead option.

OK, so it's also in W10M but it's just a bug according to MS https://www.onmsft.com/news/windows-10-mobile-insiders-no-you-cant-skip-...

My only issue is Windows Hello fails after these updates on PCs connected to domain.

Good move from microsoft - Free test OS = Free testing for Corp... i'm fine they are fine so every thing is fair

Too bad the latest Mobile build broke updates if your apps are on an SD card. And, if you had to replace your SD card, you are totally out of luck.
Windows Central Newsletter
Thank you for signing up to Windows Central. You will receive a verification email shortly.
There was a problem. Please refresh the page and try again.