What we most want to see at E3 2018
E3 2018 is almost here, and hype is reaching fever pitch. But what do you want to see?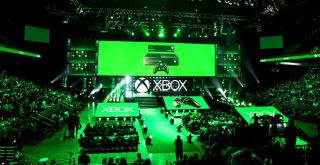 E3 2018 is almost here, bringing with it tons of new game announcements, new hardware, and other various bits of great gaming stuff. The heavy hitters will be under a microscope, particularly Microsoft, who has been criticized for its inconsistent games line up. All the big publishers will present their lineups too, including current and future roadmaps, letting you all know just how badly you're wallet will suffer over the next few months and beyond.
I thought I'd gather my wildest hopes and dreams for this year's E3 2018, whether they're likely or not.
Serious investment from Microsoft
While Microsoft has been making significant investments, they have typically fallen in areas that traditionally don't register on an Xbox gamer's radar. Mixer continues to be a huge project for the company, and a significant amount of cash is being invested in improving the service, and getting exclusive rights to various types of content, including esports.
Microsoft has also been investing in its cloud platform, which has dozens of data centers all over the world. On the gaming side, hopefully, we'll start to see what investments Microsoft is making with Kareem Choudary's new gaming cloud division. Whether it's more cloud-powered games like Crackdown 3's physics, or streaming Xbox games directly to mobile devices, hopefully, Microsoft will show a little more of its hand here.
Of course, I'm also hoping Microsoft shows us some serious investment in exclusive games. I've talked about why this year may be too early for Redmond, as it repositions following its grand reorg, but teasing the roadmap would show confidence, which is something Microsoft has frankly lacked in this area as of late.
There are dozens of classic franchises Microsoft could look to revive, such as MechAssault or Alan Wake, and more recent ones like Sunset Overdrive and Quantum Break. The likelihood of getting any of these varies due to licensing, over-reliance on independent third-party devs, and just timing issues, but Microsoft is running out of time to make a big play here. As a games company, the actual games shouldn't be its weakest area. And right now, it sort of is. I personally enjoy a lot of the so-called "AA" titles the company has been publishing, they aren't proving to be huge hits with the wider audience for pretty obvious reasons.
Image 1 of 2
I'm also hoping we'll see Microsoft invest in new features and tech to compliment the gaming experience on Xbox. Whether it's new Elite controllers, a replacement solution for using Cortana/Xbox voice commands in a Kinectless world, or even VR, seeing what the platform and accessories teams have been working on is usually a treat. I'm hoping Microsoft shows some investment in getting 4K movie and TV content onto Xbox Live too, because their offering is absolutely lacking right now.
Also, I'm just kind of hoping for some real surprises. Some new IP, with unique ideas and the budget to truly make them shine. New features that will wow us like backward compatibility did when it was first revealed. Or even the return of old friends, such as Age of Empires, which is set to receive its fourth installment.
I've written about why I'm not particularly optimistic for Microsoft's E3 2018 this year to be a big "showstopper," but Redmond always has the potential to truly surprise us.
Games I want to see
Obviously, E3 is really all about the games, and there are already tons worth looking forward to. Hopefully, we'll find out more about Metro Exodus, Ashen, RAGE 2, and sure-fire blockbusters like Battlefield V, Cyberpunk 2077, and Red Dead Redemption 2. I'm also eager to see what Capcom has been cooking up with Resident Evil 2's remake, and any future content for Monster Hunter: World.
There are rumors swirling around a new Gears of War, a new Fable, and a new Perfect Dark from Microsoft. It would be awesome (if unlikely) to see Dragon Age or The Elder Scrolls make a reappearance, as truly epic RPGs with branching storylines, seem to be increasingly rare. Bethesda is also rumored to unveil their latest project, dubbed Starfield, and perhaps even DOOM 2 and some DLC for Prey. Respawn Games has also been teasing a possible new Titanfall game. I'm also eager to find out more about some big indie games like Wasteland 3 and Below.
One of the biggest and most intriguing rivalries could be between Ubisoft and EA, as both companies line up their connected-world multiplayer shooters to go to head to head. EA is set to remind us about Anthem, BioWare's sci-fi shooter RPG, while Ubisoft is gearing up to unveil The Division 2, likely taking everything it has learned from the first game into consideration during development. Ubisoft has been pumping out great games lately and has truly nailed the "Games as a Service" business model, while EA continues to struggle with negative perceptions over its handling of Battlefront II. Both companies have something to prove here, and the competition should hopefully lead to great products.
As with Xbox, I'd also love some epic surprises. There are plenty of great franchises that have been out of the spotlight to varying degrees that I'd love to see return such as Dead Space, Diablo, Mass Effect, Killer Instinct, Deus Ex, Legacy of Kain, Thief, Quantum Break, Alan Wake, and many many more. Some are simply unlikely, and others are totally impossible, such as a new "real" Metal Gear Solid or Silent Hill.
Exciting times ahead
E3 is always full of great announcements, epic trailers, and new ways to abuse our bank accounts, and this year looks to be no different. I finish by asking what do you want to see most out of E3, regardless of how unlikely it might be?
Get the Windows Central Newsletter
All the latest news, reviews, and guides for Windows and Xbox diehards.
Jez Corden a Managing Editor at Windows Central, focusing primarily on all things Xbox and gaming. Jez is known for breaking exclusive news and analysis as relates to the Microsoft ecosystem while being powered by caffeine. Follow on Twitter @JezCorden and listen to his Xbox Two podcast, all about, you guessed it, Xbox!