4 things we want to see from Windows in 2021
New features, a reinvigorated UI, and a modern OS.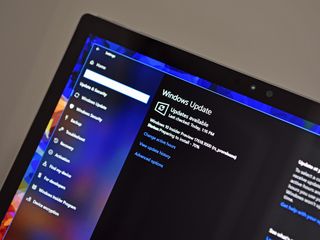 (Image credit: Windows Central)
The new year is almost upon us, so it's time to start thinking about what the year ahead may hold for use die-hard Windows users. In 2020, Microsoft remembered that Windows is an important product in its portfolio, as the global pandemic saw people return to the PC to get their work done from home.
Microsoft has moved fast with the likes of Microsoft Teams, Edge, and Office to cater to users who are now working from home, but Windows is a different beast. Windows can't innovate as quickly as those other products, but that doesn't mean innovation isn't coming. Earlier in 2020, Microsoft put its Chief Product Officer Panos Panay in charge of the Windows client.
This means that Microsoft's top hardware guy is now in overseeing the Windows user experience and feature set, and he has already set in motion a big update for Windows 10 that's expected to arrive at the tail end of 2021. This big update is codenamed Sun Valley and aims to reinvigorate the Windows user experience with modern, consistent designs and experiences.
We don't yet know the full extent of what Sun Valley is going to bring to the table outside of top-level UI changes and enhancements. So, here's what I'm personally hoping to see from Windows 10's big Sun Valley update when it arrives next year.
A better tablet experience
Windows 10 isn't very good on devices without a keyboard and mouse attached. It's a far-cry from the fast and fluid Windows 8 experience, and I think Microsoft needs to spend some time getting back up to that level of "fast and fluid" when it comes to touch-first devices. I'd love to see fluid animations, better gestures, and a more optimized File Explorer for touch users.
Clean up the system tray
Windows has had the system tray for a long time now, and I think it's time Microsoft gutted it for a more contemporary experience. Remove the date, make the time bigger, and move the overflow menu into the Action Center. You could even take some inspiration from the Windows 10X system tray, which is a single button that opens the Action Center.
Rethink Timeline
It's far from controversial to say that Timeline on Windows 10 is a failure. I don't use it, and I don't know anyone else who uses it either. I'm sure there are some of you, but I don't think Timeline has been the hit Microsoft was hoping it would be, and I think that's because of where it's located. Timeline makes no sense in Task View, and should be in the Start menu instead.
Microsoft should also adjust what actually shows up in Timeline. It doesn't need to show me my most recently visited webpages, but it should show me my recent documents in Office, as well as recently opened files on my PC. I also think the "timeline" aspect of Timeline needs to go away, as it overcomplicates things. Just make it a "recent documents" area, like on Windows 10X.
Integrate the Your Phone experience
I love the Your Phone app on Windows 10. I think it's one of the best apps on the platform, but my only issue with it is that it's an app that doesn't appear to integrate with the OS at all. I'd love for Your Phone to be an integrated system applet that can pin to the Taskbar, similar, if not identical to how the old My People interface worked.
In fact, it could go right where the old My People icon used to be. You click it, and it pops up a little widget showing your most recent phone notifications, texts, and photos, with a button to jump into the full Your Phone app if you want to do more. C'mon Microsoft, make it happen!
A big year for Windows
2020 has been a year of preparation for Windows. Panos Panay took charge in February, and his influence on Windows will come into full effect in 2021. We're going to see big updates for Windows 10 desktop, the launch of Windows 10X, and a new cloud PC service that lets you run legacy Windows apps from the cloud.
It's fair to say that 2021 is going to be a big year for Windows, arguably one of the biggest since Windows 10 first launched. Windows 10 had been sitting on the back burner before Panos Panay took charge, but now Windows is in the spotlight again, and Microsoft now needs to step up and put on their best show.
What are your thoughts on Windows 10 in 2021? Let us know in the comments.
Get the Windows Central Newsletter
All the latest news, reviews, and guides for Windows and Xbox diehards.