A look inside Jez's E3 2017 gear bag
I've been asked about the tech gear I'm taking with me to E3 2017 quite a bit lately. So here's a list of my essential gadgetry.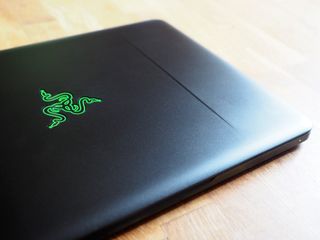 E3 2017 is nearly here, and with it comes an avalanche of gaming news, and most importantly for us, news on Xbox One, Windows PCs, and the new "Project Scorpio" Xbox.
In order to bring you on-the-ground coverage, we headed to Los Angeles in force to go hands on with various games, meet the developers and publishers, and get up close and personal with all the new gadgets and goodies. And making sure we have the right gear for the trip is extremely important.
Here's everything I'm taking with me to E3 2017.
BlackBerry KEYone
One of the most important items you take with you anywhere is your trusty phone. I'm sad to report that this is the first gaming event I've ever attended to which I won't be taking a Lumia. But Windows 10 Mobile isn't the problem, my Lumia 950 XL is.
The battery on my 950XL has degraded quite severely, to the point where I need to constantly worry and fawn over how much I'm using the phone. After using the BlackBerry KEYone with its rather insane battery life, I'm opting for that until I can get my hands on a HP Elite x3.
The BlackBerry KEYone is nice not only for its battery life, but also for Android, simply because it means I'll be able to use the new Mixer Create app to live stream the event to our channel. So keep an eye on Mixer.com/WindowsCentral for some live streams from me, and my colleagues, Executive Editor Daniel Rubino and Mark Guim, or video guru, during the show.
The KEYone costs around $550 unlocked.
Rode Smartlav+ Lavalier microphone
If I'm going to stream to Mixer from my phone, I need a decent microphone to isolate all that background noise, which is why I opted for the Rode Smartlav+ Lavalier microphone.
The Smartlav+ is expensive at around $60, but it's a zero-fuss solution that provides excellent quality with minimum hassle. I purchased a couple of cheaper options initially, only to find myself annoyed with the poor quality and, sometimes, complete loss of function. I figured it would be best to just go with a more expensive option for the peace of mind, and hopefully, the Smartlav+ will last me a long time.
See at Amazon (opens in new tab)
Olympus OM-D E-M5 Mark II Camera
I don't know anything about cameras, which is why I deferred to one of our senior editors, Derek Kessler, to ask which camera I should buy. Many of our editors use this shooter, and even as a total amateur, I can see why.
The OM-D E-M5 Mark II camera sports powerful image stabilization, snappy auto-focus, and its automatic modes take on much of the heavy lifting, even if you're not particularly knowledgeable about its full range of capabilities. It's incredibly hard-wearing, too, and perfectly capable of surviving a few days in my backpack.
The OM-D E-M5 Mark II costs around $1,300 with a 150 mm lens, and it has been a reliable camera for a total noob such as myself.
See at Amazon (opens in new tab)
Olympus M.ZUIKO Digital ED 75mm to 300mm
On the topic of being a camera noob, getting up close and personal with subjects, particularly during press conferences, can be pretty hard. As such, I'll be taking this 300mm telephoto lens along with me to E3 2017.
The M.ZUIKO Digital ED 300mm is by no means the best long-range lens available for Micro Four Thirds cameras, but it was far more affordable than some of the other options out there. Since I'm amateur (at best), I decided to go on the affordable end and scale up. Still, I've found myself able to take some pretty capable shots with this lens in average conditions, making it an important part of my arsenal.
The Olympus M.ZUIKO Digital ED 75-300mm costs around $450.
See at Amazon (opens in new tab)
Razer Blade 14 (2017)
As far as laptops go, I'll be taking my Razer Blade 14 with me to E3 2017 for word processing and any on-the-go video editing that I need to do.
My Razer Blade 14 rocks a GTX 1060 GPU, 16GB of RAM, 512 GB solid state drive (SSD), and a "Kaby Lake" Intel i7 quad-core CPU. It's a beastly machine, and it's also thin and light, making it a perfect travel companion.
The main downside to the Razer Blade is the battery life, at around 4 to 5 hours, which isn't going to be suitable for long stints of work away from a power outlet. I'd rather be taking Microsoft's new Surface Pro with me for work while traveling, but E3 2017 came around a little too soon.
Still, the Razer Blade is a workhorse, so long as you're not going to be relying on the battery too much. And hey, it's pretty amazing for gaming, too. The Razer Blade will set you back around $2,000.
See at Amazon (opens in new tab)
Anker PowerCore+ 26800
Despite the BlackBerry KeyONE rocking some ridiculous battery life, I'm taking an Anker PowerCore+ 26800 power bank with me as a backup.
The Anker PowerCore+ 26800 has ports for both USB and USB-C for rapid recharging, and it will provide laptops with around eight hours of additional juice, making it a perfect companion for the Razer Blade in a pinch.
The PowerCore+ is more than enough to ensure that I don't run out of battery in a tight spot. But hopefully I won't really need it. It has been a faithful travel buddy of mine for quite a while. And it costs around $70.
See at Amazon (opens in new tab)
And that's about it! Naturally, I'll also be taking my passport, some Mixer t-shirts, and a toothbrush (maybe), but you guys aren't interested in silly things like that. Oh and my Xbox green fidget spinner ... although, perhaps I won't get through security if I take that. Hmmmmmm.
Stay tuned to Windows Central for all the latest and greatest news emerging out of E3 2017!
Windows Central @ E3 2017
Windows Central Newsletter
Get the best of Windows Central in your inbox, every day!
Jez Corden a Managing Editor at Windows Central, focusing primarily on all things Xbox and gaming. Jez is known for breaking exclusive news and analysis as relates to the Microsoft ecosystem while being powered by caffeine. Follow on Twitter @JezCorden and listen to his Xbox Two podcast, all about, you guessed it, Xbox!
Can I be the first to not actually bother reading the article, but then complain about not using a Windows phone? :p

Your lumia 950 xl battery is dead? Buy a new one...the app name is WINDOWS central an every time i have to look article that says just bad words about Microsoft...don t say that android and blackberry is better that lumia 950 xl about productivity please...

Good choice on the KeyOne Jez....it's an awesome phone...don't mind the fanboys calling you out!

More interested to find what's in digital mix pot LOL

While I am sure the KeyOne is awesome, why don't you just get a new battery for your 950XL? If you really do enjoy using it, that is, all good if you don't.

I'd rather get a device with new apps etc on it too! he probably got it free for review/useage as well. Since there is nothing avaible thats interesting from Microsoft, I cannot fault him at all. The KeyOne is a seriously awesome phone.

woo fanboy downvotes for the truth! love it!

Hah, my new genuine lumia 950xl battery has just arrived for the price of $25. Not bad eh?

Did the battery fix the battery life problem?

Well, when you ordered a new battery, you get a new battery right? Jez was saying his battery is degraded.

Probably a silly question, but how does charging the Razer Blade with the 26800 power bank work? The power bank has a max output of 5V-3A, but the laptop uses a 160W power brick...

You need to convert MAh, V and A to W. Well, it can work in theory. My take is the laptop can change in shutdown state very slowly. And it charges only a fraction before the power bank goes empty.