What other Xbox accessories would you like to see get the 'Elite' treatment? (poll)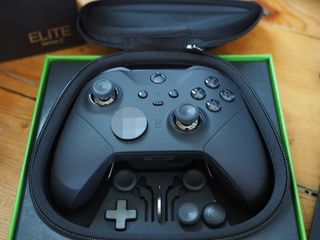 (Image credit: Windows Central)
The Xbox Elite Wireless Controller Series 2's November 4 launch is just around the corner, and early previews (including our own) have been overwhelmingly positive so far. However, that got us thinking: What other Xbox accessories would benefit from an "Elite" overhaul or general refresh?
The Xbox controller is probably the thing that makes the most sense to build upon with an "Elite" version, but Microsoft has some other accessories that could at least use a solid refresh. For me, the most obvious one is the Xbox One Stereo Headset, which is largely outclassed by third-party headsets from others like LucidSound and Turtle Beach. Thinking a bit more outside the box, the Xbox Media Remote is a prime candidate for a second, improved iteration.
While they're not Xbox accessories, it would also be neat to see Microsoft revisit its Sidewinder keyboard (opens in new tab) and mouse (opens in new tab) now that the Xbox One has official mouse and keyboard support for a select group of games. Perhaps there could be a Sidewinder combo akin to the Razer Turret for Xbox One (opens in new tab), complete with a move to mechanical switches. A boy can dream.
Of course, none of these are likely to happen, but it's fun to think about. What accessory would you like to see Microsoft revisit? Vote in our poll above and let us know in the comments. Note: Some ad blockers may block the poll from showing.
Now with Bluetooth
(opens in new tab)
Xbox Elite Wireless Controller Series 2
The Elite Controller Series 2 is set for a November 4 release and comes with a slew of customizable buttons, sticks, and paddles.
Dan Thorp-Lancaster is the former Editor-in-Chief of Windows Central. He began working with Windows Central, Android Central, and iMore as a news writer in 2014 and is obsessed with tech of all sorts. You can follow Dan on Twitter @DthorpL and Instagram @heyitsdtl.
An elite branded headset based off the surface headphones

Oh I really like this idea!

Yes. this!!! Wireless, with 7.1 surround, Dolby Atmos and, heck, throw in a cup holder on it! (OK kidding about that last part.)

I dunno, cup holder with a straw, that's not the worst idea in the World for long gaming sessions.

I was going to post the same thing. How hard could it be for them to allow the blutooth function to work with the current headset anyways? I think a simple software update and it would work.

True to the bone. MS, c'on, throw in a driver and let'em pair!

Removable Batteries and recharging station.

Will the grips still peel over time? That's my only concern. Also the reason I sold my original Elite. Also the reason I'm about to sell thw one I made on Design Lab. Funny how I paid more for rubber grips and that's the one thing that is defective. Now I regret paying extra for it.

The Pro Intellimouse please! I recently got one and I'm in love with it, I would love a Xbox Wireless enabled version with maybe one more button

I would LOVE a "pro" version of Hyperkin's Duke Controller. With grips and wireless connect. As far as headphones, There really isn't much to be improved from the headsets out there. What would make more sense would be if Microsoft released some type of Audio Dac and Mixamp, that was wireless and worked well with streaming, but I've heard they are already working on some type of solution for Scarlett.

Was about to mention an Elite branded Surface Headphone but they were already suggested so I'd say an entire Elite Console ( like the Elite Xbox One ) with larger, SSD based, storage cpacity and Bluetooth support for wireless Headsets ( cough, Surface Headphones ) or periphery in general ( pretty much any BT Mouse/Keyboard ). If it HAS to be a periphery I'd guess an Elite branded Racing Wheel with Pedals or a H.O.T.A.S. akin to my Saitek PRO Flight X-65F with native support for W10 to be able to make actual use of most of its buttons.
Windows Central Newsletter
Thank you for signing up to Windows Central. You will receive a verification email shortly.
There was a problem. Please refresh the page and try again.