What's been fixed and what's broken in Windows 10 build 10576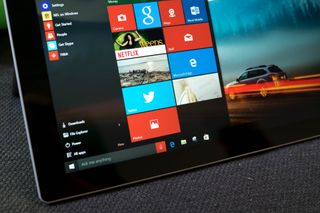 Alongside the improvements in the newest Windows 10 PC build for Windows Insiders on the Fast ring, build 10576, there are also some fixes and known issues tagging along. Here's the full breakdown of what Microsoft has fixed in this latest build, and some of the lingering issues you'll want to look out for.
Fixes
We fixed the issue where the Xbox app for Windows 10 would consume gigabytes of memory on your PC if you have any Win32 games (non -Windows Store games) installed on your PC that have been identified as games or added by you in the Xbox app.
We introduced an early preview of nested virtualization so that people could run Hyper-V Containers in Hyper-V virtual machines with Build 10565. This build includes performance improvements.
We've been addressing a lot of feedback around localization text UI in various languages and you'll see a lot of that work in this build.
The search box should now work in this build if you are in a locale where Cortana is not available.
Known Issues
To continue receiving missed call notifications and send texts from Cortana, you will need to be on this build and higher. We've made a change that improves this experience that requires newer builds.
When notifications pop up from Action Center, any audio playing (like music from Groove, or videos from the Movies & TV app) gets reduced by 75% for a period of time.
After upgrading to this build, all your Skype messages and contacts are gone in the Messaging app. The workaround for this is to navigate to C:\Users\ [[ username ]] \AppData\Local\Packages\Microsoft.Messaging_8wekyb3d8bbwe\LocalCache in File Explorer and either delete or rename the "PrivateTransportId" file. Then restart the Messaging app. Additionally, you can install the app from the Store as an updated app.
Small form-factor devices, like the Dell Venue 8 Pro, that boot with rotation or virtual mode screen size set larger than the physical screen size will experience a bluescreen on upgrade and will roll back to the previous build.
After upgrading to this build, the power button on your Surface Pro 3 may no longer put your Surface Pro 3 to sleep and instead shut down.
WebM and VP9 have been temporarily removed from builds. We continue to develop a VP9 implementation that we intend to ship in Windows. Expect VP9 to return soon in a future build.
Source: Microsoft
Dan Thorp-Lancaster is the former Editor-in-Chief of Windows Central. He began working with Windows Central, Android Central, and iMore as a news writer in 2014 and is obsessed with tech of all sorts. You can follow Dan on Twitter @DthorpL and Instagram @heyitsdtl.
I've been having that power button bug on my Pro 2 for days now

It wa present on the last build too. Didn't know if it was a bug or a change....

Had the same problem, I just changed in the energy option what a press on the power button does to "go into standy" and it worked as it did before.

It's not a "bug" per say. Just go to power settings and change "What to do when I press the power button" from shutdown to sleep.

More known issues than fixes. Still, feels good. Upgrading right away.

Waiting to hear if the Intel Display driver crashing has been fixed (SP3). Deal breaker for sure...

I've not seen any driver crashes on my SP3 since the initial windows insider build last year.

Super odd, lucky you though! There are many of us here that have been experiencing unfortunately.

Me as well. It doesn't happen too often, but it is annoying.

It was happening multiple times a day for me. I was editing video and it kept doing it, I had to roll back. I do miss the build features, but I have work to do. I guess... stupid work :)

also crashes on the new sp4 quite a bit, but im thinking these issues are firmware related and not os related.

On my laptop, it isn't Intel's driver. It was NVIDIA's driver which crashed.

Go to device manager and uninstall display drivers. Then search for new hardware and select option to search for drivers on the Internet. This installs drives used on W8.1 and they work just fine without crashing. I had this issue. This fixed it.

The issue with the SP3 power button actually occurred in the last build. But it's easy to fix by reverting the option in Power settings.

Too bad my Dell Venue 8 Pro is now 2 builds behind since this and the previous build cannot be installed. Oh well.

I thought there was a workaround where you could just lock it in portrait mode until everything was done..? =[

Check here. Excellent ergonomics. I highly recommend it http://hk-usa.com/hk-models/vp9/ -You had something to hide, should have hidden it shouldn't you?

VP9 is an open source video format that offers efficient compression to stream HD content at lower bitrates, and is well suited to UHD streaming.

It´s a video coding technology specially designed for web uses, you can get more info here http://www.webmproject.org/vp9/

Had occasional graphics driver crashes on my SF2 PRO. Will see if it is better now. Also had Explorer crashes when opening files from the desktop. Hope that is resolved.

Has the network in-efficiencies been fixed yet? i havent even seen anything mentioned.

I'm stuck at 0% download on my 1530.3 running 10536. Any ideas? Posted via the Windows Central App for Android

Ive got a frozen screen for hours , tried restarting and recovery tool it doesn't work I dunno what to do maybe the phone will be shut by its self when the battery is dead Posted via the Windows Central App for Android

Ah; the Sp3 power button seems sad. Glad I aint in those rings. Love my Surface

The messaging app fix didn't work. Deleted the privatetransportid file and the convos are still gone.

Same here, that "fix" doesn't do anything. Edit: I think I found the fix, do the same steps, but instead of opening the app once you've deleted that file, log out of the account and back into it and launch it. That fixed it for me.

even after logout messaging don't work

I couldn't even find that file, that string is nowhere on my laptop, so no fix...updating didn't even work. If I uninstall it, will it be easy to find in the store? =s

I just downloaded the build and saw that the power button will shut off the device... couldn't that be configured in the settings?

Does anyone else have issue with not having number of new emails on start screen email tiles?

That small form factor seems like something that will happen to my device. How can I know it's not going to happen?

I heard staying the tablet in portrait mode solves the problem.

saw that as well. but my device is now even allowing the update to install. and i am getting an error.

How I wish the download retains at the last percentage when I encounter problems. It always go back to 0% unlike in Windows Mobile.

Is cortana available for India region In this build? Posted via the Windows Central App for Android

I'm facing an incredible bug on Edge on my Surface Pro 3.
When I'm typing in the search bar or the address bar, when I press the key "q" the bookmarks panel opens.
I can't type a "q", on my type cover or on any others external keyboard.
Does anyone had the same problem???

Major issue for me is that in 10576, USB 2.0 devices no longer connect to VMWare Workstation (reproducable with v11 and v12Pro). Instead they go into a continuous connect-disconnect cycle. Reverting to 10565 solves the issue. If 10576 is supposed to become the November public TH2 release, then they might have got somethong coming. Broken VMware compatibility.

I show 10.0.10581.0. Not 576.. Ooh

Hi guys on 565 with my HP Stream 7 (7 inch) I've experience the screen rotation bug and Reset/formatted a lot of times with a lot of blue screens, I figured out that if I uninstall the "gsensor" (rotation feature) AND avoiding restart the machine (if i need to restart i used to shut down and start it again) windows start working normally... BUT on 576 i havent experienced this bug (or bsod) anymore... even I install again gsensor and now i can restart and work normally, for now

Thanks for commenting about your stream 7. Has it remained stable with 10576 or have you have blue screen issues?

bluetooth has gone missing in this build :(
Windows Central Newsletter
Thank you for signing up to Windows Central. You will receive a verification email shortly.
There was a problem. Please refresh the page and try again.