Everything new coming to FIFA 2020 career mode
Finally, with FIFA 2020, Career Mode is back with a bit of a bang.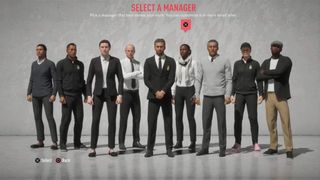 (Image credit: EA)
For the past few years, FIFA Career Mode has remained mostly stagnant as EA focused its efforts on making Ultimate Team the, well, ultimate experience. Flying under the radar, FIFA Career Mode has been mostly cast aside with fans everywhere – myself included – asking for some meaningful new features.
In FIFA 20, Career Mode is back with a bit of a bang. Although it still lacks the depth of Ultimate Team, Career Mode has finally received a few noticeable updates. From new ways to customize your manager and the ability to create a female manager for the first time, to changes to the interface and how you interact with press conferences, here are the significant changes in FIFA 20 Career Mode.
Related: Everything you need to know about FIFA 21
Be the best
(opens in new tab)
Be yourself like never before.

Prove your chops on the pitch, where you can now be a male or female manager. Will you be the next Jill Ellis? Or how about the next Jurgen Klinsmann?
FIFA 20 Career Mode: Customization
One of the best bits of Career Mode is spending several hours tweaking your avatar until it resembles you, or someone else you have in mind, closely. With FIFA 20, you may end up spending even longer thanks to a suite of new customization options, including changing the body type, skin tone, clothing, and hairstyles.
The most significant change is the ability to create female managers for the very first time. Since FIFA 16, FIFA has been inching ever closer to equality between male and female players, managers, and gamers. FIFA 20 represents the culmination of that journey with female managers in Career Mode, and the ability for men and women to play side-by-side in Volta Football. Unfortunately, you still can't have a regular game between a male and a female team, but we can hope that'll come shortly.
Other notable changes regarding customization include the ability to change your manager's outfit at any moment during the season, which may seem like a trivial change. Still, it's welcome to those who have been frustrated so far. As part of the new suite, there'll also be a "wide variety of clothing items and accessories," including the "usual formal clothing pieces and shows, to more casual and smart-casual options."
FIFA 20 Career Mode: Press conferences and player interactions
Beyond the visual changes, there are also massive improvements to the press conferences and player interactions, which were mostly useless in FIFA 19. The new changes deliver on fan requests and accurately reflect the current state of football, where all interactions with a player have an impact on a career rather than just performance on the pitch.
Starting in FIFA 20, all pre and post-match press conferences will now impact player morale, along with your manager rating. This is very similar to the way it works in Football Manager and solves a long-running complaint of mine: being a manager in FIFA didn't quite feel like a true football manager experience.
Player conversations now take place in a "messaging app-like interface," where you'll also "deal with a variety of requests from players" and then "find ways, either find "ways, either through direct actions or by communicating his/her stance to mitigate and solve these situations."
EA also says the "new tools developed in-house by the Career Mode team enabled our producers and designers to leverage this large amount of data and create an enormous variety of story-lines that are deeply rooted in the player's experience and your way of playing. This means that the experience of each match will be treated differently by the 'journalists' and will always feel authentic and dynamic, depending highly on the outcome, goals scored, opponent, time of season or stage of the competition, and more."
For many years, football has been in a transition where players speak up much more than the past about problems, and conferences are a great way to either boost or lower player morale. These changes should make the new player morale system more realistic, and additional factors such as playtime, wage expectations, and the team's performance also factor into how happy players are.
Much like with the live form when playing a standard kick-off match, underperforming or unhappy players will have lower attributes and stats in matches, so you also have to keep players happy in Career Mode if you want to extract the best from them.
FIFA 20 Career Mode: Dynamic Player Potential
If you switched between Career Mode and Kick-Off during previous versions of IFA, the latter would usually download the latest form and team sheets. The former always displayed the same attributes for players as at the start of the season, regardless of whether you had just won a tournament, or been relegated from the league. With FIFA 20, this has all changed thanks to the addition of dynamic player potential.
Regardless of a player's age, their potential can increase based on their performance. If you have an older player who's close to retirement – Wayne Rooney comes to mind here – their potential won't change, but their attributes will reduce slower rather than them improving. Virtually, dynamic player potential ensures that an older player isn't declining at a rapid rate based on age. Instead, all players can either increase or decrease their potential and/or attributes based on how they're performing.
FIFA 20 Career Mode: Other notable changes
There's plenty more little changes coming to FIFA 20 Career Mode, including new live news screenshots and branded league UI themes; for the big five leagues, the experience will look very similar to the current Champions League branded themes, which are also present in Career Mode. There's also plenty of minor fixes and additions, which you can check out in EA's FIFA 20 Career Mode notes.
While you're at it, don't forget to check out all the significant changes in FIFA 20, including the new Volta-branded street football options. FIFA 20 launches at the end of September, and I'm excited – it's nice to see some welcome improvements to Career Mode. If it were anything as addictive as The Journey or Career Mode a few years ago, I'd be disappearing for a week when it launches!
Get the Windows Central Newsletter
All the latest news, reviews, and guides for Windows and Xbox diehards.
I did not know about all of DPPotential. Great to know about the age of player. So many times I change players because of the age.

Fifa 21 launches this year