What's new in Windows Defender for Windows 10 Anniversary Update
Windows Defender gets better with the Anniversary Update, even when you're using another antivirus.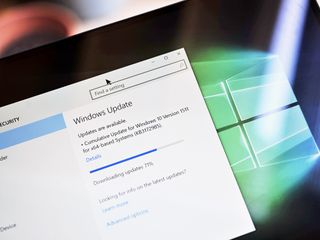 Windows 10 Anniversary Update is not just about adding new features and tweaking the user interface; it's also about improving an operating system to make it more secure. Windows 10 is by far the most secure version that Microsoft has ever released to customers, and on the Anniversary Update, many of these new improvements are happening to Windows Defender.
Although many users prefer to pay for security software, paying for such a premium service won't always keep you protected against malware and other malicious code.
In fact, Microsoft's Malicious Software Removal Tool regularly scans millions of computers, even those running up-to-date antivirus, and finds and removes many types of malware.
On the Windows 10 Anniversary Update, Microsoft is improving the malware detection and removal on devices running Windows Defender or a third-party antivirus.
What's new with Windows Defender in Windows 10 AU
Windows Defender Limited Periodic Scanning
Microsoft includes a new feature called Limited Periodic Scanning. The new feature allows Windows 10 to use Windows Defender to periodically scan, detect, and remove any threats that your third-party antivirus software might have missed.
If you're a tech-savvy user, you probably heard many times in the past that it's not a wise idea to run two antivirus software, because of possible conflicts and issues with system performance. However, Microsoft's approach with the new Limited Periodic Scanning feature is a little different.
The new feature works using Automatic Maintenance, which allows Windows 10 to pick the best time to automatically perform a scan to avoid getting in the way of your work, your PC performance, or affecting the battery life of your device. You can also set your own scan times by changing the maintenance schedule in Control Panel.
Limited Periodic Scanning is an optional feature, meaning that it's disabled by default, and it's only available on devices running another antivirus other than Windows Defender (for obvious reasons).
How to enable Limited Periodic Scanning
If you want to make Windows 10 even more secure, and you're running a different antivirus software, you can enable Limited Periodic Scanning on your computer using the following steps:
Use the Windows key + I keyboard shortcut to open the Settings app.
Click Update & security.
Click Windows Defender.
Turn on Limited Periodic Scanning.
After enabling the option, Windows Defender will remain quiet, but it'll periodically be able to scan your system for threats that your antivirus may not have be able to detect.
New threats notifications on Windows 10
In the case you choose to enable Limited Periodic Scanning on Windows 10, you'll continue to see the shield icon in the notification area. When you open Windows Defender, you'll notice the PC status: Windows Defender Periodic Scanning is ON message.
If, during periodic scanning, new threats are found, you'll get a toast notification. However, most of the time the antivirus will automatically deal with the problem. You can also click the notification to open the app to take different actions.
You'll also notice that real-time protection status is disabled because it's being handled by another piece of software. If you click the Turn on button, you won't be able to enable Microsoft's antivirus. Instead, it'll open the Settings app to let you uninstall your current security software, which then re-enable Windows Defender.
Additional Windows Defender improvements
Windows Defender also includes a few new improvements in addition to the new enhancements on computers running third-party solutions.
On the Windows 10 Anniversary Update, the antivirus settings page includes a few new features, such as a new button to open the app through the Settings app.
If you want to reduce the number of notifications, you can disable Enhanced notifications. However, you can't completely eliminate these alerts, as you'll still get critical notifications that require actions.
And finally, you'll see a new Windows Defender Offline section, which you can use to perform an offline scan to remove those tough viruses from your Windows 10 device. This feature works identically to Windows Defender Offline using a bootable media.
Windows Defender Advanced Threat Protection
Microsoft is also introducing Windows Defender Advanced Threat Protection, which is a new service available only for enterprises. The new service will help organizations to detect, investigate, and take actions on more advanced attacks on their networks.
The new Windows Defender Advanced Threat Protection uses technologies within Windows 10 in combination with cloud service to help enterprises protect against attacks, provide data to investigate a breach and assist with recommendations.
Wrapping things up
Although Windows Defender wasn't designed to be a full-featured antivirus, it has grown to be a viable choice. Of course, there are many other choices you can pick, but none of them, including Windows Defender, can protect your computer 100 percent of the time. This is perhaps the main reason Windows 10 now includes the new Limited Periodic Scanning feature.
Keep in mind that Windows Defender is just one of the many security features you'll find on Windows 10. Making an operating system secure also involves protecting computers from unauthorized access, and Windows 10 offers state of the art security features.
Some of these features include Windows Hello for secure authentication on devices, on the web with Microsoft Edge and on apps. Device Guard uses Trusted Boot to prevent installation of malware. Credential Guard to protect user credentials within hardware-base virtualized environment and many others.
Of course, Windows updates are also important to keep the operating system secure, and even though some users may not agree, this is one of the reasons Windows 10 makes updates mandatory.
Are you using Windows Defender or a third-party antivirus? Tell us in the comments below.
More Windows 10 resources
For more help articles, coverage, and answers on Windows 10, you can visit the following resources:
Windows 10 help, tips, and tricks
Windows Central Newsletter
Get the best of Windows Central in in your inbox, every day!
Mauro Huculak is technical writer for WindowsCentral.com. His primary focus is to write comprehensive how-tos to help users get the most out of Windows 10 and its many related technologies. He has an IT background with professional certifications from Microsoft, Cisco, and CompTIA, and he's a recognized member of the Microsoft MVP community.
The Best Anti-Virus?! I used McAfee Anti-Virus which actually slows down my PC. After uninstalling it, I'm dependent upon Win Defender.

It's an Intel product. And pre-
installed on my new laptop. I'm using free Avast on my old Win7 pc + Essentials + Defender.

Avast installs malware and adverts in the background, paying for antivirus always works better, however I have 2 year Kaspersky licence and not using it on 10 due to beta issues, I'm debating whether more than windows defender is needed?

Download the latest trial version of Kaspersky unistall the old install but preserve licence data [hope you did if you already uninstalled. Now install the new version it works fine and it gets the license info automatically. I am using the latest build from Windows Insider fast and now I turned on limited period scanning for defender too.

lol very true xD crappiest antivirus.

I don't use anything from 2013 LoL

"Windows Defender, can protect your computer 100 percent of the time" tell me a better joke....

Ah, try again...

...but none of them, including Windows Defender, can protect your computer 100 percent of the time.

I'll tell you something honestly. I was using Windows defender for Windows 10 I'm a long time, and it helped me get rid of a lotta malwares. But lately my computer became so slow, and most of games I play and apps I use stopped working, and I never thought that it was Windows defender's fault. I deactivated it, and now everything works fine. Don't think I'm against Microsoft for saying this, but I told the truth.

Strange. Have you sent this feedback to MS? It is usually the least resource hungry anti malware. How are your active hours set? It uses no resources at all during active hours.

I haven't sent a feedback yet but I think I will send it

Windefender uses too much disk. My computer is always using it 100 percent so I disabled it with group policy editor. Posted via the Windows Central App for Android

From Windows 8.1 I have been using solely windows defender and I do not have a problem of virus till now.. I am not tech savvy and browsing volumous amount of complicated and important sites. It's more than safe for me.. Thanks Microsoft. Posted via the Windows Central App for Android

Better than nothing if taken as such. Still way behind proper solutions. Not quite sure why company with huge resources can't fare better or is it on purpose not willing to compete.

It is actually excellent and rates among the top antimalware suites on the market. Guess you didn't know that?

Perhaps top 'free' offerings. I'm not expert of antimalware so cannot go into specifics why Defender is poor. I suspect though that its due being old school signature based system while any proper malwares nowadays are custom made and require some sorta heuristics to catch em. No solution is perfect but have seen defender to give all clear to stuff that paid solutions can detect at least 50% or so.

Well, it isn't poor and it can handle things not even paid apps can. Besides. 6% use paid services... So being best or among the best of what 94% use is quite good. But knowing your history....

It is poor considering what it could be and should be. Then again even the best are poor due the complexity of the problem, defender is just poorer than poor. Why it is so poor is the question, MS is afraid of competition issues if they would take other players out with free offering?

"I'm not expert of antimalware so cannot go into specifics why Defender is poor." Perhaps then maybe you should not speak... Just a thought.

Fair enough. I'll leave the stage for folks who are happy with Defender because it has never found malware :)

Well, it regurarly tops lists who do malware testing for a living. So if I translate your comment into "Fair enough. I'm too ignorant enough and my obvious agenda prevents me from saying something good so I'll leave the stage for folks who aren't paid to make things up."... It's a better representation of the truth.

Totally agree, this vhyr​ ​guy gave no bases other than "It's poorer than poor"! When I was an IT manager, I started using Defender instead of McAfee and got better results! I still use Defender in any PC I get to use!

It's second to last in the "protection" category on av-test.org, a site ran by a somewhat respected AV rating organization. How does that make it "excellent"?

"Not quite sure why company with huge resources can't fare better or is it on purpose not willing to compete​" Because if they did make a total solution and bundled it with the OS as they should, all the other virus scan companies would cry foul and the government would smack them down again just like they did in the 90s when Microsoft bundled a free web browser with the OS. Microsoft is certainly capable of making the best product but they can't. Virus protection should be built into the OS honestly and the fact that they can't just so other outdated companies can continue to make money is dumb.

When will the anniversary update be available in India?

August 2nd, the release is worldwide. Thanks,

Was using Microsoft Security Essentials since Windows 7. And then when Windows Defender got the same technology I never used any other AV software on my computer with 8, 8.1 and 10. Awesome protection and very light weight!

I have eset nod32. Best antivirus I've ever had.

So true. But defender is also good.

I think 360 Security with Windows Defender will enough at least for me

They still ain't gonna change that old interface. At least match it with the Windows 10 interface.

As long as Defender keeps being light, I'm ok with the interface! Covers what needs to be covered, better still focuse on protection!

You are right. But there is no consistency now!

I used MSE/Windows Defender to protect my PC & laptop respectively. I also run a quick scan with Emsisoft Emergency Kit (portable) once or twice per week just to be on the safe side.

ESET NOD32 for me. Usually get my license from Newegg for $10-15 every year. Worth every penny!!

defender is the way to go, ive had no issues and is hassle free

Do you think Microsoft will release a version of this for the Windows Phones, or least the Lumia's, since they are made by Microsoft?

At this point, it's not really necessary as mobile is more locked down than desktop.

Defenders of the Interwebs...Ninja Cat, Bacon T-Rex and That Unicorn Whale Thing.

Would like to see a Windows Phone version. I use Norton on my desktop and all satisfied with it. Many reviews date it, along with other third party programs as superior to Defender, but if the new version moves up in the ratings, I will consider not renewing Norton and relying on Defender after I upgrade.

But why, WP is secure enough.

This isn't android we're talking about here. As far as I know there are active malware threats to Windows Mobile/Windows Phone. Anyway, who would even waste their time writing malware for .08% of the mobile market.

Wibndows Phone / Mobile run apps in a sandbox so recalcitrant apps can't break out and damage things in the same way as they can - and do - on Windows on the desktop.No need for AV on your phone. Andoid also runs apps in a sandbox which enhances its already strong security. I've never felt the need to install any AV or internet security apps on any of my Windows or Android handsets.

MSE/Windows Defender, Malwarebytes Free, and CCleaner free have done their jobs well for me for well over 6 years now. I don't feel the need to purchase a antivirus software, but I can understand if some do.

I feel Kaspersky works better in my computer, Tried Avast, AVG but both failed to protect my computer. And Kaspersky IS multi device 1 key 5 PC's saves money and can install in Windows, Mac, Android mobiles anywhere

Using Norton's because it's free with any Comcast internet plan.

Defender is enough if you are disciplined. What I mean is, don`t click every links in e-mails that seem legit but that are not. Be carefull on site you go. If your PC get slow it's because you added up some crap that install ad-ware to your machine. I personnaly use Eset Smart Security. It's fast and prefer a premium protection even if it's not 100% safe. I also tried Bitdefender that is more polular and that it's supposed to protect a little bit better than Eset when you look at www.av-comparatives.org. But I found out that it had features that did slow down web and maybe a coincidence blocked notifications in Win10 (after activation ransomware protection?). And in the end, uninstalling was a nightmare in my case. Had to reset Windows. So I returned to Eset and I a happy so far. There are other free solutions like Avast or AVG but they tend to harrass the user to buy the pro version. So if you don't know what your doing, you should perhaps invest in a premium solution. If not, I think Defender is enough.

I wish they would add an idiot mode. Where the user is not allowed to install anything. Most people get their computers infected through crap like MyCleanPC and MakeYourPCFastAsNew.exe

Idiot mode +1.
add to feedback hub

So what's the point to have a computer then?

They do. Nobody should ever run their computer as an Administrator, and "Standard User" was created specifically for that purpose. Unless you're an Administrator, you can't install anything without the Administrator's password. Unfortunately, though, unless someone who is tech savvy enough to know how to do this sets up the computer, it doesn't happen, which is where "Idiot Mode" would be perfect! But then I'd be out of a job. Haha

It also should be an 'Opt Out' so Idiot Mode is set On by default! Oh, and it should ask 3 times: "Are you sure you want to Opt Out? Again; Sure?, You're not kiding, right?"

The best (and worst) defense against malware will always be found between the ears. Practice safe hex and you'll probably never have a problem. Although having Windows Defender running in the background makes me feel a little better, truth be told, if I wasn't running anything, I wouldn't be too terribly concerned.

I would like to rely on Windows Defender, but I just can't. Currently WD is just too IO-intense for my outdated device. IO throughput bumps up to 100% the minute WD comes up and running, causing much latency. Now I use a third-party anti-virus just to shut WD off, and I configure my anti-virus to consume as little IO resources as possible.

I only use windows defender other antivirus make the computer slower

Its the first thing I disable in group policy. I dont use any anti virus software.

Not really a big deal but who else here wishes they update it with a clean, modern, minimalist UWP UI?

Bitdefender total security 2016 is better than all the antiviruses available in the universe

Panda Antivirus Free is very good and very lightweight AV.
Windows Central Newsletter
Thank you for signing up to Windows Central. You will receive a verification email shortly.
There was a problem. Please refresh the page and try again.