WhatsApp gets rid of annual subscription fee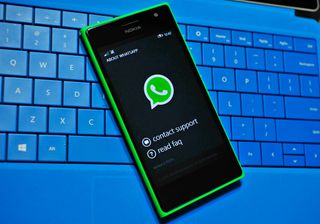 WhatsApp has announced that it will axe its $1 annual subscription fee starting today. The Facebook-owned messaging service is nearing a billion users, and will start exploring alternate business models.
WhatsApp failed to monetize in emerging markets due to low debit and credit card penetration, which led to the service being offered for free. Today's announcement reflects a change of strategy that will see the platform acting as a facilitator between businesses and customers:
Facebook has already undertaken a similar strategy with Messenger, giving users the ability to chat with businesses. The feature will come in handy in countries like India, where WhatsApp is slowly becoming the de-facto method of communication.
Source: WhatsApp
Windows Central Newsletter
Get the best of Windows Central in your inbox, every day!
Harish Jonnalagadda is a Senior Editor overseeing Asia for Android Central, Windows Central's sister site. When not reviewing phones, he's testing PC hardware, including video cards, motherboards, gaming accessories, and keyboards.
They have been extending my subscription for free since 2012...

Same here. He ain't lying.

It was always free in emerging countries like India.

OH, my country man is here.

Hahaha...glad here bro. Sup? Hope you stay with us for long, more GH guys come and go. Been here since 2010 :)

Ghanaian here too! Glad I'm not the only one ☺

Hahhaha...y3 w) krom ampa...feeling you guys ☺

Even here in Switzerland they prolonged it for free so far, at least for me.

You never forget to mention India in your articles.

I didn't pay in US either, three years now.

For Canadians we have to pay $2/year on Windows Phones. I have always refused to use this service and Skype/ GroupMe are more popular here

Really? I'm in Canada and I haven't paid a dime since the app first came out on WP.

Actually that's not true. I'm in Canada and have never paid a cent for WhatsApp. Upon first install of the app it'll tell you to subscribe, but if you skip that screen it allows you to use the app forever.

He didn't mean the sarcastic American "yeah right". He meant the Indian "Yes, you are correct".

I always get confuse with that. People should reply in other ways.

Hey vivek seriously they didn't ask me for 3 years

Yeah, I wonder who pay for that,

Well, in general, your data pays for the service. Meaning, you pay more then you would want to;)

I've had it in Australia for years and never paid a cent.

I never had to pay, I don't know why. But that means nothing changes for me :D I live in Belgium which is a very wealthy country.

WhatsApp has indeed not been very strict in enforcing the fee so far.

With all those traim strikes idk about wealthy lol sry

I just got an extension till Feb 2017
=D Posted from my Note 5

I was wondering if I was ever going to pay someday...

I've had a free lifetime subscription since I first got Whatsapp back on WP7.

That's no surprise, because it has always purposely been free here in India.

I think it's only the US and parts of Europe have to pay for whatsapp.

My account expiration always kinda showed - Lifetime. (India)

Updated to Windows 10 *boom* another year free.

WhatsApp is the new winrar :D

Well I had it ask me for the dollar to continue with the service so I uninstalled and reinstalled and it was gone. (I live in poor country)

Hahahahaha, same here. I'm still using it for free since 2013. I'm in Dubai xD

That's awesome! Now it beats Viber on every account :)

Viber? Do people still use it? Everybody I know who were on Viber never use it. They were supposed to make an app for Windows 10 but their app for Windows 8 is also unavailable in Windows 10.

Viber is avilable for W10. App itself sucks, but it's avilable. I guess that it depends on people habits regarding app using. In Croatia people using Viber more often. I use Whatsapp more, but most people I know choose Viber.

I have Viber installed on my Windows 10 PC. When I open the Viber app, all it shows on the front page is an option to "Get Viber for Desktop". And down below: "Stay tuned for Viber for Windows 10". The app worked in Windows 8 but ever since I upgraded, all it does is show this page. Wish I could share the screenshot here.

I use Viber and Telegram, not WhatsApp. Both are available on Windows desktop and W10P. I see most of my contacts use both WhatsApp and Viber equally.

I just visited to Store and checked Viber. 5 out of top 7 reviewers are also saying the same thing. The app is only a placeholder to download a desktop version of the app. There is no app that works on Windows 10.

Sorry, my mistake. ☺ I tought you talk about W10 mobile. ☺ On mobile is avilable, for desktop, I don't know.

Well, yeah ,viber have a win32 app,like Skype but yeah let this guy think Windows store is the only source of app on Windows

Did I not mention that there is only a Desktop version of the app? I don't know what made you think that. If Windows Store was the only source of app on Windows, Chromebooks would be giving a tough competition.

What fee! I never paid any sum in 4 years

That's because it has always been free in India.

It had been free in US too.

I use WhatsApp for more than 3 years now and never paid a single cent...

Are you in a developing country? WhatsApp has always been free in developing countries.

Canada and US is not developing countries and it's free there too lol

Same here, live in the US btw.

I only see the "enjoy your 3 months then 99c for one year" page when I do a reinstall so it has been effectively free for the last 3 years.

Only if they had a decent looking app on Windows Phone. I would use it more often. On WP I am still not sure what IM I want to use. Of course the one with most of my friends is Whatsapp sadly.

WhatsApp is one of the best apps on Windows phones. You can change the background of each and every chat according to your choice. Can't do that on Androids. Also they don't take long to bring features on Windows phones like Facebook and its other services.

Features are ok but What about dead optimisation. They do not optimise it to run Like other platforms. I have over 800 photos and it takes 4 secs to load the gallery while sharing a pic.

It varies from phone to phone. When I WhatsApp call from My Lumia 520, it takes upto 10 secs to respond. But when I do this from my 730, it is almost instantaneous. And I don't think any developers will any more optimize their apps for 512 MB RAM.

I have a 730 and I have got problems with very slow photo Sharing and large messages handling

Dude even Note series farts when you send large message on WhatsApp.

Lumia 520 user here ,it works good on my phone and some months ago got a long message of phone hang hua kya nahi.
Almost every android phone got hanged but Lumia didn't.
Android users delete the history, leave group. But I send to everyone like crazy 5-10 sec to sabka delay hua

Maybe not on your phone, but it hangs on my Lumia 520. And the experience varies in Android phones as well. It all depends on your hardware. Since Android phones have undergone massive improvements in the hardware section in the last year or so, app makers are not optimizing for lower spec phones.

Could you please inbox me that message?:D I lost it

@vivekelectron, maybe you should back up those photos onto a PC :P.

Whatsapp runs very quickly on my 950XL, its flawless.

Seriously? It's one of the quickest and stable apps on WP along with the Windows Central one. Oh, and I never paid for WhatsApp either (in nearly 3 years).

I'm talking about "decent looking". It's outdated design wise.

Best communication App on the market.Voice,pictures,videos,calls,text!

Other than calls option, Telegram is better. It's faster. It's video sending has no size limit. It sends other files as well, including mp3s, etc.

One of the worst actually

Funny enough that someone would have paid for a messenger in the first place since they are free online since proably the beginning of the internet. Suddenly someone comes along and says they replace sms and matches users by mobile number(most annoying thing ever for online services) and people are willing to pay

I disagree. I want to pay.

Go ahead, continue to pay just send your payments this way.

"I want to pay"
You will never hear me or any other Indian say that haha

You could send them a dollar by mail every year? Posted via the Windows Central App for Android

Right better pay with money than with your data...

69 UK pennies for a year's service, I didn't mind that (cheaper than sending a couple of MMS messages). Now it's free it's even better! Now if only they would release a UWP app so I could use it on my desktop without using the browser version

Well the funny thing is that emails were always free.. did anyone mention those on phones the last century as replacement for sms or mms.. and why do you people suddenly ask for desktop apps were we had messengers long before anyone spoke about whatsapp that did EXACTLY the same on phones AND deskop PCs - even in a browser already

WLM and services like ebuddy before they introduced adverts into their phone clients. These adverts weren't subtle or relevant either - which killed their platform completely.

Everyone is talking about this subscription fee! I have no idea what they are on about, I havent paid a cent for whatsapp in over 5 years...

You most likely have, it wasn't the most obvious subscription to the user, not that it bothered me, the price was millions less than the service was worth.

How was I paying the fee? I was never asked to by the app, and it never showed up on any bill.

Five years, never paid a cent. Posted from my Note 5

WhatsApp has always been free in developing countries.

The US is a developing country?

Really? Actually, I have never paid for it since my first activation.

It's always been free in India.

As far as I can tell from the comments, it was free everywhere. Never paid for it here in the US as well.
But I stopped using it months ago. Use Telegram mostly now. Had my friends' circle switch over.

Yup. It was free worldwide. Btw, telegram has no presence in India. Some people try it and then find it very similar to WhatsApp and then abandon it. After all India is WhatsApp's largest market and so almost every smartphone user has WhatsApp installed, also due to its multi-platform presence.

I've wanted to use telegram . does it play gif files by chance?

It compresses GIF into mp4 for smaller file size. It's awesome! You can directly search and send gifs by using inline bot.

Thanks. will give it a try and see if i can convert my friends. lol

Ok tested and loving telegram has actual gif playback im hooked and im staying with it.

Funny they say they are looking in to banks or airlines being able to message you. Can't they just send me an sms? My bank already does. Nothing groundbreaking here.

You fail to see the actual benefit. Thankfully they know how the business work and will undoubtedly find a way to monetize the app

Well.. For starter... Those Banks still need to fork some money to send sms to their customers, right? Imagine if they can lower those price by using WhatsApp instead of sms. They already have customer's mobile phone anyway.

Why not send an email instead..

No, they don't. Sending a text via email is free and easy: Cellnum@carriersms.com

I think it's not for all countries... Some banks are even charging customers for SMS...

Which we Windows Phone haven't paid a cent.

Any phone hasn't paid a cent.

I never paid on my BlackBerry, never paid on my Lumia and still haven't paid on my Android. Posted from my Note 5

Not only Windows Phone bro, developing countries have had free WhatsApp since the beginning. Even here in India

EVERY COUNTRY. Stop it already

I don't really like WhatsApp for the main reason that it only works on a single device, I can't use it in the big PC keyboard unless the phone is also available, the web interface is just a workaround and keeps losing connection.
but we don't get to choose our messenger apps, we have to use what the people around us use, and for the dumb user WhatsApp is simple enough.

Not dumb user. Just average users. I don't use my laptop that much and most of my messaging is through WhatsApp. I spend more on data than voice calls. Unfortunately our South African mobile operators aren't happy with this and want to charge WhatsApp... Posted from my Note 5

So what are you saying here. 1 All your contacts (incusing friends) are dumb. 2 Smart people do not want you in in the contact list of a "smart" message app?

no, I'm saying whatsapp is popular because it is dumbed-down so even "dumb users" (maybe too strong of a word, I admit) can use it (it doesn't require an account name, email, nothing, relying on the phone number only). so, as a consequence of that, the average user have to use it to communicate to the widest range of people, since now it is even being use by some small business as alternative to phone and SMS.
I really didn't understand what you say in 2. I use Telegram and Facebook Messenger for some contacts, and feel more confortable doing so because I can start the conversation on any device and continue in another. Whatsapp feels more like a SMS over IP with all its limitations than a true instant messenger app.

I am unlikely to go back to WhatsApp until they release an app for Windows 10 and Windows 10 mobile.

Give me back my $0.99!!! Lol. I paid for a lifetime when my service came down a few years ago to one month left. Oh well, still the best 99c spent! If I helped you, please hit the THANKS button!

I use whatsapp since my Nokia N81 with the same number, every year when the subcription came to end it's extend itself by one year until now

So many comments about how we never paid any subscription... That's because our countries are considered too poor or low classed to pay. It's not something to go "haha you payers" lol

I don't think the uk is a poor country...never paid anything.

You're right eddp77, I thought it was only a third world country type of thing but I now see that many countries were getting this service for free regardless of their wealth or lack of it... Which makes me think, why did WhatsApp owners even charge some people and not everybody? O.o

The US is too poor? I mean, they are... but not in that way...

They get free WhatsApp before free healthcare
=D Posted from my Note 5

Only users in rich countries were required to pay. Poor countries got the service for free since credit cards aren't common there.

Rather than using words like poor and rich....use developing and developed

How that would make any difference... beats me. Well at least we got PC going for us, which is nice.

I'm down under, never paid anything in which category is Australia?

That's rubbish, plenty of wealthy countries didn't pay anything. Australia, UK, etc.

That's against net neutrality ;)

Never paid WhatsApp in Canada, from N8, N9, 920, 930 and 950XL :)

Whats App has never been on the N9 running Meego. Wazapp or Wazup was, but it was working one week out of 2 or 3 because What's app where always changing something in the communication protocol, or something like that. One of the point that made me stop using the awesome N9. :(

Nothing's ever free. I'd gladly pay for some data privacy, but that doesn't exist anymore. All our data is in the hands of capitalistic corporations whose only intent is to make a profit. What could possibly go wrong? :(

Nothing. Absolutely nothing. Your data is safe and secure...

@Dan_JT. Welcome to the world of connected analytics. I imagine Soon nothing will exist without any form analytics lol. Internet connected toasters, microwaves will soon follow. Because.... it helps some people count calories I suppose...

I'm happy paying. I'm happy if I don't have to pay provided my privacy isn't even more degraded than it already is...

Did anyone ever paid that annual fee? I have been using it for years and it never asked me to pay, although every time I was installing it on a new device it was saying that iy is a three-month free trial.

I never paid any fee and they have been extending my subscription for three years now. (USA)

If I remember well, What'sApp was a pay app. on IOS at start. I remember having it on my Symbian for free and having to pay like 2$ to have it on my iPhone 3G.
Then, it went from a 1 year free (the deal on symbian, year by year "renew") to free until year 2199 in the symbian app. I use daily both Whatsapp and Viber, but Whatsapp is better on WindowsPhone, except for the battery usage who sometimes get very high (no idea why, sometimes rebooting my 930 is enough to get it back to normal, sometimes it just take time...)

It's only one dollar, I say keep it.

never paid in over 3 years! it just never asks me anyway. this may be due to re installs but still

This is good news! I like this!

They haven't got any news on Windows 10 mobile version of WhatsApp.

Every time I reinstalled it reset so never paid ☺

That's true, now it makes sense why I never paid ,ok.....

I have never had to pay , irrelevant of a subscription fee , however I just check now and I am still being directed to PayPal to subscribe, huh

So how do they plan on maintaining their servers?

They're owned by Facebook now so I'm pretty sure finances aren't an issue

Brace yourself. Ads are coming.

Then I should embrace ad blocker too.

Sounds good. What I'm more looking forward to is the possibility of having whatsapp redesigned for the better for WP10 that would make it stand out amongst the rival OSes.

Feel sorry for people who paid their renewal in the last couple of days. I know it's not much but still.

I am actual pleasantly surprised. They "hooked" enough people ("for free") so I was expecting that they would start to enforce the payment.

My brother used to pay on his iphone in india as it was not free then 3 years ago on iOS... But most android and WPs got free whatsapp... So can't agree with all the it was free comments

Think I paid 99p for lifetime use about 4 years ago, the 69p a year was a bit of a silly price but it's still a good app

I might just download it again.

Paid 1$ yesterday to WhatsApp as the annual subscription. WhatsApp has axed the fee and made it free today -.- just my luck

I just got network services update. What is that for.? Posted via the Windows Central App for Android

Never paid for it. Seems like everytime I reinstall, or reset my phone, the validity/expiry date changes...

Interestingly enough I have never paid the fee, most probably since I have never had my phone without reinstalling the app for more than a year.

Why use Whatsapp? When we have text and email.

Why use text and email when we have pigeons

Why use Whatsapp, text, email and pigeons when you can use drums and smoke signals.

Not every country has unlimited plans locally. Many people (like myself) have friends andd family who live all over the globe, so it's much more convenient. Your are also able to create groups etc. which you cant do with Text. The only way I like to use e-mail is if it's related to work and in the rare case that someone sends me an e-mail.

Omg! They should know that they were extending my subscription from 2010 lol

I've never paid, been using whatsapp for years

Been on WhatsApp for over 5 years, never paid a dime

Good luck to FB recovering the $19b.. would not be surprised if some form of integration to FB or ads would come at some point Posted via the Windows Central App for Android

Always had it for free from 2012 on my Lumia 800 on o2 uk.

with all that subsciption money, they could make a Windows 10 app

You mean all that $0 subscription money? lol.... no one here has paid... :P

Fun Fact: Why was Instagram bought for 1 Billion dollas ant Whatsapp for 20 Billion? ​It has to do with that 1$ a year subscription fee. On Instagram's books, they had no revenue model, just users. For WhatsApp they had 900 million users and the potential to reap $1 a year from a large subset of those users. Enter in the potential for 300-600 million in yearly revenue and that's how they were able to justify the $20 Billion price tag to both Facebook and their board.

I've predicted an exodus to Telegram once Whatsapp started charging its users for real. Guess that's not going to happen after all.

The subscription goes lifetime in my mobile

In India the only thing which was free compared to other countries was the Whatsapp subscription.
Since I started using WhatsApp I never paid money for it.

Actually they've brought back the $1 fee. http://crunchng.com/whatsapp-re-introduces-1-annual-fee-hours-after-it-w...