Where to buy the AMD Radeon RX 480
By Richard Devine last updated
Grab yourself a shiny new, VR-ready graphics card from these stores.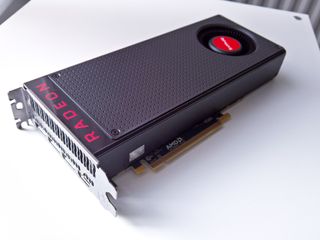 Following NVIDIA's recent new cards, the focus quickly then shifted to AMD and its first offerings with the new Polaris architecture. The RX 480 is targeting a different segment of the market to NVIDIA's latest and greatest, but is equally impressive in its own right. As we've already found out, it can turn an old PC into a VR-ready machine fairly easily.
The starting price is super attractive, at just $200, but the RX 480 is also fairly hard to come by in some countries at the time of writing. The cheaper, 4GB cards are the most difficult to get hold of, with most outlets only carrying the 8GB versions.
If you want one, then hit up the stores linked below where you'll hopefully be able to find one. For more buying options, be sure to check out our picks for the best graphics cards.
Amazon
On both sides of the Atlantic, Amazon is a good place to start. Covering a variety of different manufacturers, you'll have a good spread to choose from. 4GB availability is still sketchy, but you should be able to land a reference design 8GB card.
Newegg
Another retailer carrying a variety of manufacturers, Newegg is another good option to grab a card if you're looking for one right away. Some 8GB options are sold out quicker than others, but there's a handful to choose from.
See at Newegg (opens in new tab)
NCIX
For both Canadian and American customers, NCIX has a selection of a half-dozen RX 480s to choose from. As with others, you're looking at 8GB or bust initially, but that should change in the coming weeks.
See at NCIX (opens in new tab)
Micro Center
There aren't as many different options to choose from as some other retailers, but Micro Center is carrying the RX 480 from a few top brands. You can only buy a maximum of two, something to bear in mind if you have big plans.
See at Micro Center
Overclockers
If you're over in Europe, UK based retailer, Overclockers, has a wide range on offer and is already taking pre-orders for the first non-reference design card. They have had 4GB cards in already, but at the time of writing they're no longer available.
See at Overclockers (opens in new tab)
Scan
Another UK based online retailer, Scan, has a selection of different cards available. Some are already only available to pre-order, but there's something available right now if you just have to one.
See at Scan (opens in new tab)
Richard Devine is an Editor at Windows Central. A former Project Manager and long-term tech addict, he joined Mobile Nations in 2011 and has been found on Android Central and iMore as well as Windows Central. Currently you'll find him covering all manner of PC hardware and gaming, and you can follow him on Twitter and Instagram.
Pretty much every website I went to either was out of stock or only had third parties selling it at $100 over regular price.

Yesterday for about 20 minutes a sapphire rx480 was in stock for $239.99.... But my results have been generally the same.

C'mon Newegg! Get your **** together. I want you to take my money.

I purchased the Sapphire card last week and it's still listed as "packaging." I hope that changes to shipped soon.

The 4GB cards are out of stock at most places because most of these are actually 8GB cards with 4GB disabled via BIOS by AMD. There is a BIOS leaked online which unlocks the remaining 4GB thereby making it a 8GB card.

I don't think that's the actual reason. More like there were almost none to start with. I managed to get one in the UK. It's in my PC right now. Others weren't so lucky but that's the way it goes with hot new tech, right?!

We don't necessarily know if that's the case in every 4gb card, I heard that was just pre-production model that was sent out for some of the reviews that actually had 8 GB. I read something yesterday that was a very small batch, and will not be a mainstream thing for retail sales.

Please do yourself a favor and do not buy the reference card because of the overdraw issue caused by the use of 6-pin connector instead of 8-pin. AMD's fix attempts to shift power draw away from slot and to the 6-pin, pushing it further away from the 75W max designated by the pcie specs. They also provide an alternative to lower the overall voltage, which results a performance hit.

This affects only old Motherboards with PCI-E 1.0 and 2.0 specs, the newer models with PCI-E 3.0 are not plagued by this issue. AMD is fixing this trough driver update, I wouldn`t be surprised to see a BIOS fix in the near future. The new driver won`t have any performance hits since it will lower the draw power from the slot and increase from the 6 pin connector. Why I would indeed recommend to wait for the custom cards is that they have better cooling solutions and usually better overclocking capabilities.

According to AMD, any performance hit will be offset by improvements to Polaris. https://www.facebook.com/AMDGaming/posts/1087005684705251?sf30349571=1 "Separately, we've also included an option to reduce total power with minimal performance impact. Users will find this as the "compatibility" UI toggle in the Global Settings menu of Radeon Settings. This toggle is "off" by default. Finally, we've implemented a collection of performance improvements for the Polaris architecture that yield performance uplifts in popular game titles of up to 3%. These optimizations are designed to improve the performance of the Radeon RX 480, and should substantially offset the performance impact for users who choose to activate the "compatibility" toggle."

More power on the 6 pin connector is fine. Pcper did an awesome break down of the card on their YouTube channel. The problem with the slot power is it's going over the max specs 1.1 amp for the pins in the slot. The connector max amp per connector is about twice as high so its not a problem. Plus the 6pin is clean power, comes from the psu directly, and doesn't affect any other parts. Anyways, its a very good breakdown of what is going on.

I got mine at Newegg. I hit the button to notify me when in stock and the moment I got that email, I bought it! I get it delivered today. I also picked up an AMD fx 8370 to give me a decent VR pc for less than $500. The version of the rx 480 was the XFX overclocked at 1300 for $269. Little premium figures it was worth $30. Now I am ready for Xbox on my PC
Windows Central Newsletter
Get the best of Windows Central in in your inbox, every day!
Thank you for signing up to Windows Central. You will receive a verification email shortly.
There was a problem. Please refresh the page and try again.