Where to buy Sphero BB-8, the Star Wars droid toy
By Simon Sage last updated
Ask any Stormtrooper, it can be hard finding droids.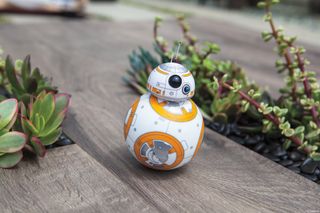 If you've had trouble finding a Sphero BB-8 (opens in new tab), either prepping for a Christmas present or just some immediate nerdy satisfaction for yourself, you might be in luck. A number of major retailers, including Amazon (opens in new tab), now have stock of the world's most popular droid. Considering how hot these things are right now, these could go out of stock at any moment, so you probably want to act fast.
Buy the Sphero BB-8 from Amazon (opens in new tab)
For those who aren't familiar, the Sphero BB-8 is a mechanical ball that connects wirelessly over Bluetooth to your Windows phone or tablet. You can then remotely control the BB-8, put it on set patrol paths to roll through, or let it roam on its own. Over time it develops its own reactions to what's happening around it. As a nice added touch, there's an augmented reality app that lets users upload "holographic" video messages into the Sphero, and view them in the app. Check out our run-down of the Sphero BB-8 to see what's up.
As of today, the following retailers have the BB-8 in stock.
$150 seems a lot for this toy. I wonder how the battery is.

It last about an hour or so and takes a bit longer to charge. My boys (5 & 9) started with the bullet & water proof 2.0 and love these.

What articles are comimg today on W central/

It's a high tech toy that's highly dependant on an app to function. An app that just so happens to be supported in Windows 10.

for those interested - Target has this also but the giveaway is the price - was as low as 89 last week, but thats because it has a limited version that doesnt perform the same as those from Amazon... so be careful if buying!

Yeah there one that comes with its own controller and Is "Dumb". That's the cheaper version that's floating around. I for one think it's a really cool device they're selling the price seems pretty reasonable to me.

I love this but there's no way on Earth I'm burning 180€ on it. As my sister put it "it's just a ball..."

It is a lot for what is a cool cat toy.

just like - it is just a car or just a phone :P

yep too much, i would give 50 € for it but not more

Verizon pays alot of money to license the name "Droid" for their android line. The more you know! Lol

Had an RC ball in the 80's, bowling ball sized. That's all I got.

If this was full-sized for $200 I'd definitely consider it.

RadioShack has them as well. That's where I bought mine.

There's one wrapped up under our tree for my son. Maybe me too if the truth be told. £129 from Amazon.

My brother sent this for my son and it has been sitting in my closet all this time. Had no idea what the **** it was til just now. Pretty cool. Will wrap it tonight. Posted via.........deez nutz!!!!!!

Used the app on the 950XL with my BB-8 last night... awesome. Makes the phone run very hot but works great.

I ordered one from Amazon while waiting in line to see the movie last night. This latest shipment probably won't last for too long.

I was able to DL the app for Win Phone 10 but couldn't DL the app on the desktop version of Win 10. I'm getting "To use this app, upgrade to the latest version of Windows." I've tried it on 3 seperate PC's running the latest Win 10 (Surface Pro 3, Dell Venue 8 Pro, and a desktop PC).

There are two toys. One is by Hasbro. That one you can get in target. The other is as you mentioned in the post

I bought the $150 toy on release day a while back. I have to say this was the biggest waste of cash I have laid out in quite a while. I mean it's kinda cool to watch him roll around but.... that's about it. I lost interest in "playing" with it after about 20 minutes, There's really no way to interact with it all.... This toy was way overhyped.... Looks cool sitting on your shelf but not worth $150..

I'd rather get a dog, at least they'd attack strangers if the need arises.

I think it's a cool gadget, I just don't know if I'm ready to shell out $150 for it. They probably won't look at dropping the price until well after the Star Wars movie hooplah dies down.

Lol, amazon's list price is $149.99, but now you can get it for only $149.95 :D

The Target version has been getting good reviews and is more of a toy than the version from Sphero. It also has its own remote and doesn't require a device with an app to control it. The Target version is probably easier for kids if that's the droid you're looking for...

This costs an equivalent of $325 on amazon India.
Windows Central Newsletter
Get the best of Windows Central in in your inbox, every day!
Thank you for signing up to Windows Central. You will receive a verification email shortly.
There was a problem. Please refresh the page and try again.