These Android apps could really help 'Windows Lite' succeed
By Sean Endicott published
Android apps might be supported on some future Windows devices, but which Android apps would make the biggest difference on Windows? We have some thoughts.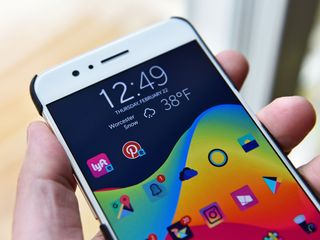 In June, we reported that Microsoft's foldable Surface PC with Windows Core OS will run Android apps. As a result, people on the Internet started discussing how Android apps would fit into the Windows ecosystem. With progressive web apps (PWAs) and web apps becoming the norm, and Windows having some excellent UWP apps already, the "app gap" isn't as big as it used to be. But, there are still some important apps and services that would come to Windows if Android apps gain support.
Here are the top Android apps that I think would help Windows the most.
Surface 'Centaurus' could run Android apps — but would that really help 'Windows Lite' succeed?
Google Maps
The Android version of Google Maps wouldn't help desktop users much. You can browse Google Maps on the web and even force open the PWA if you'd like, but neither of those support turn-by-turn directions. Windows Lite will likely ship on foldable devices and potentially could ship on pocketable devices in the future. Always Connected PCs (ACPCs) are more common now, and a pocketable or foldable Windows device would likely have LTE connectivity that would allow Google Maps to guide people to their destinations.
I'll also throw in an honorable mention here for other Google services like YouTube, Google Photos, and Google docs that could be improved by Android apps but are currently useable on either the web or third-party apps like myTube.
Kindle
The state of books and ereading on Windows 10 is rather poor. Books purchased through the Microsoft Store are going away, and Amazon pulled its touch-friendly and usable Kindle app years ago, leaving only the mouse-oriented PC version of Kindle on Windows. While technically useable, the desktop version of Kindle is not optimized for touch and would provide a poor experience on any convertible PC that people would use as a tablet. Being able to run the Android version of Kindle would improve touch support, optimize the interface, and generally feel more like a modern e-reader.
There are some e-book options on Windows right now, such as Kobo, but Kindle is king when it comes to digital versions of books, and people don't want to purchase books again just to be able to read them on Windows devices.
Banking apps
I'm going to leave this section generic for two reasons. First, there are many banks that people like using. I've heard people claim that they'd switch banks over which one supports Windows, but I don't think that's a normal scenario. Most people are going to use the bank they want and then want that bank's app on their devices. Second, there are so few banking apps on Windows that it would take a lot of space to include all of the good banking apps that the Microsoft Store needs.
While you can bank in a browser, features like depositing checks using a camera are often exclusive to apps. Additionally, banking apps often require entering a lot of information, and using the web for banking is geared towards a mouse and keyboard. Finally, if Android apps gained access to biometric security features, you could unlock your banking app on Windows using a fingerprint.
It's worth noting that many banking apps are only built for phones so they might not scale well to tablets or other PCs. But having another option wouldn't hurt.
Amazon Prime Video
While you can watch Amazon Prime Video within a browser, the interface isn't great when compared to Hulu's PWA or Netflix's Windows app. Bringing Amazon Prime Video to Windows Lite makes sense as a lighter device will likely be aimed at general consumers who use their devices for watching media and doing lighter productivity tasks.
Several other video services would also be improved on Windows with Android apps. I think Amazon Prime Video would be the biggest addition, though, because that would mean Windows users had solid options for Netflix, Hulu, Sling, and Amazon Prime.
That one app you're missing ...
This may seem like a cop-out, but I think one of the ways that Android apps would help Windows users the most is to fill those little gaps that will never be filled with native Windows apps or PWAs. For me, it's Hudl. I use Hudl every week for two American football teams that I coach and one that I play for. We film our games and receive game film of our opponents so we can study and improve. The interface on the web is okay, but it can feel janky and has issues from time to time. I mostly use the web for uploading game footage and adding notes and use a mobile device to watch film. Hudl has an Android app with easy-to-use play controls that are optimized for touch.
For most users, Hudl wouldn't be a notable addition to the Microsoft Store. I also doubt that Hudl will ever update their lackluster Windows app, which I believe is from the Windows 8 days. Android support on Windows would mean that I can use the better version of Hudl without the company having to make another app. There are plenty of apps in a similar category that will likely never ship as Windows apps that people would love to see come through Android app support. For you, it might be PayPal, Tinder, Snapchat, or something else, but there's almost certainly an Android app that you'd use on Windows if it worked well.
On that note, which apps do YOU want?
While some big names have come to Windows through PWAs, web apps, and other ways, there are still some gaps that need to be filled. Even if Android apps come to a version of Windows, there's no guarantee that people will use them. If Android apps did come to a version of Windows, which ones would you want to use the most?
Portable (and affordable) power accessories we love
Each and every one of these charging gadgets will keep your favorite gear and gadgets going for longer, and none of them costs more than $30.
VisionTek 8,000 mAh micro-USB power bank ($13 at Dell)
This compact dual-output powerbank can speedily recharge any and all your devices, thanks to a two-amp "fast charge feature," using its micro-USB out port. Its simple design includes an LED indicator, and it costs about as much as a single ticket to the movies.
Panasonic eneloop AA batteries (From $13 at Dell)
Panasonic's rechargeable batteries are among the best available, and just a couple of them will keep your favorite remote, mice or other peripherals powered up when you need them. They're also eco. And the company's affordable charger fits and charges both AA and AAA batteries at the same time.
Belkin Qi Wireless Charging Pad ($30 at Dell)
This unobtrusive Qi wireless charging pad looks good (and kind of like a UFO …) and easily charges all your Qi-compatible device up to 5W. Its LED indicator lights up when you're charging. And it costs just $30.
Sean Endicott is the news writer for Windows Central. If it runs Windows, is made by Microsoft, or has anything to do with either, he's on it. Sean's been with Windows Central since 2017 and is also our resident app expert. If you have a news tip or an app to review, hit him up at sean.endicott@futurenet.com.
I don't understand why Windows Lite OS would need running Android apps to succeed.
It needs great marketing and developers to succeed. Running Android apps on a Windows OS is creating a hybrid device which will basically become a host for a non-Microsoft platform. This will not only create confusion among users, but also do nothing for Microsoft in terms of growing their own app platform. Because as a developer, why develop for Windows if their Android app already runs on it?
Microsoft needs to sort out it's marketing strategy and demand by getting developers on board who are willing to develop for Windows Lite and keep it that way in the long run. That means, no platform changes, no additional costs for devs to develop for the platform.
Just my 2 cents.

There's a little behind the scenes element to keep in mind here. Depending on how Microsoft sets things up, there could be a lot of behind the scenes stuff that users don't see. When running an Android app, the only clue that you have that it's an .apk is that you're using an Android device. In an environment where .apk and .appx can run side by side, the typical user won't know for sure which they're running. Windows RT and Windows 10 Mobile suffered because of the chicken and the egg scenario with apps. Users didn't want the devices because there weren't any apps. Devs didn't want to develop because there were no users. This addresses that dilemma. If devs can just load their Android .apk to the Windows Store (the approach I'd like to see Microsoft take instead of having 2 side by side app stores), there's no additional work required. The whole approach addresses much of what you posted. No additional costs to devs, at least in the eyes of the devs, means both time and money. They're already making an Android app. There's cost to developing for another platform (Windows), even if it's just the time required to port it over, even with tools like Xamarin. The hook for developers to develop Windows instead of Android is in the features Windows 10 can offer. Live tiles being an example. Once the Lite OS consumer market is there, the the appeal is there for devs to make .appx versions alongside the .apk.

Hadn't Microsoft even devolved an technology to turn an Android app into a UWP.

It doesn't matter how easy it is, without users developers won't pay any attention. It isn't a chicken and egg scenario. Users need to come first. To gain users, Microsoft needs to create a very compelling platform at a great price. These devices need to be cheap.

I think Microsoft has finally given up on winning the consumer masses over, and it's probably for the best. They needed to stop trying to be an iOS and Android copy-cat, and just be themselves. There's a lot of reasons to prefer a Surface or other 2 in 1 over an iPad or Samsung Galaxy Tab for some... many... ppl. These other light-computing apps are just icing on the cake for the demographic that's buying MS products.

In case you missed the failures of every single Microsoft alternate OS to date, here is what you missed: 1) people don't buy because there are no apps.
2) when people don't buy, devs don't have an audience to target.
3) when devs don't target your OS, your app problem continues. GO-TO-1 The few UWP fans out there that pretend to develop are just after renewing their yearly MVP status with microsoft, and actually know it is hopeless to build an ecosystem from scratch. You know who they are. Nobody is going to trust Microsoft again with a new platform until they proven they can capture mass market success. Bill Gates already said, there is no room for a "third" player even if you're 90% as good as the second. He's right. So unless this device has an "iphone" level of disruption where it obsoletes the status quo, there is no way Microsoft can build a credible mobile platform by just a slightly nicer device. It will just be another Kin/Zune/Invoke/Band/Lumia.

Well said! Unbelievable how people still think MS can put a new mobile OS in the market and all of a sudden devs will flock to it. People, launching Windows Lite is going to be a long, drawn out process, requiring patience from MS, users and devs alike. Fingers crossed no one will budge

You're both wrong. UWP apps can run on Desktop. But if they are "pure" and the libraries support it - it's literally a single click to compile for Phone/tablet etc. I've not tried but I guess you could even compile for ARM. It's not anything new, Visual Studio; the UWP tooling (sdk, community toolkit. Nuget packages etc) all exist.

My take is screen mirroring

You mention generic banking apps. I would expand that to generic product apps. So much tech is now dependent or heavily enhanced by a mobile app. Sonos, Anova sous vide, ecobee, Ring, and the like are all apps that could be brought over. Depending on the devices OEMs release that run Windows Lite, if they do get to the point where they have a pocketable device, I would also add in the airline apps.

All really good examples. Some of those have third-party apps like Phonos for Sonos, but general users just want to download the official ones. Also, there are even apps for things like cars that people need.

I'd just be happy to see Mint back on the MS Store. It aggregates all my accounts for me, plus there's budgeting, and bill pay built on top. I'd only use the one off banking apps once in a blue moon. Would still love to see them. But yeah Mint was without a doubt the hardest pill to swallow in major apps leaving the store. And would love to see it back on the Store.

I wouldn't buy a Windows PC today for the lack of one game. Star Wars: Galaxy of Heroes. If I could get that on a Surface, that would be a huge deal. Microsoft needs a touch gaming story, and sadly has nothing at all.

You can install bluestack for that

I tried that, but it seemed like a terrible program. And it required a Google account, something I don't want to create.

If you would only use your PC for one single game, then you're not the typical PC user.

Ignore Dusteater. He is always being critical of Windows for whatever reason. Look at his comments about the surface go, he's like bleached in disguise. The surface go did not have that one app he needs and windows lite does not have the one game he needs. He always critical and not necessarily open-minded to potential or purpose when it comes to windows

They will do Android apps on Lite because they need their existing 150 Android apps to work on it. They will not include Google Play service so it's not a technology for all Android apps out there.

ha ha. This is probably true. Because sure as heck microsoft isn't going to make 150 UWP apps anytime...ever.

Here is what I want:
An android app that lets me pick any app to install on my PC. I don't care if it requires a rooted android phone or even Microsoft's very own android distribution. You simply cannot count on any developer to ever support Any microsoft store of any kind, even if it hosts android apps (to this point, not even Amazon could, let alone Microsoft). It isn't going to happen, and even if it did, I'm sure google would surely ban or play games with any devs that put an apk on windows store. What google cannot do is control what I do with the APK, and so a "send to windows" would be ideal to stick it to big G.

That is actually good. You're right Google might restrict devs from developing for Windows store. But send to Windows is better they can't control that. Still if Google doesn't pose any problem the best idea would be that they should not tell users if a particular app is android based or UWP etc. They need to make their users feel confident that apps are available regardless of how. That way there would be general concensus that all apps are available in Windows store.

Android as a whole is open-source so Google can't really restrict devs from putting their Android apps on Microsoft's platform. Also, Google is under some serious scrutiny by the government when it comes to how they defeat other platforms and restrict them so even if they did do that, it only increases their chances of getting split.

Because Microsoft want to release Windows Lite OS phone.

The one thing Microsoft doesn't have between them, Apple, and Google is a maps service. Here Maps from what I understand won't sell to them either and it looks like they barely update the app. So either Microsoft makes their own service and makes a map app without Here Maps or that gets cancelled too.

Voxer! It's what the large fam of siblings uses to stay in touch.

I think everything is fashioning itself around the smartphone. They need a hero device. This is what made the 950 so appealing because it felt like the iPhone in that Microsoft was finally committing to the platform even if they were lagging behind. Around the same time, they started doing Surface events. I think in some ways that is what people wanted. They wanted a yearly Surface event where Microsoft introduced a smartphone with the upgrades they had been working on for the phone. The smartphone is what people are interested in. I would love for them to come out with something like the Surface Lumia and then in the same presentation show what they have been working on to improve it. If I were to say what I want from what Microsoft is working on, I'd say that it would be nice if Microsoft got on stage at their next event, talked about their apps they have been working on, talked about how they are improving windows with features like Apple's Neural TTS that are built for the mobile and desktop platform, then which developers had made apps for that platform, how they helped those developers build that app personally, introduce a phone that is a quality product and doesn't feel cheap, and then showed how improvements are being made to the desktop by what the OEMs are working on. Apple keeps driving the conversation about tech because they show how they are making improvements to the hardware. Dell does this. HP and Lenovo work on things like this. I want to post a link to something. https://www.indiegogo.com/projects/sentry-2-0-evolution-of-console-sized... That small form factor desktop computer is the Sentry 2.0. This is a form factor that several different people within the industry have been working on for years. a desktop computer in a minimal case. The Alienware X51 had a lot in common with this computer. Dell stopped selling it though. I think because their other "high-end" computer wasn't selling well. This is Linus from Linus Tech tips putting it together in about an hour: https://www.youtube.com/watch?v=XzcrTmhOP2s And that brings me to another point, some of the best feedback Microsoft gets is from these reviewers. Some companies don't listen to the feedback. But you know that Marquee Brownlee and Dieter Bohn from The Verge both asked Apple do things to improve the iPad. Apple did these things and now the reviewers are not just giving good reviews, they are practically surprised. Some companies aren't doing what the reviewers and commenters are complaining about. Sometimes it's Google or Microsoft or Apple. This is why I want to ask a question... in bold. Why is it so hard for some of these companies to just do what people want to give them money for? I want Microsoft to "Build their base." When they iPhone came out, it didn't even have an app store. People still wanted though. There were people that predicted it would fail. https://techcrunch.com/2007/06/07/the-futurist-we-predict-the-iphone-wil...

"These Android apps could really help 'Windows Lite' succeed" If Windows Lite needs Android apps to succeed, then it is already a failure. What's the point of a new OS if it needs to run your competitor's apps? It just proves that NO ONE has committed to porting their existing iOS and/or Android apps to the new OS. Imagine, for a moment, that Apple is releasing a new OS that is "modern, modular, flexible and automatically adapts to new form factors". MacOS Lite. Oh, BTW, it also runs all Windows apps. You would all be laughing and high-fiving. Proclaiming (and rightly so) that Apple is throwing in the towel. I can't believe that WC is buying into this horribly flawed strategy. You are all obviously too young to remember IBM OS/2. This is EXACTLY the path IBM tried. A new OS that ran Windows apps. Hence, no one bothered to write OS/2 apps, because their existing Windows apps ran fine. Thus, OS/2 was a huge failure, and was reason #17 why IBM exited the PC market that it created in 1981. How many of you are now thinking "WTH was IBM OS/2?" Print this out and nail it to the wall: "Those who don't remember the past, are doomed to repeat it." Are all WC writers - not to mention all MS marketing droids - under 40? Clearly, no one remembers OS/2 and WHY it failed. It would be far easier for MS to just release a Surface tablet running Android. While you are at it, release a Surface Android phone. Because there is no need for a new Microsoft OS if all it runs are Android apps. Because ..................... wait for it ................................... No One Cares About Operating Systems. It's all about the apps. Always has been, always will be.

Nice rant. ;0) But Windows "Lite" will be a device aimed at three demographics: 1) front-line enterprise workers who use mainly COTS and custom built web apps and Office 365, 2) K-5 students who primarily need a browser for classwork, but perhaps an occasional teacher approved Android app, and 3) light weight consumers who are purchasing Chromebooks for surfing the web, paying bills, sending emails, and collecting family photos. Some high end Chromebooks also run Android apps, and I expect the demographic who uses Windows "Lite" (which I hope they just call "Windows") will use them sparingly... occasionally... just as they do on Chromebooks. I didn't read into WC's article anywhere that the entire OS "depends" on Android apps. They will merely "help" the OS succeed, in the same way they are helping Chrome OS to succeed. As far as I'm concerned, this is merely indicative of the new Microsoft under Nadella. A few years ago championing open-source, saving GitHub from bankruptcy, Linux on Windows, MS apps on iOS & Android, a Chromium based Edge, Alexa on Windows, and all similar cross-platform cooperation (including that found on Azure) would have been considered heresy. I'm all for operating systems and platforms playing nicely with each other. And I think this will all end well for Nadella's Microsoft, and poorly for today's closed-ecosystem monopolies. It's not true that nice guys finish last. That's a myth. And Nadella's MS is proving that.

I've found running appized PWA's covers a lot of ground. Exception would be prime video, which isn't quite as good as the app, and banking apps. I'm sure something else could do turn by turn without relying on the google app. I mean, really it's a small selection of apps that work better than their webapps. I recently setup my tablet using UWPs and PWAs via the edge beta. Really it's not bad as is. If I was microsoft I'd just add the amazon app store, help fill things out. Saves dealing with google mobile services or any of that nonsense. One day the android app will be pretty much dead. It's just a filler for now.

My one app is Comixology since you can't read offline with a pwa. It was the only Android app I installed through Amiduos back when I had a Surface 3. Emulators are okay, but I'm sure it'd work better if it was natively supported.

People need to be deprogrammed to think they need apps. The web rules for most purposes. For pocketable devices, apps can be better for battery efficiency and form factor design. I personally only use my phone for a few things when home. I find having a larger device nicer and more productive. When home, I use my phone for calls, messaging, calculator, alarms and timers, and audio. These type of functionality is best on a small form factor. Everything else; bigger is better. So for apps that matter, it means I would have to want to use them while on the go, and a web app is a bad experience. Of the apps you listed, there is only one category I would use while on the go. That would be mapping. I would not do banking, or watch videos while on the go. I would use Kindle on the go, but I use the Kindle Cloud Reader and it works fine. On W10M, having a Kindle app was important because the Kindle Cloud Reader didn't work in Edge on W10M for reason unknown. So back to mapping. I used a ton of navigation applications. I have found Windows Maps to be the best I've used. It offers true offline capabilities and real time traffic updating. Its turn by turn directions work really well. Windows Maps will seamlessly switch to offline capabilities if you lose cellular. You can even start route planning when offline. Google Maps offers limited offline capabilities, and is cumbersome to manage. Windows Maps also offer cloud based Favorites that can be set up on your desktop when home when planning a trip. These cloud based Favorites will work when offline provided you opened Maps at least once when online to sync the Favorites to the device.

Oh, I thought of a category of app that would be nice to have. GPS based fitness apps. Like the ones that track how far you have run or biked. This is assuming WCOS is running on a pocketable device that is replacing your phone. It's a different story if your WCOS device is not a phone replacement. But these GPS based fitness apps need to be efficient, need to run in the background, and need to give voice notifications while running in the background. This might be a bit much to ask of a PWA. And along the same lines that your WCOS device is a phone replacement, a music player is crucial. If they brought back Groove's cloud playing capabilities, I would use Groove.

Oh, and I wanted to add something about Windows Maps. I mentioned that you can do offline route optimization (e.g. route planning). You can also do offline geographic point of interest searching. You can find the nearest food, gas, stores, etc. while offline. You can also draw on the maps. Windows Maps blows away Google Maps and Apple Maps. Microsoft did a great job with Windows Maps.

"On that note, which apps do YOU want?"
Absolutely all the apps you mentioned minus Google Map. Now add WhatsApp and I am really good.

I used Windows Maps app on my Lumia 950XL till recently and worked great (its updated) for India. So I don't need Google Maps if I buy a Microsoft device. Not sure about the international coverage for it now. But you can test it on desktop anyways.

If Microsoft can somehow garner enough userbasr for a foldable/pocketable PC, I wouldn't simply want Android apps to fill the gap. Otherwise, why use Windows. When I buy a phone, pc, tablet or PFD (pocketable folding device), I understand the platform I'm investing in and expect to have apps that are specific to that platform. Meaning, whatever perks or advantages that platform may have, I want the app to utilize and take advantage of that. I know some would probably argue that Android and Apple versions of MS apps run pretty much the same, with little difference. If this is the case and developers are focusing more on making their apps the same, regardless of the platformm, then apps that run the same or similarly on Windows devices wouldn't be a huge deal. This would just go back to marketing and commitment from MS to stick with the product. Microsoft will need to show the world that they are serious about their product. At this point, MS has a reputation of abandoning seemingly great ideas or lacklust support on their behalf. It could be argued that both Apple and Google have too, but it doesn't matter, because they have a presence in the mobile market that MS does not. It's a moot point, now. If Windows Lite or whatever it will be called upon launch is to succeed on PFDs, the device has to be great, usability has to be outstanding and it has to have features that are practical, but unlike anything else currently on the market and do them well out the box. They need to avoid having to fix anything out the box with a future update. This is how MS can get renewed interest from consumers and developers, alike.

"If Windows Lite or whatever it will be called upon launch is to succeed on PFDs, the device has to be great, usability has to be outstanding and it has to have features that are practical, but unlike anything else currently on the market and do them well out the box. They need to avoid having to fix anything out the box with a future update." I have no confidence in Microsoft to delivery any of that.

This is exactly what Blackberry did with supporting android apps - which killed their OS. No one felt they needed to develop for it, since Android apps worked. If this happens, I guarantee this will only hurt Windows in the long run.
Windows Central Newsletter
Get the best of Windows Central in in your inbox, every day!
Thank you for signing up to Windows Central. You will receive a verification email shortly.
There was a problem. Please refresh the page and try again.