Which Surface should you buy?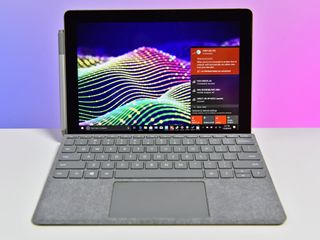 (Image credit: Windows Central)
Microsoft's Surface line is made up of a large collection of tablets, laptops, and desktop computers. Each Surface device has something to offer, so it's important to figure out which one best suits your needs — and your budget. Here's a quick guide to each of the latest Surface devices available right now.
Overall, each of these Surface devices has something great to offer. If I had to choose, though, I would opt for the Surface Go (opens in new tab), since it's an amazing balance of power, portability, and pricing. People who want to go all out on a desktop should buy the Surface Studio 2 (opens in new tab), while people that want a strong hybrid device will find value in the Surface Pro 6 (opens in new tab) or Surface Book 2 (opens in new tab).
It's important to note that if you want keyboards in order to actually turn your Surface Pro or Surface Go into a portable laptop, you'll need to invest in Microsoft's Alcantara keyboards designed to work with these devices. Make sure to check out our guide to these keyboard accessories to learn more.