Will you buy the Surface Laptop?
Microsoft's big New York City hardware event came and went this week, and the dust has started to clear. The Surface Laptop is now available for preorder, with a June 15 ship date in the U.S. Are you going to buy one?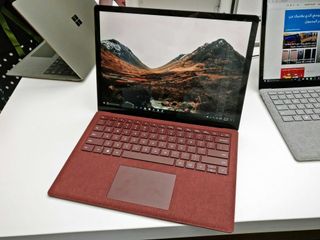 At Windows Central, we love new PCs. A lot. Like, genuine LUV. What do we love even more than new PCs? New Surface PCs.
We've been covering the latest Surface device, the Surface Laptop that was announced this week, from every possible angle. Overall, we're impressed, though there are a few things about it that kind of leave us scratching our heads.
Now we want to know what you all, the Windows Central community, think of the new notebook. And more importantly, are you going to buy one? I just started a thread in our forum asking this very question.
If you're all-in on the Surface Laptop, let us know why. We're also curious about the model and color you're going with. And what do you think of that Alcantara-covered base? (The jury is still out on that one within the Windows Central staff, but personally, I wish there was an option without it.)
If the Surface Laptop simply isn't for you, or you're still on the fence, let us know why. Some thoughtful feedback and discourse could help others make informed purchase decisions.
In the forums: Sooooo, are you going to buy the Surface Laptop or what?
Preorder the Surface Laptop (opens in new tab)
Al Sacco is content director of Future PLC's Mobile Technology Vertical, which includes AndroidCentral.com, iMore.com and WindowsCentral.com. He is a veteran reporter, writer, reviewer and editor who has professionally covered and evaluated IT and mobile technology, and countless associated gadgets and accessories, for more than a decade. You can keep up with Al on Twitter and Instagram.
Windows Central Newsletter
Thank you for signing up to Windows Central. You will receive a verification email shortly.
There was a problem. Please refresh the page and try again.