Will you use Windows 11's Teams Chat app?
The new Chat app brings Microsoft Teams for consumers right to the Taskbar, but will you actually use it?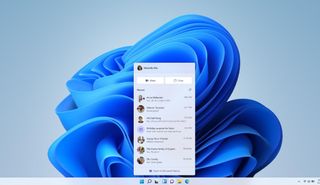 (Image credit: Microsoft)
Microsoft's latest build of Windows 11, build 22000.100, brings support for the new Chat experience powered by Teams. The feature allows people to quickly access Microsoft Teams for consumers from the Windows 11 Taskbar. We want to know if you'll use the new Chat app or leave it untouched in the Taskbar.
The Chat app replaces Skype as the default in-box chat app for Windows. It's yet to be seen if that means anything to the average user. Skype being the default in-box chat app for Windows to this point hasn't stopped anyone from using WhatsApp, Telegram, Facebook Messenger, or any other popular messaging service.
Unlike the Microsoft Teams that many will be familiar with from school or business settings, the new Chat app is powered by the consumer version of Teams. This is aimed at everyday use for people communicating with friends and family. While its focus is different, it has many of the same features people have gotten used to on Teams, including messaging and video calls.
The Chat app is limited in its current phase of testing. For example, the "Meet Now" button doesn't work in the latest build of Windows 11. Right now, the Chat app is more of a glimpse at the overall user interface and a hint of things to come.
Back in March, our executive editor Daniel Rubino took a closer look at Teams for consumers. He said then, "My prediction, unfortunately, is that Microsoft Teams for personal use will fade into neglect." Perhaps Microsoft sensed the same thing, which led the company to integrate it into Windows 11.
Will you use the Chat app in Windows 11? Let us know in the poll above, and please share your reasoning in the comments below.
Windows Central Newsletter
Get the best of Windows Central in in your inbox, every day!
News Writer and apps editor
Sean Endicott brings nearly a decade of experience covering Microsoft and Windows news to Windows Central. He joined our team in 2017 as an app reviewer and now heads up our day-to-day news coverage. If you have a news tip or an app to review, hit him up at sean.endicott@futurenet.com (opens in new tab).
I tried to use it but it will not work with my O365 profile. That makes no sense.

You are correct..seems not thought out well...

I think the whole point of it is to get people using it for personal use, not really made for businesses. I presume it will be Ms version of say Zoom or discord or any other messaging service that can cope with groups, video, files and what ever.
Businesses will use the desktop app or the mobile app.

Skype has long been my preferred comms platform because a. it offers chat, video and voice, and b. it is truly cross-platform, even being supported by Amazon Alexa. However, I have long wanted a more intuitive file, media and web link sharing facility. Skype's Chat Gallery is buried a little too deep in the UI and I hoped that Teams' tabbed UI would solve this problem. I really don't care if my non-work comms platform is branded "Skype" or "Teams", but I do want it to be accessible to "norms". Without a killer feature, I don't see how Teams for personal use will gain sufficient traction.

I'll start using it when they rebrand it as Skype rather than Teams Personal. Skype is more widely known in the consumer space but has been left to wither and die. They just need to migrate all Skype accounts and data to Teams for Personal while simultaneously renaming it to Skype.

They should've done that a long time ago, I think it's too late to make that kind of change now.

I think that would be a bad move right now. Skype is kinda dead for most people nowadays, while Teams have a strong name os business. Its better to have a name of a business app but aiming at consumers, than an almost dead program.

Dante003, I have largely stopped using Skype, as you described, but by the numbers, it's actually still hugely popular. Not as popular as it once was, but far from dead.

The Chat app needs a couple of things to be perfect: a.) Easily switchable accounts where two accounts (personal + work/school) can be logged in at the same time and a quick swipe switches from one or the other.
b.) The main page needs to show your already existing team chats rather than your contacts. Most likely by this point you already have your chatrooms established and simply need easy access to them.

Current Teams works like that -- 1 work/school and 1 personal account active at the same time (but not multiple work accounts, which is a problem for me) and the Activity tab shows recent chats, Teams posts and updates, and call information.

Since windows 8 and windows phone 8. My friends and family used Skype, as it was richer than sms. But when it became Microsoft's version of imessage in windows 10, I really loved it, it finnaly allowed you to green bubble sms users not on Skype. Even though it went through yearly ui changes, it was awesome getting not only Skype messages but sms on my Xbox too! When I saw the righting on the wall that teams personal was intended as an upgrade/replacement, we all switched to it in preview last summer, experienced all the bugs and watched it evolve. Hopefully it becomes more popular with windows 11 integration

I use Teams and Skype on a consistent basis for work and Teams is a horrible app. They are trying to be too many things.

Teams is powerful, and yes, it does a lot, but it does pretty much everything beautifully with a simple and clean UI. I have a few very specific problems with Teams (e.g., only supports 1 work account at a time, no way to turn off the auto-mic adjust), but for the UI and what it does, it's peerless. Excellent app, possibly the best app MS have ever released. At the rate they keep improving it, I assume (hope), MS will fix the remaining Teams problems over time.

Is there any way to see these chats from the mobile app (Android or iOS), logged into the same account?

They would be connected to your Microsoft account so yes as long as you're logged in

Did you actually try? Didn't work for me.

Yeah, it works for me. I switched my wife from Skype to contacting me via Teams Personal. Shows up on both computer and Android phone (Surface Duo) just fine. Having said that, most contacts are still on Skype, so unless this gets both Teams and Skype chats/calls or MS merges those two services, it seems that this will be a problem.

I tried to get my family to use teams for family related stuff, so everything can be found within Teams. Hard to sell them on the usability of it, when they are content with either texting or emailing.

i prefer texting to be honest, it is quick and works and very little of this Emoji rubbish and certainly no silly Gifs.

I use Discord for a group of us, and for normal messaging I use SMS. I don't think I know anyone who uses Teams for personal use, so it would be a waste of my time using it. Not only that, but I hope there is some way to get rid of it in Windows 11.

We already use Teams with my friends and family and it works well enough, but the system of having to differentiate between a Team and a Chat is confusing for new users.

Microsoft really dropped the ball by killing MSN messenger. Than again I used to use the icq app way back when I was young and stupid.

I wonder how big Messenger would be right now, had Microsoft not shut it down.

I tried to use it with my family and it is unusable. For work scenario maybe, you not always want to see your boss messages straight away. In private use chats not refreshing, very slow notifications and generally not appearing messages is not acceptable. We all had the same experience and we all abandon Teams very quickly. Microsoft once more is repeating skype mistake. It's great for video, it's terrible for texting

I have never had or heard of any experience like that. Teams Personal is basically Skype. Much faster than SMS for texts/chats, plus easy ability to do single or group video calls. The full professional version of Teams augments all of that massively with full collaboration integration for all of Office, OneDrive, and SharePoint. I have cancelled all my other phone services and do VoIP through Teams now (that still has some issues to work through with respect to Outlook integration, but it's already better than a typical VoIP phone service).

I remember an old application called Trillium that integrated across several chat platforms. It would be cool if Teams could integrate with several platforms in some way. Maybe through some clever APIs available from all platforms it could be done again.

Yes, that was good. I used that for a while also. I don't recall all the connections: was it AIM, MSN Messenger, ICQ... more?

Hope they don't kill it as they killed "Messaging + Skype" on Windows phone.

Instead of sowing yet more confusion with names through rebranding, why not do something radical for consumers: make Skype work as slickly and easily as WhatsApp. Microsoft has years of head start with Skype. They should have been able to wipe the floor. Yet through indolence, ineptitude and arrogance they let what could do easily be the killer app it was wither into near insignificance. I have tried the latest so called consumer version of Teams and it is impenetrable. I use Skype occasionally and appreciate the 60 free phone minutes I get as part of 365. Useful for foreign landline calls. When I use it for video I usually get asked why can't we use WhatsApp. Or Zoom.

Most of my colleagues, friends, and family use Apple Messages/google Messages on iOS/Android, FaceTime for video chat and discord for gaming. Microsoft has really dropped the ball on mobile platforms to make Microsoft Teams or Skype to be a relevant communicating service for personal use. I would be more interested if Apple made a messages version for Windows/Linux.

The only time anyone would ever smell that Team's garbage, is when their workplace FORCE everyone to use it because MS sold them a bucket a horsepucky as being 'productive.' It is the fastest 'app' I uninstall whenever seen.

Crazy, because Teams is probably the best application that MS has ever released, especially if you factor in how long it's had to get as good as it already is. Hell, Excel still doesn't have a functional Undo if you have multiple workbooks open decades after it was created.

Way to shoot your own foot and sound dumb while doing it. Teams destroys the competition in every aspect.

I need a way for my kids and me to be able to connect with each other when I'm away from home. I wanted something just like MSN. Automatically starts with their computers and tablets. Runs in the background. Does text, image, voice, and video chat. Easy to use. Not heavy. Teams is the only one that does it all.

Haven't tried it yet, but I plan on using the Teams Desktop app for my O365 work account and the chat app with my private MSFT account for personal chats and calls.
If this setup works, I'll probably use it a lot.

I don't use Skype so probably won't be using that either.

This is a great feature actually, though sadly most of my family and friends may have a hard time to use another messaging services when most of my Families and Friends use Facebook Messenger and some Friends use Discord especially for gaming. This is why the failed Windows 10 People Bar had a really huge potential but missed due to lack of support from Microsoft and from major 3rd-party developers (maybe lack of partnering or push as well). We will see how this Teams Chat will catch on with Windows 11. That depends how many will sign up and actually use MSA. I think the branding is still too "corporate" with Teams branding still there. I think Teams for consumers should be just called Microsoft Chat. Just seperate Microsoft Teams as part of Office productivity suite. While Microsoft Chat is a consumer messaging services outside of Office subscription and more integral part of WIndows. That leaves Skype and Chat having overlapping target market though. Though Skype still has its own following while Chat is remain to be seen.

New Kids on the block are much better . Zoom and Slack . in the ends another 80% Microsoft effort temporary shiny object and will give up on it. That is their track record ..

At least for business use, Teams crushes Slack. Like comparing a jet and a bicycle. I was a big Slack fan. We even built a bunch of bots for it to automate some of code and server controls with commands, so we were serious about Slack, but it's just so limited in what it can do compared to Teams. It took Teams about 9-12 months to get to where it started becoming more attractive to Slack. We stuck it out for a while, but Slack just never added the needed features, so we made the move to Teams. Since then, MS has added many more capabilities. Now, Slack is not even a contender any longer.

Yeah, I really liked that People piece when it integrated with Skype. When they took that away (when was that, a year or two ago?), People became useless to me too.

Can't use it on non compatible old windows test laptop and I'm not running pre release windows 11 on my gaming laptop.

I'm not going to use it but I might try out the new FaceTime app for windows

I think Microsoft have entered risky, skype infused danger territory with this new Teams feature. I have it running on both of my laptops, and as far as I can tell, it will only work with my personal Microsoft login, and won't work with my Microsoft professional/business account. I'll be the first to admit, I may be doing it entirely wrong. If I'm correct though, then this is Microsoft's first misstep with Teams. Teams should work like Facetime, Whatsapp, Zoom, etc. There shouldn't be different "flavours" of Teams for business or consumer use. It should be one app, period. You want to hold a virtual beer drinking challenge with your pals in Australia. Use Teams. You want to send stupid messages to you family. Teams. You need to attend a client meeting. Teams. You have a virtual business banking appointment. Teams. You want a simple, effective video calling service that works on laptops and phones...Teams. It should be one app...Teams for all. Business and Consumers, all rolled into one app, one address book. Microsoft made this mistake with Skype. We had skype mobile (which was and is absolutely rubbish), skype desktop, skype browser, skype for business, skype for consumers, skype subscriptions, etc, etc. They made it so messy that no one knew what the heck was going on. Users flocked to other, simpler services. Download one app, import all your contacts and go nuts. I really, really hope MS don't try to run two versions on Teams. It's going to screw it up

Generally I agree with this, but MS has a core architectural problem: Business and Personal accounts are stored fundamentally differently on their servers. There were really 2 Skypes (at least from a service perspective): Skype and Skype for Business. I don't think MS has the ability to bridge those, at least not yet. For a while they talked about connecting Teams to Skype users, but that never worked properly (I tried pretty hard, even posted a bunch of unanswered questions to MS, and never could get a single connection to work). Even Outlook as an application can connect to both Exchange Servers and to Outlook.com, but Outlook.com is different from Outlook on the Web for business users. They try to make them look the same to reduce the very problem you're describing, but the underlying technology is totally different. I think this is a big problem for MS for exactly the reasons you've said. It's not clear to me that they are even trying to fix it though. They may believe this is a good distinction. I share your view that it's a mistake.

I am on this insider build but I haven't got new ms store yet. Do you know why I? Is it rolled out partially?

i would love to try it out but i got no friends to chat with XDD

I will use WhatsApp as I use it on the mobile as well. Maybe I will give it a try. That's all. Not very interested in that.

All my friends and family are using Signal, I have the app installed on my PC running Windows 11 so will stick with it... It was a monumental task getting everyone to switch from WhatsApp... Not going to ask them to switch again...

It depends when my contacts will enable theirs, then maybe!

needs lots of people use it, then it's really needed. in China, WeChat, QQ is much easier to use, nearly everyone use it everyday.

Zoom works well enough. They should have 'built-in' Word or Excel instead of Teams if they wanted to provide a useful application.

If they dont SUPERPUSH it on Microsoft Launcher, it will fail.
They need to spend BIG MONEY on it for Android.

it depends on how many of my friends actually use it, same reason why I don't use iMessage

I think MS has completely missed the boat with personal messaging. Everybody is already embedded in apps like WhatsApp etc. I like Teams and Skype , but I think MS is too late to the party on personal messaging. There's no compelling reason for everybody to switch from their well-established network of contacts in apps like WhatsApp.

Microsoft has a core technology problem that they appear incapable of solving: business accounts (AAD) and personal accounts (MSA) are completely separate from each other. They run on different servers that can't talk with each other. They follow completely different models for security. This is what prevents Teams business from working with Teams personal (or Skype). They were able to bridge Skype for Business with Teams for business, but never had a truly usable connection between Skype for Business and regular Skype. In Windows 10, the rules and what you can do with personal accounts vs. work/school accounts are completely different. I'd love to see interviews on this or coverage of this split in the Microsoft infrastructure by Windows Central. Does MS want to merge these to have nice seamless apps, or do they believe that there are security advantages to isolating them that more than outweigh the negatives? It appears to me that MS believes the latter, but I think that's a serious mistake on their part. Instead, they should find a way to address the security issues without breaking the UX for every user who both has a job or goes to school and hopes to also have a family and/or friends at the same time.

Next to Teams chat personal, I want it for business. I.e. not switching app persona.
But, it is a shame that the People thing in the Taskbar did not catch on. However, that starts with connecting with other comm services in the cloud. On a contact card it should be clear which comm services are available for the contact and which is the preferred one.
Teams chat is way too proprietary and therefore won't be a massive game changer.
Windows should be more of a connecting hub than it is now.
Windows Central Newsletter
Thank you for signing up to Windows Central. You will receive a verification email shortly.
There was a problem. Please refresh the page and try again.