Win your choice of Galaxy S9, Pixel 2, BlackBerry KEY2, iPhone X and more from Bitmo!
The Bitmo app is changing the gift-card game! They're letting one grand prize winner pick the smartphone of their choice, plus gifting three runners-up with a $75 gift card on the Bitmo app. Read more and enter now!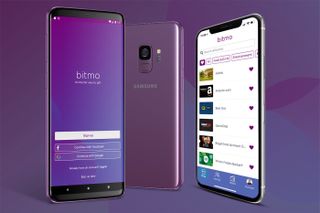 Bitmo is a new way of gifting that keeps your options open. Gift cards are a $160 billion dollar industry and 40 percent of those gift cards go un-redeemed or get lost.
We've all been there – you lose a card or you get one to a place you don't want to shop. Bitmo changes all that. This free app lets you spend what you want and swap what you don't. Re-gift to a friend or exchange any gift card to another retailer instantly and at no cost. You can also redeem right from your phone. No more lost $$$.
So it makes sense that they're letting one winner pick a smartphone of their choice (iPhone X, Galaxy S9, Pixel 2, or BlackBerry KEY2) with a $75 gift card on the Bitmo app to Amazon. Plus, Bitmo is gifting three runners-up a $75 gift card to Best Buy, Game Stop, or Amazon on the app.
Bitmo is a fun and easy gifting platform for sending a personalized thank-you gift, birthday present, and more. The gifts never expire plus they're safe and secure in your account just waiting to be instantly redeemed in-store or online.
Gift better. Get more.
Enter To Win
THE PRIZE: One lucky reader will receive their choice of one iPhone X, Galaxy S9, Pixel 2, or BlackBerry KEY2 and a $75 Amazon gift card on the Bitmo app, and three runners-up will receive a $75 gift card to Best Buy, Game Stop, or Amazon. All gift cards can be swapped for another retailer on the app for free!
THE GIVEAWAY: Use the widget at the bottom of this page. There are multiple ways to enter each with varying point values. Complete all of the tasks for maximum entries and your best shot at winning! The email used to enter the competition and email used to download the app must match. Please keep in mind that all winning entries are verified and if the task was not completed or cannot be verified, a new winner will be chosen.
Phone service is not included with the prize and we make no guarantees that the phone will work with your service provider, so be sure to check that before you enter. Open only to legal residents of the 50 United States, District of Columbia and Puerto Rico, that are at least 13 years old, as of the date of entry. To participate, you must have a valid mobile number (U.S. only) capable of receiving a text message.
The giveaway is open through July 12, 2018, and the winner will be announced right here shortly after the closing date. Good luck!
Win your choice of iPhone X, Galaxy S9, Pixel 2, or BlackBerry KEY2 and more from Bitmo!
By entering you agree to our Privacy Policy and Terms & Conditions.
Another US-only BS giveaway. Shouldn't that be mentioned in the title to spare us the unnecessary clicking?

After years of following Crackberry and winning a couple things from them, I sometimes forget that most contests are US-only. They were always really good at shipping to Canada, albeit with me having to pay the customs fees. Here I've learned to ignore all the Thrifter posts which are US-only, but I still fall for it on contests since there seem to be about 50/50 odds.

And announced today, Thrifter is coming to Canada and the UK! :D

The majority of giveaways on Mobile Nations ARE open internationally.

Yes they are. Still, as the OP mentioned, how about putting (U.S. only) in the title for those few that are not so that your large international audience are not wasting their time? It can't hurt, only help! 😁

But they're not Windows phone, are they?

Says the phone of your choice, so I guess choosing an HP Elite X3 would tick that box?
EDIT: Oh I see, on reading more carefully it appears to be a phone of THEIR choice. No Elite X3. No point.

That's too bad, the email for the entry and download must match? I'm DQed. Google for my phone and Outlook for my Windows Central account...

Gleam (the service that provides the widget) is independent of WC. You can sign up for (or into) Gleam with the email you use for Google. ;)

I'm gonna be honest, none of those phones interest me.

shouldn't that ridiculous US-only requirement be on the title of the post so we don't unnecessarily click?

Don't see anything in the list that I would want, even for free.

That would be a tough selection, at the end of the day it would more than likely be the b f X, i dont use much of anything google anymore so between the others, the galaxy, and the BBkey, very sleek keypad, that i would use to actually talk to people, but if windows was a thing . . .
Windows Central Newsletter
Get the best of Windows Central in in your inbox, every day!
Thank you for signing up to Windows Central. You will receive a verification email shortly.
There was a problem. Please refresh the page and try again.