Windows 10 19H1: 7 new changes and features coming in Microsoft's next big update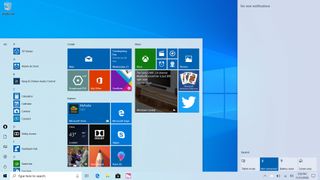 Microsoft's next big Windows 10 feature update is currently in development, and we have a pretty good idea as to what new features and changes we can expect to see when it starts shipping in the spring. Codenamed 19H1, this next Windows 10 feature update improves upon already existing features, and adds a couple of new features and options for power users.
After the October 2018 Update fiasco, which saw Microsoft push out an update that had multiple stability issues and bugs, Microsoft has taken a step back with 19H1, focusing more on improving already existing features instead of moving on and building out entirely new features instead. Many called for Microsoft to slow down on adding new features, and Microsoft has listened. So, 19H1 has no real blockbuster new features, but it does build upon features already present in the OS, which should improve the overall OS experience for users.
That's not to say there aren't any new features or changes at all, so let's dive into the top new features and see what's coming in Windows 10 19H1.
A brand new light mode for Windows
Starting off with some aesthetic changes, Microsoft is introducing a brand new light mode to Windows that switches the usual dark taskbar, Start menu, Action Center, touch keyboard, popups, and related menus and buttons from dark to light. This gives the entire OS a clean and modern feel, and is a refreshing change to the current Windows 10 aesthetic which has been this odd hybrid of dark and light user interfaces for some time.
Many have called upon Microsoft to make consistent dark and light modes, and Microsoft is answering those calls with the new light mode. Users can now have a pure light theme experience that has both apps and system interfaces use lighter themes, just like how dark mode users have been able to theme their apps dark to match the taskbar and Start menu.
Microsoft is also setting this new light mode as default for Windows 10 Home devices that come with Windows 10 19H1 preinstalled. Windows 10 Pro and Enterprise PCs will have dark mode enabled by default instead, but all editions will be able to switch to the opposite color mode if the user wishes.
A better default layout for Start
In addition to the new light mode for Windows 10, Microsoft is also updating the default Start menu layout to something a little simpler. In previous Windows 10 updates, the default Start menu layout that appeared after the user sets up their PC for the first time was a loud, busy mess of tiles, most of which were unwanted by the user. Starting with 19H1, this default layout has been simplified to just two groups of six apps in one column, placing the essentials first and foremost.
Unfortunately, Microsoft continues to push third-party apps onto PCs via the Microsoft Store by default, but many of the unwanted games are now put into a folder now. This is very different from the old layout, which used three or four groups of apps across two columns. The new default Start menu layout is much more approachable to normal users, and isn't as complicated or cluttered.
More fluent design
Keeping with the aesthetic changes, Microsoft is adding yet more beautiful Fluent Design language to Windows 10 in 19H1. Certain system elements like context menus and popups now feature a wonderful drop shadow effect, which looks excellent with the new light theme. In addition, jump lists and context menus in Start, Taskbar and modern apps now feature Fluent Design reveal and acrylic effects, which provide a nice blur aesthetic to many areas that uses modern context menu controls.
Microsoft is also adding acrylic blur to the login screen, which makes things look more modern and clean.
Improved quick actions in Action Center
Quick actions in Windows 10 are receiving an update in 19H1 that changes a couple of things and improves upon the edit mode for quick actions in a major way. No longer will the user be thrown into Settings to edit what shows up in quick actions, instead being entered into a dedicated edit mode that lets the user configure what quick actions are available directly from within the Action Center.
In addition to this change, Microsoft has also changed the brightness quick action from a button to a dedicated slider that can be pinned to quick actions in the Action Center. Users have been requesting Microsoft add a dedicated brightness slider to quick actions for years, and Microsoft is finally doing it with 19H1.
Windows Sandbox
Microsoft is adding a new feature to Windows 10 called "Windows Sandbox," that gives users the ability to run a virtualized instance of Windows 10 on top of their live install. This is great for those who want to run a program that they're not so sure about, without putting their entire system at risk. Windows Sandbox is off by default, but once enabled will run a clean version of Windows 10 in a virtual machine every time you go to use it.
This feature is only available for Windows 10 Pro and Enterprise editions, as it's a feature aimed primarily at power users.
Updating Windows Update
Windows Update is receiving further improvements in 19H1, most of which are designed to make Windows updates less annoying. To begin, Microsoft is bringing the ability to pause updates for 7 days to Windows 10 Home, a feature that was previously only available on Windows 10 Pro.
In addition, a new feature called "intelligent active hours" will automatically adjust Active Hours so that Windows updates don't interrupt the user when using their PC when outside of Active Hours. For example, if you've set your Active Hours between 8am and 9pm, but one night you're working on something past 9pm, Windows will now automatically adjust Active Hours so that a pending update won't install while you're using your PC outside of Active Hours.
Finally, Microsoft has changed up the Windows Update UI slightly so that many configurable options and settings are available at the forefront of Windows Update. Things like pausing updates is now available to the user without having to dive into advanced options.
A new Office hub app
Microsoft is updating the built-in Office app on Windows 10 with a new look that emphasizes recent documents and Office web apps. It's a much cleaner looking app, and makes jumping into your recent documents very easy, as well as creating new documents on the fly.
What do you think so far?
That's our list of top new features coming in Windows 10 19H1. There are plenty minor changes that we haven't noted here, so make sure you check out our complete changelog for an in-depth look at everything coming in 19H1. What are you most looking forward to? Let us know in the comments.
Zac Bowden is a Senior Editor at Windows Central. Bringing you exclusive coverage into the world of Windows 10 on PCs, tablets, phones, and more. Also an avid collector of rare Microsoft prototype devices! Keep in touch on Twitter: @zacbowden.
Actually some good new features here. Sandbox sounds really useful.

I'm liking that light theme. I may have to install the insiders build to try it out.

Just use a VM, don't risk your actual Windows installation

Glad they are adding polish to the OS! I hope the livetile interface and tablet mode get a visual update in the near future.

I'm liking the new Start Menu layout. I just wish they'd collapse the app list by default.

Final version when issued

Why are they not improving dark mode, I wish they did.

They are right now it's more by app. the new feedback hub Looks pretty sweet.
There are few apps I would Rather not go grey like movies and TV.

They're working on that internally too. The current File Explorer won't really work with WCOS.

They said they are working on it but Explorer is so huge and deeply integrated into the OS (which is a bad thing and relic of WinNT IMO) so it is hard to not break anything. That is why the Dark Mode took so long.

Are "live" tiles even relevant anymore? Just give it up and use icons like the rest of the industry. They were great in 2012 and even in 2018 on Windows Mobile but, for whatever reason, people like widgets, cards etc. Alternatively Microsoft could consider a tablet O/S that uses live tiles, oh wait, that was Windows 8/8.1. They sure threw Sinofsky under the bus on that one.

I do! I'm using Launcher 10 as my launcher on android with the live tile add on. When I switched from windows 10 mobile to android 2 months ago, I couldn't deal with static icons. I need to be able to see my calendar and emails without a huge clunky widget. With live tiles, I can also see far more app icons, both live and static, than I could with say the Microsoft launcher. My mate 20 pro legitimately looks like a windows phone at first glance of my home screen lol I love it

Have you not used the full screen star menu?

Are live tiles still a thing? It still exists so yes.
Is it still being worked on? Who knows. That being said, it'd be more regressive and pointless to spend time and energy to revert everything to static icons. I doubt doing that would make any significant changes to the user base. I think it's either leave it as is for now and/or continue to evolve it. I'm assuming the latter is happening, but maybe not at an ideal pace.

The "Cards" are nothing different, only that the design of different programmers looks different, which makes them cluttered.
Widgets? I don't see anybody use them except maybe a weather widget, which again just is a variant of a live tile.

I'm really happy that Microsoft is finally starting to implement the Fluent Design more, but I'm still annoyed by some design inconsistencies in already updated apps.

I liked the lock screen, besides that i will keep using LTSB 2016, no useful features for me since this version.

The best part about this update is that maybe, just maybe the bloggers can move on from the so-called fiasco that they say happened with the last update. Enough already. There are much more things going on with this company than whether or not they are perfect when it comes to ancient operating systems. They released the update in a haphazard way and then they pulled it. Get over it. WC is usually better about it but the competition just uses it to cover up their ignorance about the future of creative and connected computing.

We can ask the same, how much did /r/linux pay you to keep bringing it up. It was a screw-up and Microsoft acknowledged it.

Throwing random tech jargons together does not make sentences coherent.

Not impressed at all. Is becoming more and more a legacy thing.

Looks great! Can't wait. Keep live tiles. Good job MS.

I think I just got this update, and now my touchpad's driver is gone, rendering it useless. Fantastic!

Improve the dark mode it's not dark it's totally black and ugly. Have some intelligence use grey tones creatively with transparency give blue, orange, and green text and icons over it.

Give more options to customize the tiles for e-g transparency, interaction, round edges, tile shadows...instagram copied your large tile style and you guys are still far behind now copy Instagram.

I hope the animation will be improved and the taskbar will have more interesting design

The Sandbox is the only substantive change mentioned here. Everything else seems quite superficial. Who really cares about shadows, light mode, or dark mode? But, Sandbox is turned off by default. Whatever happened to Virtual PC? It it gone, or is Sandbox really Virtual PC under a new name? Why does Microsoft always opt for the dumbed-down mode? How about AI that detects that the user is a power user and save that fact along with their account settings. As long as Microsoft is going to pry on people, why not store that fact, and adjust their Windows experience accordingly?

We do care about dark mode.

This time MS goes all out with drive C: full format first and foremost!

Too bad we plebeians can't get Windows Sandbox <insert sad face here> but I do like the new Office Hub. <insert smiley face here>

You can get Win10Pro key easily (wink wink) and upgrade without having to reinstall.

Not bad.
Sure wish they would've kept people hub and brought features to it.

I accidentally installed Windows 10 Education in my VM and upgraded to lastest Insider build, Start menu is "Essentials for School" or something like that and it only has Office Online, Office App, OneNote, OneDrive and MS Edge tiles. No bloatware.

I wished Microsoft would combine the power and user buttons at the Start Menu, or at least move the 'Sign Out' feature over to the Power button. The users I support don't notice where the Sign Out option is located so they go and just click 'Shut Down' option instead. While it's an inconvenience, some users get impatient when they have to wait for the computer to power up.

I noticed in the latest Insider build the menu automatically extends (like clicking the hamburger menu in the top left corner of the Start Menu) when you hover above it, so that might improve some things.

They released a cumulative update for 1903 today

The inability to sync the start menu is so frustrating. It'd be great when setting up a new machine to just have an option to sync it with a specific machine or start from scratch.

All fine and dandy, but after forcing an upgrade last May that bricked my desktop for 3 weeks, my next computer will be Apple. Been using windows 20+ years.

Am pretty excited for this update. I am glad Microsoft is listening to its users to make the OS better. Improving on stability and fixing bugs. Sandbox I think will be a very interesting and welcomed feature.

cant wait to get the Light Theme!!!!

windows live messenger for windows 10
Windows Central Newsletter
Get the best of Windows Central in in your inbox, every day!
Thank you for signing up to Windows Central. You will receive a verification email shortly.
There was a problem. Please refresh the page and try again.