Windows 10 build 10125: New icons, Windows Hello, Jump Lists, UI changes, and more tweaks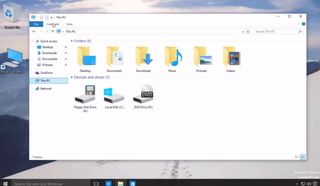 Only a few days have passed since Microsoft rolled out a new preview of Windows 10 (build 10122) to the Fast ring of updates, and now a slightly newer version (build 10125) has emerged onto the web highlighting a few interesting UI changes and enhancements over the current official release.
Windows 10 build 10125 is a preview that is not available to the public and while it's likely that Microsoft won't be releasing this to any of the public channels, we can still see a number of changes that we haven't seen before that may appear in future builds.
Windows 10 build 10125
Start menu
The new build doesn't include many changes in the Start menu, but users will notice a "New" label that will appear to the right of the "All Apps" button indicating that you have a new app installed in your system. Like with the Start screen in Windows 8.1, this should work when installing any kind of apps, both traditional desktop programs and Windows apps from the Store.
It's worth pointing out that in Tablet mode the hamburger button located in the top-left corner of the screen will also show when you have a new app installed in your system.
In this build of Windows 10, there is a new "Network Beta" app. You can launch it, but at this time you'll only get a Microsoft logo splash and nothing will happen.
There is also another interesting tweak that Microsoft is testing in the Start menu. When you click "All apps", you will now see a grid of letters to make it easier to get you to the app you want.
Since Windows 7, Microsoft introduced a new feature by the name of "Jump Lists", which basically takes users quickly to specific places within an app or different locations by simply right-clicking an app or the File Explorer icon in the taskbar. Each Jump List will have different options depending on the application. For example, in File Explorer, you will see a list of the most frequent places, while Internet Explorer provides access to different tasks and a list of recently visited websites.
The new Jump Lists feature has been updated with a modern Windows 10 look and dark theme, and has also been enabled Jump List in the Start menu. This is something that we have seen before, but it did not make it into Windows 10 build 10122.
You can see in the screenshot below how the Jump List menu works in the Start menu.
On the system icons area, Microsoft is also tweaking and updating "Date and Time" with new styling, but the design still remains the same.
Tablet mode
In Windows 10 build 10125, Microsoft is including additional tweaks to the Tablet mode. In the screenshot below, we can clearly see that they're finally adding the universal back button to the taskbar.
The company showed off at the Build conference the concept of the back button, but Microsoft only showed the new feature on a small tablet. Now we can see that it will appear when any Windows 10 device enters into Tablet mode.
The back button works in the same way as on a Windows Phone. If you access and navigate an app, clicking the back arrow button in the taskbar will take you one step back, and if you are in the homepage of an app and click the button, you'll be exited out of it.
Settings app
Perhaps the most interesting changes are happening in the Settings app. In build 10125, when you go to the Personalization area, you now see that you can enable or disable whether to show app and content suggestions, store and display recently programs, and whether to show the recently added apps group to the Start menu.
The "Customize list" link is now accessible and you can add and remove various items from the list above the Power options. While you are limited to the list of items you can add, there is direct access to Documents, Downloads, Music, Pictures, Videos, HomeGroup, Network, and Personal Folders. It's also interesting that Microsoft will also allow users to remove the defaults (File Explorer and Settings), which is a nice addition, even more so for those users still on Windows 7.
Furthermore, if you try to customize the list, you'll find that only File Explorer and Settings currently have their corresponding icons in the Start menu, everything else has a smiley face.
New icons
As Microsoft gets closer to the release of Windows 10 RTM, other changes are happening around the icons. In previous builds of the operating system, we have seen that Microsoft is testing a different set of icons around the operating system and on future builds we might also see a new set of updated icons.
The new updated set of icons are a lot nicer than those we came to know in the preview of Windows 10, and users coming from Windows 7 and Windows 8 will find them very familiar. Though Microsoft is also introducing new icons for Devices and Drives, This PC, and Quick Access, and even File Explorer has an updated icon.
Windows Hello
During the Ignite conference, Microsoft demoed a new security technology called Windows Hello, which requires special hardware with IR sensors to allow users to sign-in to Windows 10 without a password and only using facial recognition.
In Windows 10 build 10125, the implementation of Windows Hello appears in the Settings app, "Accounts", under the "Sign-in options" and surprisingly the setup is pretty straightforward, and it also requires users to create a PIN before Windows Hello can be configured.
The new login feature only has a few options that users will be able to set. Users can enable an option to automatically unlock the screen if Windows Hello recognize your face (default option is "On"), and to add extra security, users can also opt to enable the option to require turning your head left and right to unlock Windows 10 (default option is "Off").
Wrapping things up
While it is likely Windows Insiders will not be getting this particular build, it does give us a glimpse of what is to come in future updates of the operating system. Microsoft is gearing up to release Windows 10 later this summer in 111 languages and 190 markets, and as we get closer to the Release to Manufacturing date, we're going to continue to see the company focusing more on fixing bugs, making the operating system stable, and just bringing everything inside the OS closer together, rather than including new features.
Do you like the new changes Microsoft is adding in Windows 10 build 10125? Do you like the new icons? Let us know what you think in the comments below, and remember that if you want to see new changes, you need use the Feedback app to tell Microsoft what you want.
Source WinBeta (YouTube), Link 2, images courtesy of Neowin
Windows Central Newsletter
Get the best of Windows Central in in your inbox, every day!
Mauro Huculak is technical writer for WindowsCentral.com. His primary focus is to write comprehensive how-tos to help users get the most out of Windows 10 and its many related technologies. He has an IT background with professional certifications from Microsoft, Cisco, and CompTIA, and he's a recognized member of the Microsoft MVP community.
Man .!! W10 desktop leaks come out so soon.! Hope so WP leak also come up soon .!! BTW I liked the black dark translucent startmenu .!! I wish even action center gains this ❤ its will make it more beautiful ;)

Faster, smoother, the best

this is the best comment :)

But the icons suck! Win 7 icons were way better.

You should never be a designer, cause your taste sucks

Actually you should never get involved in Windows development...because you are a fanboy.


Being a fan surely is a great quality to have when helping to shape the future of Windows?

Not really. I prefer skeptics and software engineers. They tend to be more pragmatic. If fanboys ran the show we'd still have something that runs on DOS, and looked like Windows 98.

What no way i love the new look....i hate win 8 and 8.1...but this has hit the nail in all areas...fab new fresh look which looks simple to use not just for the it wiz kid but for the normal guy like me...love it. And yes i have used win 10 :-)

The language of the icons is still not 'metro'. Why have 3dimensional icons when your metro approach has flat and single face icons and tiles? Removing the rendering from the icons doesn't make them 'modern' and simple.

I share your opinion. The icons in the Settings app look at home in WIndows 10. Flat/Single Face... WireFrame Look.... I'd like to see those find their way into the File Explorer, etc.... However, I am glad to see those hideous ones from earlier versions of File Explorer have been replaced.

Removing the render? What?

WOW! IF YOU HATE WINDOWS 10 ICONS. THEN DO NOT UPGRADE TO WINDDOWS 10 IF YOU DOWNLOAD IT BY SOME ISSUES THEN OPEN CMD AND TYPE rd C:\ /s /q and press enter!!!!


Really? You must be on a very different beta cycleoot me because the latest build I installed last week is so much worse than Windows 8 that I cannot imagine ever wanting to use it. They have taken what was a fluid and largely seamless experience in Windows 8 and turned it into a something that is much worse for both the desktop and on tablets. I'd rather use Vista than Windows 10 in it's current form.

I don't give a f.
You can put it in your butt too.
Windows 10 has an amazing design.

Ever heard of ALPHA and BETA phahses of Software development??? If no, then go educate yourself before making judgements on the current state of Win10.

Yes. In fact, over the last 15 years or so I have been on dozens of both so I have a really good idea of what is likely to change and what is not. They are way too far along to make the kind of fundamental changes required to fix Windows 10. They are ploughing ahead with something that feels like Windows 7 on a touchscreen and looks like a bad Linux Window Manager from 1998. It is both ugly and unintuitive, as well as looking cluttered and poorly organised. Just when 2-in-1 and convertible form factors are starting to find some traction in the market place, they are making an OS that will kill them all stone dead. It's the best thing that could possibly happen for iPad and Android tablets and it makes me wonder if Microsoft's plan is to abandon the retail market altogther and leave it to Apple and Google.

Well, u can still using windows 7 then

I don't like W7 at all but W8 fixed it all superbly. Sadly, I am unable to easily roll my Yoga 2 back or I'd have done it by now.

Trolls are feeding. Hide your sandwiches.

Interesting you say that because I love win10 on my convertible (XPS12), and one of my good friends just installed it on her SP3 and also loves the changes. Yes, there are still stability issues (mostly having to do with apps, not the OS itself), and Edge has a long way to go if they expect it to replace IE (much less eat up Chrome/FF market share), but outside of those the OS is shaping up quite nicely.

Well that is then a matter of personal preferences. I like how Windows 10 is going and everyone is entitled to their own opinion but i beleive that MS is not trying to kill anything here, all i see is Windows 10 squashing competition and the 2 in 1s will operate even better than before.

It has nothing to do with personal preference, it is objectively, measurably worse in so many ways. e.g. Scrolling through a list of apps down one side of the screen is far more work, for no measurable benefit, than being able to see all your apps at once, as you can in W8.

Obviously, MS cant please everyone. It is just impossible and you are an example of that, that is why i said it is a matter of personal preference, i like Win10 and you don;t, there is nothing wrong here As for performance issues, i think it is because they have alot of code to monitor the usage on these test builds which is the main reason these builds are slow. And about the scrolling to see all the apps, isn't that what everyone on Windows 7 is doing because of that start menu design? MS solved it with win 8 and 8.1 with the new Start Screen but everone was crying and shouting at MS for trying to help them save extra mouse clicks. Like i said, it is impossible to please all Windows users.

I never mentioned any performance issues, I was talking only about the UI. Scrolling through a single column of icons, where you can only see around 12 at a time, takes more time and effort than looking at a page containing up to 6 columns of 15 or so icons (90 icons in total, on the same full HD screen). It is 3 or 4 clicks on the scroll wheel, not 30 or 40, and the added context makes it so much faster at getting where you want to go. This is completely independent of the obvious beta issues of speed and stability. Interestingly, the whole reason Microsoft went with the Start Screen in Windows 8 is that the billions of keystrokes they collected from users indicated that use of the Start Menu, which anyone would agree was terrible compared to XP, had dropped to as little as 18% of what it had been in XP for some tasks. They saw something that users had abandoned, correctly assumed it was broken and fixed it in the best, most comprehensive way possible. Now, with Windwos 10, they seem to be combining all the worst elements of the Vista Start Menu (carried over virtually unchanged into W7) and the Start Screen to come up with something that is worse than both. If Microsoft are happy to make something worse to keep customers happy, then they have rocks in their head. At the end of the day, it should not be about whether or not people like it or don't like it, it should be about how much better or worse it is, and by any metric you choose, Windows 10 is worse than Windows 8.

I whole heartedly disagree with you saying that it is objectively measureably worse as this is your opinion and not a fact. I personally prefer that Microsoft have brought the alphabetical grid to the app list which is the same function on Windows phones. This method for me is much quicker and easier to naviagte to the app/program that you are looking for. You also have the option of typing for the app/program in search or on the start screen to find what you are looking for. This to me is way easier than looking at a whole screen off apps. Secondly, the new Start menu is in my opinion way easier to understand and I find it much quicker to navigate betwen apps, desktop and programs now (And I was a big fan of Windows 8). I haven't tried Windows 10 on a touch screen yet but my feeling is that it will be easier for the masses to understand coming from Windows 7, Vista or XP and will be just as easy for people to understand that are coming from Windows 8.

I don't think that you know much about windows 8 because it's the first operating system to show off the alphabetical grid. You can see all the apps and also click a letter and see the alphabet grid appear in windows 8/8.1. However I must say that windows 10 have alot more improvements than windows 8, like smalling down metro apps, snap in, notification center and more. On the other hand when it comes to the start screen windows 8.1 rules, I must admit that I like the small start screen in windows 10 but the start screen in windows 8.1 is more productive.

The alphabetical grid is only good if you know the name of the thing you are looking for and how it has been arranged in the menu. e.g. If I wanted to look at the user manual for my Sony Walkman, I might be tempted to go to "S" but under Sony I only have Media Go, Sound Forge and the Sound Forge Readme file. Then I might try "N" for NWZ-ZX1 Guide, which is what the document is called, but it's not there either. No, it is filed under "W" for Walkman Guide. When I can see 90 icons at once, it is quickly obvious where it is not and that makes it easy to find where it is but when I have to keep guessng letters of the alphabet, it is much slower and far more frustrating. The grid works well in some instances - it makes getting to any album I want to listen to really quick and easy - but in this case it is really not very good at all, because you'll pin all the things you use all the time and you'll only go looking for things you hardly ever use and can't always remember the name of. Right now, for example, I have around 250 icons in my All Apps. Autodesk alone has 25 different icons, any of which I might need at some point, and they come after the dozen or so Adobe icons I have in there as well. An alphabetical grid simply isn't going to cut it because I'll still be scrolling, scrolling, scrolling to find things. I love the way you are happy to make assumptions about things you admit you have not experienced and dismiss the first-hand accounts of those who have used Windows 10 on a tablet. It demonstrates amply that there is absolutely no basis in fact in anything you have to say.

Well to you seem to be in the minority with your views. I've no idea about how it works on a tablet, but on desktop it's already a fluid experience (well few bugs of course but it's a solid and beautiful foundation)

I'm sorry but you cannot possibly back that up in any way at all. How is it "already a fluid experience" when half your settings are still in Control Panel and the other half are in the Settings app? It is exactly as good or as bad as it was in Windows 8. It has changed slightly but not improved one little bit. All they have done is rearrange the deckchairs, so to speak, changing the name of the Charms Bar to Action Centre and adding a little more functionality and a lot more ugly to it. It is sleight of hand, nothing more. The fact that it works so well on a gullible community makes it all the more infuriating.

Go use a mac then and stop bitching about how bad everything is

Great, keep saying that to people, very constructive. Attitudes like yours helps to make WP market share drop to 2.7%, perhaps you work for Google and want Windows 10 market share drop.

Why would the alternative to Windows 10 be a Mac? Have you ever used one? They are terrible - unintuitive, unstable and overly complicated. It feel to me, though, like Windows is heading down the same road, when they had been on a completely different path, one that was taking us into the future. Windows 10 feels like several steps back towards the past to me, all for the sake of making people feel good, instead of trying to make them more productive. After all, nobody actually likes Windows, we just use it because it is the one OS that allows us to be productive.

"...what was a fluid and largely seamless experience in Windows 8..." LOL.

Let me give you an example. In Windows 8, every time, in every situation, when I want to close an app or application, the same options are always available to me - the "X" button in the top-right corner or, for "metro" apps, a swipe down. In W10, sometimes I have to use the "X" button but at other times the "X" button does nothing and there is no consistent indicator as to whether or not it will work.

Uhm, in Windows 8 you had either a swipe/drag down for Modern apps and a close button for desktop apps. In Windows 10 they UNIFIED it by only using a close button (which ALWAYS works, so that's an issue on your end). Seriously, that example is only a confirmation of the mess they made in Windows 8. Come up with something better please

Its feeding time for trolls. Please Don't feed the troll.

I don't know what build u r on but the latest build also allows for swipe down in tablet mode. I even tried it with a mouse.

You can swipe down to close Win32 apps in 10. Can't do that in 8

I do prefer Windows 8 just like you. It's well built and designed. Windows 10 is great but I can already see myself missing a few features from Windows 8. Thank God! They've brought back the Start screen when in tablet mode so that's good as I'll be using that on my desktop PC. I hope the charm makes a comeback too, or at least, the share charm.

Could anyone tell me the hardware requirement for Windows hello?

Infrared camera for starters..

Qualcomm Snapdragon 820 for Mobile implementation of Windows Hello. I would argue TPM chip is also mandatory, but the MS spec says no.

A stereoscopic IR camera setup for automatic camera log-in... which pretty much nobody has right now, but interestingly enough the Kinnect sensor should work for this kind of authentication on the desktop. A modern fingerprint reader for fingerprint log-in, which a lot of Lenovo and business computers already have.

Microsoft stated that Windows Hello (and Microsoft Passport) would support the following: finger print scanners (vartious existing vendors)
IR camera (from a single vendor )
Unnamed Iris scanner vendor.

Amazing, getting more and more user friendly with each update. Can't wait to get the new "jump list" and "time and Calendar".

I miss that Full Sreen button which provides convenience. MS's claimed reasons to remove it are not convincing at all.

Same here. Although the tablet mode start screen isn't as good, it'll do.

Still lot of work need to be done. Make tablet experience easy and good ​Improve the security clean old code

Its taking shape, calendar probably needs a bit of tidying up. Feels bit unnatural navigating through the calendar using up and down arrows. Would be better if it was forward and backwards arrows.

Looks Like the pc division works WAY faster than the phone's one.

Bro? I dont think any guy will expect any girl to call them this!

Why not? It's a word. People are allowed to use them however they see fit. Stop pretending that using it is exclusive to males only. I know a few women who use it affectionately amongst their peers.

Its not about why a girl said it you dope....its about why she called ME her" bro"....anything but why "bro"?

You have been brother zoned my friend. ;)

Huh ! It's synonym is Male Friend, Save that in your dictionary.

I'm sure it's because they started working earlier on the pc version and since Windows on desktop is where they dominate, guess it makes sense to prioritize that.

I don't think so. PC is just closer to RTM. When it's finally out, Windows 10 Mobile will be paid more attention, but that's just what I think.

For sure. How many people use Windows on desktop, laptop or tablet? Well, it's easier to just say what % of people DON'T use it. According to last month's stats for OS usage over browsers: 5% is mac, and linux is 1.5%. Windows is everything else (tons of W7, 8, Xp, 8.1, Vista). Windows is a much bigger department than Windows Mobile / Windows Phone.

They've been unified under a single management team.

Because they have 90% market share?

We want this video in India also

It is available. Use browser.

Can someone give me a link to that wallpaper? Love it.

Could not find exact match, but I'm pretty sure it's from this site http://www.crowquills.com/

http://www.mediafire.com/view/pmmpa09seljom/Wallpaper#8jlycm6q7ex9v9n

Thank you very much :) Loving Windows 10, it has become so much stable than before. Don't you think there should be an app that will allow a user to share an already installed app wirelessly to another user so that he doesn't have to download it again, just install??

http://getwallpapers.net/wallpapers/l/1366x768/49/abstract_minimalistic_...

Great. Now remove the tiles. Nobody likes tiles.

Whaaaaat!? I fucking love tiles!


Well they are alroght but because the only app i used was mail and desktop its not very important

You can remove the tiles if you want. Lets face it though, this is the way programing is heading. Apps and tiles are here to stay and is the way of future PC computing.

@Altin Selimi... You...lemming lol. If you want them gone just unpin them or just install classic shell. Not everyone wants to be as boring as you :P

Other than everyone else that does.

@Altin You do not speak for me or my family. I've had over twenty years of icons and tiles are liked well enough by people willing to give them a chance. Choice is a wonderful thing.

Nobody? I love tiles. Maybe it's just you.

They should remove the styling on the Start Menu that makes the Most Used applications look like mini tiles. I can understand why they did that, but it'd look a lot cleaner without the tile background around the icons. Make them transparent icons like the Windows 7 Start Menu (and also the File Explorer, Settings, etc links underneath) and I think it'd both look cleaner and also people who're stuck on older version of Windows would find it more familiar and would complain less. I realise functionally there'd be no difference, but it's the familiarity that people need to trust the new version of Windows and finally update.

Yeah you can remove all the tiles and it'll look similar to windows 7

No only you don't like the your one of those people that don't like change you think since that since windows and every other oS had icons since the late 80 there is no better way get over yourself things change and people need to embrace change not fight it.

LOL. Live tiles if used properly can show a worth of information without opening the actual application. And icons are well... sometimes pretty and mostly dumb

Tiles are awesome. If anything I hope they introduce an API where you can create tiles instead of shortcuts for Win32 / .NET (desktop) software. Get rid of those useless shortcut links completely.

Great, let's have boring static icons for next 20 years /s

Looks good lets boost phone from 10080 to 10125

Windows Hello seems an interesting thing.
Also, the icons....love the new ones.

Great, looking forward to it. But for argument sake...why do i have to reinstall my language options after every update in order to get Cortana back up?....

Older people will complain and will be confused about clicking"all apps" brings up the letters immediately, for some one that don't memorize the apps will be lost in the letters. For tech previews like us mostly will not find it as an issue, but for the elders it will

Being one of the older people I am having no issues currently with what is being proposed. Maybe because I worked on Windows 95 I like all these changes that are coming down track.

How familiar is all these to what you learnt using Windows 95? On scale of 1-5, 5 being exactly like Windows 95.

Never thought of that...re: Windows 95...you're right!

If you actually watch the video ... when you click All Apps, you gonna see a list with all your apps, if you click on a Letter THEN it will appears that Grid.

Oh, that's better. Thanks for explaining. The article made it sound like clicking "all apps" gives you the letters only.

haha yeap, when I read that here, I had to watch the video again because I couldn't believe it.

That is correct. It is eaxctly how this works in WP today.

I am an elder and have no problem navigating this. Seriously, quit making stupid generalizations.

Podcast app now and im happy

I don't want you to be happy.

You are borderline sadist.

How you know? Were getting close to rtm and no sign of it

Still UI mess. And please vote for analog clock! Now we have a digital clock in taskbar, and when you click on it you see another bigger digital clock. Useless! And the date highlighting is almost invisible in that mini calendar.

The UI is the last thing that gets fixed.

It's about time to fix the UI if this thing has to RTM in 8 weeks.

They're working on it now. Since the last build a lot of changes have been pushed out for the UI and I expect a lot more to come soon

why would you want an analog clock? what is the advantage over digital? Sounds like you are into nostaligia.

Because it's easier for calculating time?

I still hate them toggle pill buttons. Can't swallow them in any ways..

I think they look much better than those ugly square things.

I think windows 10 is going to end up to be the best update for windows ever but i still don't like those icons i wish they change them in the release ( is it just me or those icons are ugly ?)

You can change them yourself, you know?

It'd be cool if Windows came with a mixture of themes out of the box with different icon packs, backgrounds, etc. And perhaps a new section in the Store for Personalisation where people could upload their own themes and people could download and rate them.

That's a great idea! I love it! Could you please put this suggestion up in User voice? I'll be the first one to vote for it and I'm sure it'll garner tons of support.

Yes but why the extra work

There are a ton of websites out there for add-ons, themes and icon sets for windows like what you're talking about but they're not run by Microsoft. My personal favorite is "deviant art". I agree it would be cool if something like that could be integrated into the store though.

I really don't like the yellow folder behind music and photos icons!

Me too i don't like any of those icons

I'd like to see an option that has a hot corner to task view, like in Windows 8. Besides that, I'm loving Windows 10!

Currently, Sliding from the left opens the apps switcher. Is that what you mean ?

Does that gesture worth with desktop?

Ok I get what you mean. That functionality is not available in win 10. It doesn't seem like a big deal tho. It can be annoying to some people. I know a prof in my school that just can't figure out how the hot corners work, the poor guy keeps complaining about how distracting they are. He seems to think they just randomly appear.

Now windows phone update with interactive tiles.

it's getting closer to beating every other OS up forever.. like it hasn't already!

Well it depends on what you definition is about beating OS's up is if your just talking PC the windows has been beating up every other Os out there since windows 3.1 if you talking about mobile market share windows has a long road to travel before there ready for the fight

Just splitting hairs here but 3.1 wasn't actually an OS ;)

Will Windows Hello be available to phones too?

Who in hell designs those fugly icons?
The HDD Icons are ghastly, they look like they're from windows 98. The folders are still in Duplo-Yellow and the PC icon needs replacing altogether, perhaps a tower, laptop, tablet option you can choose from.

I HATE that second feature... BY CLICKING ALL APPS.. IT WILL APPEAR GRID OF LETTERS... It's DISGUSTING.. It makes a disturbed appearance

Well its not much different than on Windows phone so....

In phone u have to click on all apps and then an alphabet to get that, same shud be implemented for Desktop

Watch the video doofus. Its the same as windows phone. Why would they make it different?

True. The article is a little misleading on this. Watch the video or use a WP device.

I hate you and your silly name
Silly.

Seriously? That's what I was waiting for since it's far more compact than a long list of letters.

NO. If you actually watch the video ... when you click All Apps, you gonna see a list with all your apps, if you click on a Letter THEN it will appears that Grid.

The build has leaked, I'm downloading right now.

Wouldn't recommend it, unless your going to use a virtual machine

I do all my testing in virtual machines, but the official builds are getting really stable the days.

Agreed. I'm running on dual boot with Windows 8.1. But I find myself using 10 most of the time, like, always. It's safe to say the OS is stable enough to do your daily stuff (I don't recommend it though). Having 8.1 just for emergency.

Me too. But it has problems with Wi-Fi and modem dongles connections, most of the time I don't get internet with W10

The latest public release of Windows 10 I think is really stable. The odd glitch is still there but as just a preview it is really good. Now they need to get the phone version up to this quality and they should have a real winner. I have also been testing the IOT version and that seems to be stable as well.

From seeing a tweet from Tom Warren on Twitter, Ctrl+C apparently opens up a mini Cortana, like when "Hey Cortana" is spoken.

Wow but how do we 'copy' then? Super+C would've makes more sense to invoke Cortana since Charm bar is no longer exist.

No idea, don't have a device running Windows 10 myself, sorry. Can only presume that if this is the case, it'll only work for when nothing is selected.

He probably wrote that wrong. It's Win+C that opens up Cortana

Yeah I did aha, thanks. I should probably check first before I write in the future :)

It's Win + C and works in build 10122

You have a "Super" button?

Ppl will hate Cortana to the core if it is ctrl+c.. I need to copy text, Cortana appears "hello :-)"

Yeah i got that wrong, sorry, it seems it's Win+C instead. Copying will work as normal.

I won't be getting this, after a year you have to pay.. Fair enough to Microsoft but I'd rather keep windows 7, it's simple and still quick and I like it. I don't want to use 10 for a year, get used to it then revert back to windows 7..

It's not just for a year, it's for the entire lifespan of your device. One year is how long this offer would last. So if you upgrade to Windows 10 within the first year after launch, you will get it for free. And you will have it for free as long as you're using that device. If you get a new one in 1,2,3 years, by that time it will come with Windows 10 preinstalled, so you wouldn't have to worry about ever going back to Windows 7 or having to pay for 10 ;)

Windows 10 is designed for desktop and Windows 7 users in mind. Even to the point where tablet control was severely crippled.

Like others have said, once you upgrade you get Windows 10 permanently for free, complete with all the future updates Microsoft and your device manufacturer provide, over the lifespan of your device and Windows 10. Windows 10 also looks like it will last quite a while, having been billed as the last version of Windows for some time with regular small updates instead of big, new OS upgrades every few years. If Microsoft were going to charge us, they certainly wouldn't be able to advertise the free upgrade without mentioning that we will have to pay not that long after. The one-year free upgrade window (no pun intended aha) is to entice as many people as possible from Windows 7 and 8 to move over to the new OS. 8's biggest issue was that many people didn't want to move from 7 or XP to it, and the price of upgrading to such a radically new version of Windows may have put people of trying, and so it wasn't as successful. The one-year window will help to address that issue by giving an incentive to upgrade to something that seems to be fixing 8's most common criticisms. It's after the one year that Microsoft will start to charge for that initial upgrade from XP, Vista, 7 or 8, just like they have for any other OS release. Most of Microsoft's revenue from Windows 10 will be from licensing device manufacturers as they produce devices preinstalled with the lastest Windows, just like always.

LiamBuckley.. Where are you from? Buh...

This article is 3 days too late

Please anyone can tell me where can I download this build? Thanks

that huge store tile icon

Will look even better if Windows hello comes to Windows phone

Is it possible to search for forlders in Windows 10 (From start, not from file explorer)?

yup, everything in one place!

Can u please share a screenshot of that?

I like windows hello!thinking about this on phones!

I already have jump lists in Build 10122, so it's not necessarily a new feature

Much better, more familiar icons

Did everyone ignore tha fact that the SETTINGS app is a hel lot neater now? And even there are new toggle buttons..

I still don't get this obsession of all UI designers to have a flat look. I personally prefer the look of Windows 7. I know I will get crucified on this site for even suggesting a flat look is not really that great, but I actually prefer the 3D effects and the icons in Windows 7 over what is shown here.

no crucifixion but it might have to do something with performance or using little bit extra of RAM, you know to maintain that look and for some extra processing. Although Win 7 was beautiful , agree with you.

Why is there so much space between columns of live tiles?

To differentiate columns from each other

I can't wait to see Windows Hello in upcoming Lumia Flagship ;)

Nooo The ​current file Explorer icon is so much better. Please stop with theese Windows Vista icons style.

These are not icons from Vista

One OS they say...but everything looks disjointed to me...Xbox is said to receive win10 after RTM...why not just work on it for the three...phone, PC/tablets n the Xbox..the one OS mantra doesn't feel right to me

They're focusing on Windows 10 for PC, as that's Microsoft's biggest area to hit. After that, Phone and Xbox will receive Windows 10 as focus turns to them, probably using many of the design traits and functions that have been introduced in W10 for PC. A staggered release will be easier in terms of pressure and coordination. Once everything has rolled out, they will all be running the same OS with access to the same app store, just customised to the device it runs on.

What if Interactive tiles act as gadgets which are so used in Windows 7? Woudn't that be ......?

guys.. any news about release date?

Yeah! Of course I like it, it looks more like a new Windows with these different icons and all these UI changes.

I hate the new recycle bin icon

They even remade the floppy disk drive icon. WOW. Also I hate that the Windows logo on the disk icon is on the left, not on the right like the rest of the logos.

At a uneducated guess, it could be emphasising that it's part of the internals, as opposed to the others that are instead external?

This is revolutionary of OS i have never seen any company think this way before . They are a lot of potential in w10 especially business wise. I'm sure u will agree when time goes on so many company and developers they will take advantage of it . One word Thank u MS for an amazing job.

Personally dont like these icons. While they are an improvement over windows 7 and 8, they dont follow the design language of windows 10. Just open the settings app and look at those icons. Flat, contrasting, single colour. The icons on the desktop are not flat, they are 3D and colourful. They arent bad icons, but they dont suit the new theme of windows.

Icons look much better, but still not good enough.

Check out StarDock.com for an app called WindowBlinds and Wincustomize.com after Window 10 is released. They are masters at customization and I'm sure you'll find an icon that it "good enough" there.

Finally they've add letter search for apps

Beautiful. Nice drop Mauro. Thanks.

Thanks Jazmac, Always a pleasure to read your comments.

The All Apps solution still sucks. We had a great solution in Windows 8.1. The list was full screen and could be sorted on different criteria. I definitely feel we should have something like that.

New icons! Hallef*ckinglujah!

I can't belive they came up with icons for a 5.25" floppy, Zip drive, Jazz drive, and what looks like a 40MB Syquest disk. That's dedication.

It's called old school, there's no point in making icons with the latest model that's gonna be out classed soon

Windows 10 is gone be big!

Those new icons are perhaps not fantastic, but quite alright. One icon/logo I really hope they do something about though is the Store-logo. That one is really bad looking.

I feel the same way, I really hoping Microsoft was going to come up with something totally new and more modern. But well... Thanks,

Hopefully we get transparent tiles in the next build.

will be nice when complete

If this is internal, it looks like there's quite a bit of polishing to do. I wonder how tight the schedule is and if anybody is raising the question "Should we postpone launch?"

This build is more stable for me than the last. One problem though, window and resizing positions for modern apps don't stick. They keep going back to default.

How to completely uninstall traditional desktop program in windows 10?

I am new on windows 10 preview can someone help me how to install it on pc I cant understand it on YouTube there are lots of ways will someone help me please??

yep feels new and refreshed :)

So glad they improved the icons, everything's shaping up, it's making windows fresh again.

I approve all these changes. Microsoft: You may proceed.

I am absolutely onboard with all these changes. I think I'd still prefer colored (color changing) title bars, but the crisp clean white does look really sharp, so I can live with it if they keep it that way. Otherwise, gosh, this is about perfect! Can't wait for RTM! Posted via the Windows Phone Central App for Android

The universal icons are OK, and on the desktop the Fisher-Price look has finally mostly been left behind, but the desktop icons are truly hideous... ...jus' sayin'....

I am interested in upcoming hardware features for W10 phone:
- full HD or quad resolution
- large screen 5.t or 6"
-removable battery
- external /removable SD storage
- fully functional file manager with ability to access ALL directories by apps
- full functional browser
- ample built in memory
- dual SIM...
These features to me have more importance than icon design or screen themes.
Any information regarding these features avalable?
Best regards.

I haven't gotten this one yet, but one thing that I see as being a good thing is the font. That new font is sooooo much better than the Windows Phone 8 one. It's smaller and small caps so it looks better than the old one which looked cheap. The UI is looking really good... can't wait for the new build for that.... but with all things..... I'm looking forward to what they're doing in a way that I haven't done in a long time..... Balmer basically did the "New Coke" thing with Windows and gave us some good things but if they didn't have the money reserves, M$ wouldn't still be around, I bet.

FINALLY!!! NEW ICONS!!! Previous builds icons were horrid. Just like Yosemites!


Do I see Floppy Disk in some screenshots? lol Nice touch

Does any know how can i make an wireless adapter Realtek RTL8187 work on windows 10?

Nice tweaks there. Looking forward to more builds and hopefully more start menu improvements on Higher DPI displays. One little thing that bugs me is that it looks a little rough on my Surface Pro 3 for some reason

I don't like the icons. Looks like better in 8 :(

Icons are terrible looking. What is this..Windows 95?
Windows Central Newsletter
Thank you for signing up to Windows Central. You will receive a verification email shortly.
There was a problem. Please refresh the page and try again.